Stay was awesome... very friendly staff and room was very beautiful. - Anonymous
What sets them apart?
This guesthouse is centrally located and well designed with a charming Venetian character. It's an affordable and reliable option if you want to be centrally located but don't want to pay much for a place to stay.
Who's staying here?
This is a small guesthouse that's not the most well known or popular, but it's perfect for any budget traveler who wants a central location in Venice with a nice atmosphere.
Insider Tip
Make sure the breakfast is available when you're there because they don't always provide it.
Locanda SS. Giovanni e Paolo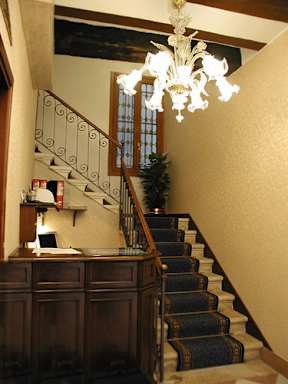 This is a charming little guesthouse with truly unique furnishings and a lot of character. It's not one of the more popular places to stay, but it's centrally located and has a local vibe that helps you feel like you're having the full Venetian experience.
When available, the breakfast, which is brought to your room, is a nice touch. This isn't an option for the most basic rooms.
The Facilities
Private Rooms
The guesthouse offers basic twin, three, four and five bed rooms. The most budget rooms are the basic triple and quadruple rooms, and they are located away from the main hotel in an annex. These have the most basic furnishings, so expect very simple rooms. These rooms are designed specifically for students or basic budget travelers who still want a private room with an en-suite bathroom. There are also basic twin rooms that are for budget travelers and are smaller than the other rooms. They have two single beds and an attached bathroom.
The other rooms are more comfortably furnished in the traditional Venetian style. Most rooms use Murano glass to give them a personal touch. They all have air conditioning, a telephone, and a safe for your valuables.
Bathrooms
The en-suite bathrooms are modern and comfortable. They are equipped with hairdryers and showers with plenty of hot water.
The Location
Castello
What's Nearby?
The Locanda is located in the Castello district of Venice. It's very centrally located, and nearby you'll find several great pizza restaurants and other local dining options. The guesthouse is in the historic heart of the city and the rooms often have windows that look out on the classic Venetian streets. Simply wandering around the streets you'll find great local restaurants, shops, and supermarkets. The hostel is also just a short walk from the Rialto Bridge and San Marcos Square.
Nearby Transportation
The Locanda's central location also means you're near a Vaporetto stop where you can easily travel to nearby islands like the famous Murano and the popular Lido. Lido is notable as the location of the annual Venice International Film Festival.
Amenities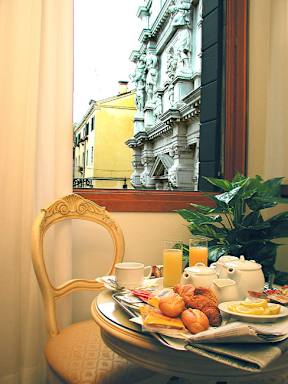 This is a small guesthouse with charming character, but you won't fine the amenities you might find at larger chains. They do offer a nice breakfast which is included in the price of your room, depending on which room you choose. Please note that the most basic rooms do not include breakfast. The breakfast includes croissants, rolld, butter, jam, juice, tea, and coffee, all of which is delivered through room service to your room at the time you request.
Staff
This is a simple guesthouse with a friendly staff who can help you with any questions you may have. They can provide a local perspective on things to see and do, how to get around, and where to eat, so don't hesitate to ask.
Heads Up
This guesthouse is charming, but the most basic rooms are quiet simple. Choose your room wisely to make sure it will meet your expectations.
Locanda SS. Giovanni e Paolo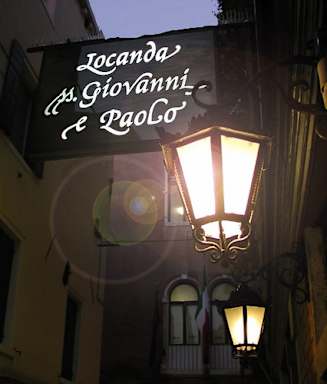 Do you have a favorite hostel that you would like to review? Let us know!