Great location. We had a private room that was super clean. Beds were so comfy. Bathrooms were clean and never had problem with being able to use them when needed. Close to a water taxi stop. Would definitely stay here again on my next visit to Venice. - Jen
What sets them apart?
This is a charming little hostel outside of the main touristy part of Venice. The surrounding area is perfect for taking a stroll without running into the crowds of people found elsewhere in the city. The hostel is also clean and comfortable, making it a nice place to stay.
Hostel Personality
Who's staying here?
This is a small and quiet hostel where it's easy to sleep at night and escape the city's crowds during the day. It's can be hard to meet other people, but if you're in Venice to experience the city, then this is a good option.
Insider Tip
Check out the nearby grocery store so you can make a few meals in the hostel's kitchen.
The Silk Road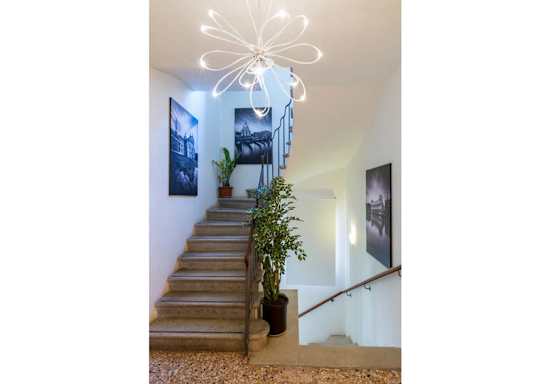 This quaint little hostel is housed in a charming old building with a lot of character. It's set back from the main tourist parts of Venice, which means you can enjoy exploring the neighborhood without the hoards of people you find elsewhere. The owner is a pleasant lady, but do note that you have to arrange your arrival time in advance as there is not 24 hour reception service available.
The hostel has a few rooms, a shared kitchen, and a pleasant environment where you can sleep, relax, and soak up everything that Venice has to offer.
The Facilities
Dorms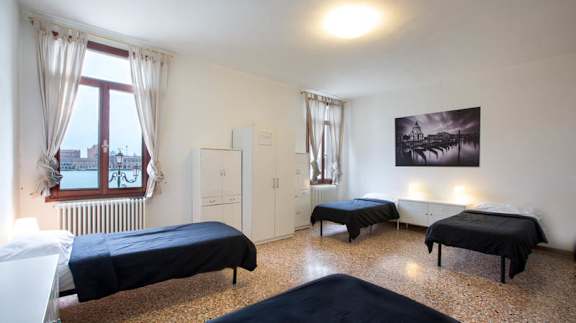 The Silk Road Hostel has just a handful of dorm rooms that sleep just four people. There are both female only and co-ed rooms available and the beds are singles instead of bunk beds, which makes a nice change of pace for anyone who's been traveling for any length of time. They're surprisingly comfortable and the rooms have plenty of space. The rooms themselves are fairly simple but there are windows with views out over the water.
Private Rooms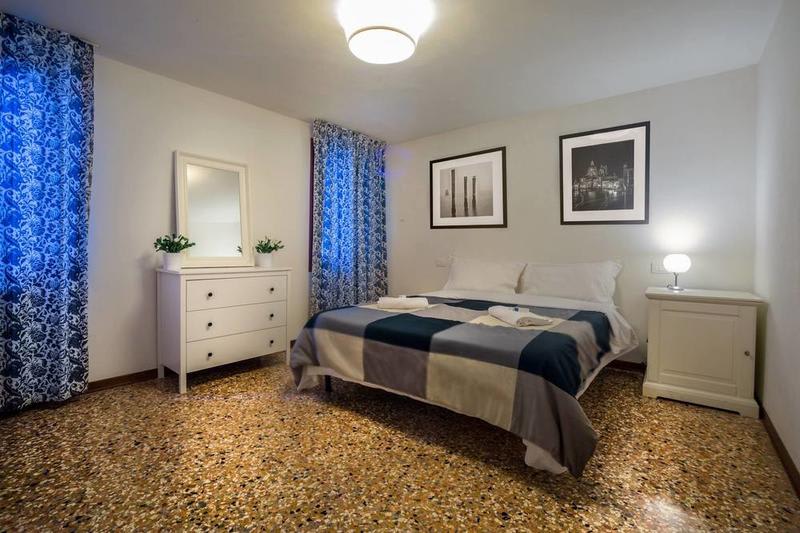 The hostel also has a single and double room for guests who want the privacy. The rooms are nicely furnished with comfortable beds and some simple but charming decor. Do take note that the single room is located outside of the main hostel about two buildings down. All of the rooms are kept very clean.
Bathrooms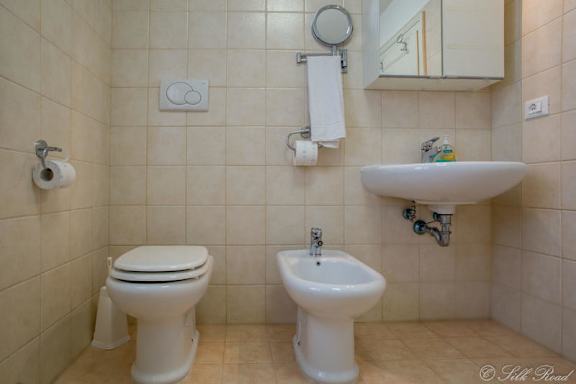 The bathrooms are clean and reliable, but there is only one bathroom per floor. For most guests, this has never been a problem, although the shower and the toilet are located in the same room, making it difficult if you do need to share.
Common Areas
This is a small and simple hostel, so most guests don't hang around socializing. There is a bit of space you can relax though if you want to unwind for a bit. The small common area is quiet and peaceful, much like the rest of the hostel. There's also a shared kitchen available to guests where you can prepare some food as well. Do note that the kitchen isn't always open, but the hours are reasonable and most guests don't find this to be a problem.
The Location
Dorsoduro / Accademia
What's Nearby?
This hostel is located in the Dorsoduro district, right on the Guidecca Canal. The location is peaceful and relaxing, and it's fun to wandering the streets nearby as they're not nearly as crowded as they are in the touristy parts of Venice. The small winding streets are really charming, and the hostel's location on the water means that you can often enjoy views of the canal from your room. Right outside the hostel is a nice promenade that is the perfect place to take a walk in the evening or relax with some gelato as the sun goes down.
The area is a bit off the beaten path, which is nice for many guests, but it does mean you have a bit of a walk to get to the main tourist sight. San Marcos Square is about a 25 minute walk away. The Rialto Bridge is also about 25 minutes on foot. The Grand Canal is just a ten minute walk away.
Nearby Transportation
Although the hostel is a bit off the beaten path, it's still very close to the
ferries you need to catch
to Lido Island and a ten minute walk from San Basilio Vaporetto Stop. It's also about a twenty minute walk from Santa Lucia train station, which is the main train station in town and likely how you'll be arriving in the city.
Amenities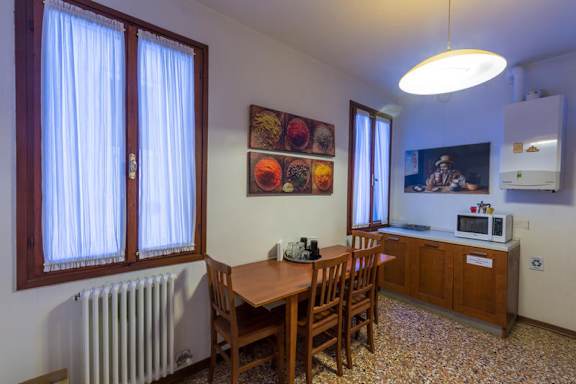 This hostel is small and simple, but it still has the basic amenities you may need like wi-fi access and even a kitchen that guests can use. There are security lockers in the rooms, and the small number of rooms and off the beaten path location means you'll enjoy a quiet's night sleep.
The reception area is not open 24 hours a day, so make sure you communicate when you'll be arriving so they know to be available to let you in.
Staff
The owner and receptionist at this hostel is charming and sweet. You'll need to give them a heads up about when you're arriving, so that she'll be available to let you in. This is a small hostel without all the formality that you'd find at a bigger hostel chain, but that's part of what gives it charm and character.
Heads Up
This hostel is quite nice, but does come with a hefty price tag. For some, the hostel is a bit removed from the action, particularly the train station when you first arrive. It's small size and quiet atmosphere also means it can be difficult to meet people.
The Silk Road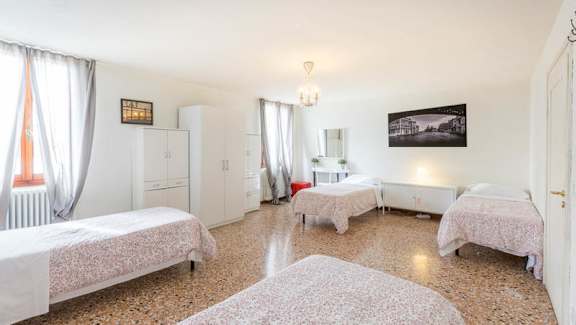 Do you have a favorite hostel that you would like to review? Let us know!