Great hostel! I opted for a dorm with 6 women and it was a huge apartment with 3 bedrooms, kitchen and living room included. The bedroom were quite large and the beds were very comfortable. Two toilets, 3 showers and 3 sinks in the bathroom. It was incredibly clean. The cafe downstairs was great and the restaurant where there is breakfast was also great and it was well worth the 9 euros. Close to everything, including the water bus. I would definitely return! I highly recommend it! - British Girl
What sets them apart?
This is a hostel that brings everybody together - locals, tourists, backpackers, families, and students. There are a range of room types with everything from dorms to private apartments, so there really is something for everybody.
Hostel Personality
Who's staying here?
This hostel welcomes everyone, and the staff encourages an environment that is respectful to all. The hostel has a quiet environment so you can be assured a good night's sleep, but if you want to meet other guests, there always seem to be other people hanging around to chat with. The hostel is a popular hangout for local and study abroad students in the afternoon, so it can make for some interesting conversations.
Insider Tip
If they're not full, the hostel often upgrades guests from the room they book to a nicer dorm, private room or even an apartment.
Combo Venezia
This is a large and friendly hostel with a wide variety of dorm rooms, private rooms, and apartments. The atmosphere is warm and welcoming, but with the large size it can sometimes be challenging to meet other guests. For many, it feels a bit more like a hotel than a hostel, but it's a nice environment with great furnishings and a relaxing setting.
The Facilities
Dorms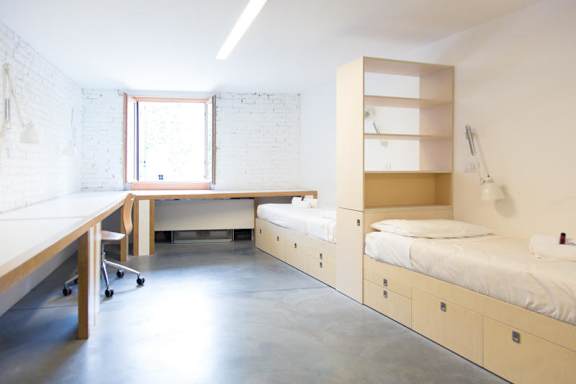 This hostel has 255 beds in total that are split between shared rooms, private rooms, and apartments. There are 6, 7, 8, and 12 bed dorms. Most of the rooms are co-ed but there are also 6 bed female only rooms.
When the hostel isn't full, guests are often upgraded to a nicer set up. While most guests appreciate the added luxury, space, and privacy, some solo travelers miss the social aspect of staying in a dorm room. Also, some rooms that are considered dorms are actually a group of two-bed private rooms which share a common space. For many this is great, but it does limit the social interaction.
The rooms themselves are large and guests are given a security locker for their belongings.
Private Rooms
The hostel also has single, twin, double, and quad private rooms. It can sometimes be confusing to figure out what room you've booked online, as there are apartments available, some with kitchens and living rooms, other with less space. Most rooms are quite large with comfortable beds and furnishings.
Bathrooms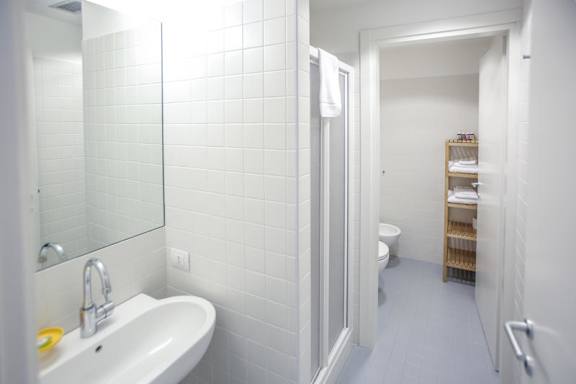 Some rooms at this hostel use shared bathrooms while others have en-suite. The apartment-style rooms often have en-suite bathrooms that include multiple toilets and showers (for the dormitory apartments). The bathrooms are reliable and clean and the furnishings are modern.
Restaurant
This hostel has an on-site bar and restaurant where you can grab a drink or bite to eat. The menu is international and diverse. The bar and restaurant is popular with locals, tourists, and students alike. Breakfast is served here for a small price and there's often music playing. It's not uncommon for the hostel to host a typical Venetian Bacaro, where they serve snacks and cicchetti. There are also various events at night, and every Thursday night there's a DJ.
Common Areas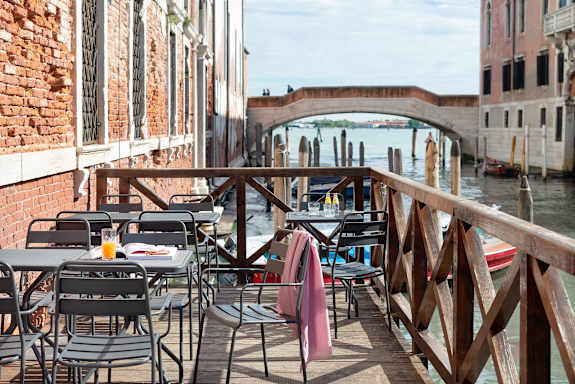 There are a handful of common areas throughout the hostel where guests can hangout. These include a bar and restaurant, a lounge area, and a nice outdoor terrace and patio. The patio looks out on the canal and in a nice place to unwind after a busy day exploring the city. The hostel also has a conference room that guests can use.
This is a large hostel that draws a crowd of students, and locals, and tourists. This keeps things light and fun, but can also make it hard to meet other travelers.
The Location
Cannaregio
What's Nearby?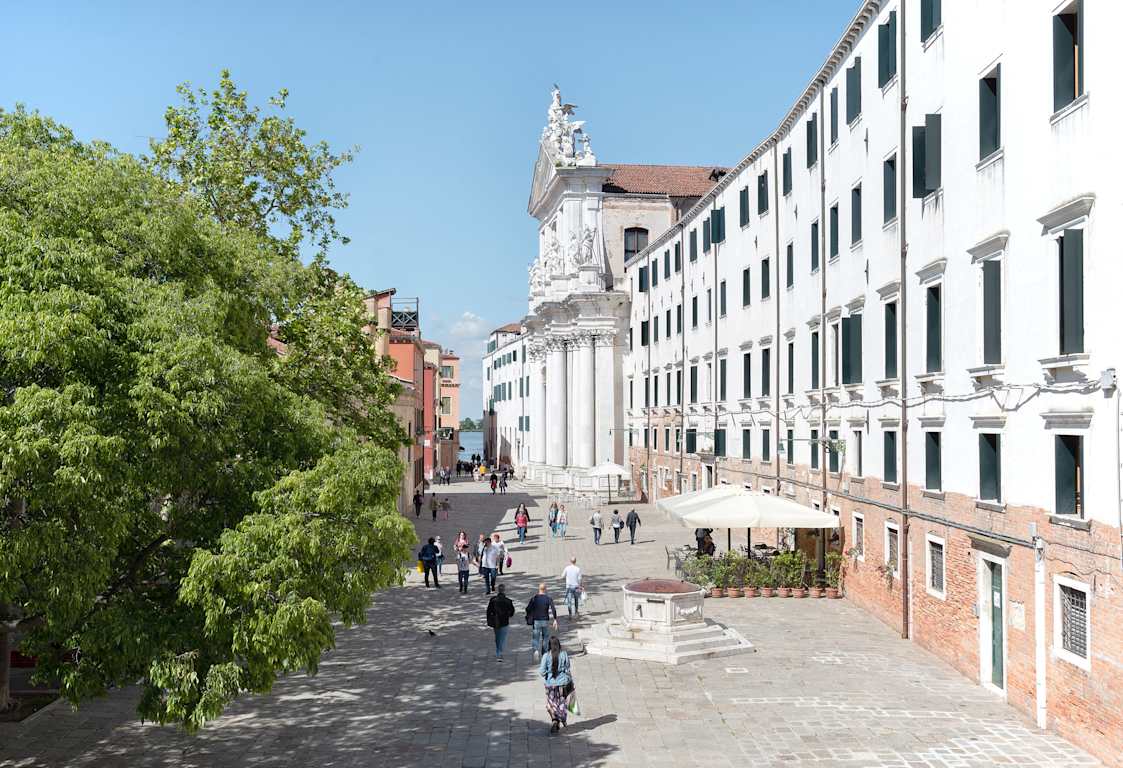 This hostel is located in a 12th century monastery that has been renovated to its current condition. It's in the Cannaregio district of the city and is about a ten minute walk from the Rialto Bridge. It's also very close to Mercato del Pesce. San Marcos Square is less than a twenty minute walk away.
Despite it's convenient location, the area surrounding the hostel is very peaceful and quiet, so this makes a nice place to escape after a busy day exploring the city. You can also enjoy a good night's sleep while you're here.
Nearby Transportation
Combo Venezia is conveniently just a few steps from the Fondamenta Nove Vaporetto waterbus stop. From there it's easy to make your way to the airport. The Santa Lucia Train Station, which is the main train station in town, is about a 20 minute walk away.
Activities
Combo Venezia's bar is a gathering place for students, locals, and tourists so you'll often find a crowd. They host a number of various events including art shows, concerts, and weekly parties with DJ's on Thursday nights.
Amenities
This is a large hostel with all kinds of amenities available to guests. There's even a shared kitchen available where guests can prepare simple meals. Some of the rooms and apartments have their own private kitchens as well. Other amenities include wi-fi, luggage storage, and a buffet breakfast for a small price.
Staff
The staff here are multilingual, friendly and helpful. They encourage a welcoming and respectful environment where all guests can feel comfortable. The reception area is open 24 hours a day, so whenever and whatever your problem, there's always someone available to assist.
Heads Up
This hostel's large size and popularity with students mean it can sometimes be hard to meet other travelers. Some guests feel that they get a bit lost in the crowd.
Combo Venezia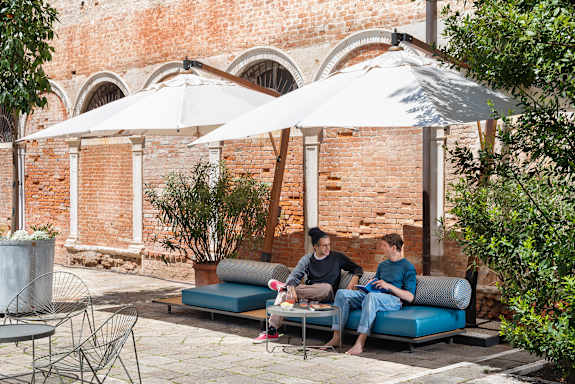 Do you have a favorite hostel that you would like to review? Let us know!