I could not recommend this place enough. This was my first solo trip at 19 and it was a great first place. The common area/ bar at at the bottom was a great place to meet people and socialise, the dorms allowed good privacy and the location was amazing! 10/10 - British Girl
What sets them apart?
This hostel's location, on an island just across from San Marco Square, offers a less crowded retreat for visitors than staying on the main island. The staff here are friendly and there's a lively on-site bar that often hosts parties for guests.
Hostel Personality
Who's staying here?
This hostel can be a bit of a party hostel, particularly on the weekends when they host parties in the bar late into the night. It's a great option for young backpackers or anyone looking for a social atmosphere where you can meet other fun travelers.
Insider Tip
It's worth taking some time to explore the island of Guidecca. It's far less crowded than the mainland and offers some great views of Venice.
Generator Venice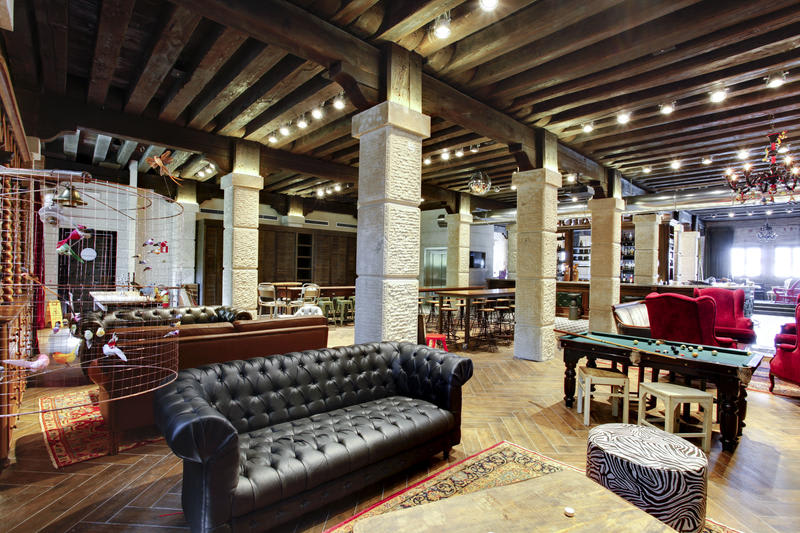 Located just across from San Marco Square on the island of Guidecca, this hostel offers a nice alternative to staying on the mainland. You can hop over to the most popular parts of Venice in just a few minutes (but be prepared to pay a fee for the ferry across).
The hostel offers decent facilities and friendly staff that are able to answer any travel related questions you may have. There's an on-site bar that is lively and fun, and often hosts parties late into the night. This hostel limits outside food and drinks, but the prices are comparable (and sometimes actually cheaper) than what you'd find elsewhere in Venice. If you're looking for something cheaper than a restaurant meal, you can grab lunch at the hostel and save a little money.
The Facilities
Dorms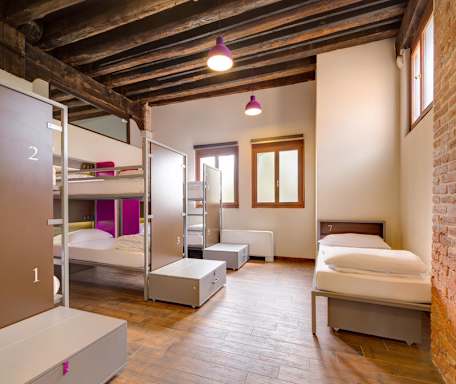 This hostel has a wide range of dorm sizes to choose from. There are rooms that sleep anywhere from five to fourteen people (and everything in between). The beds are priced according to room size, so if you're hoping to save a little money you'll likely appreciate the larger rooms. Even the fourteen bed dorm is well laid out to offer a bit of privacy. The dorms have character, and each has tiled floors and a security locker for each bed.
The beds have USB charging ports and reading lights as well. Some rooms have en-suite bathrooms while others use shared bathrooms.
Private Rooms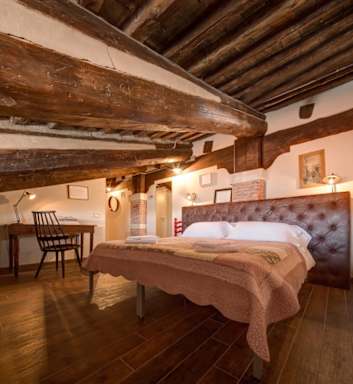 This hostel also has private rooms available. They range in size and include doubles, triples, and quad sized rooms. Some rooms offer views of the canals. Most have mirrors, lamps, and some basic furniture. Depending on the room you choose, the beds may be singles, bunk beds, or some combination.
Bathrooms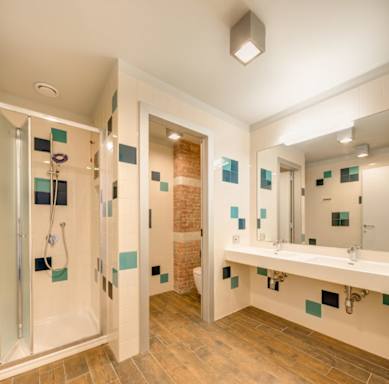 Some rooms at this hostel have en-suite bathrooms while others use the shared bathrooms. The bathrooms are decent but the showers are a bit cramped with older features. This is common in Venice. There are also a limited number of showers and sinks, so it's best to plan your timing accordingly.
Bar
This hostel has a lively on-site bar that often hosts late night parties for guests, particularly on the weekends. The staff at the bar are fun and it's really easy to meet other guests here. If you've come to Venice to party, then this bar is the place to start.
The bar is where you'll find the morning buffet breakfast (for a fee) as well as many lunch and dinner options. They also have signature beers and cocktails as well. While the prices aren't particularly cheap, they're actually reasonable for Venice, and you can often find a cheaper lunch option here than you would at a restaurant on the main island of Venice.
Common Areas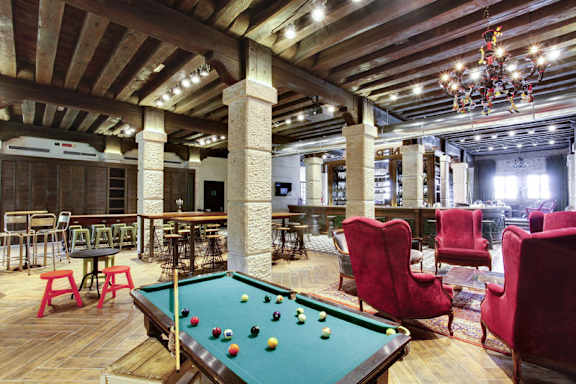 The open floor plan of this hostel means it's easy to meet other guests or find a place to relax with a good book. There's plenty of common space with sofas, tables, and games, and there are often other travelers hanging out. This hostel has a social atmosphere, and common areas are often where the action is, so don't hesitate to strike up a conversation with someone new.
The Location
Guidecca
What's Nearby?
This hostel is located on the island of Guidecca. It's just across the water from San Marco Square, but it's a much less crowded place to stay. Many guests appreciate the less chaotic retreat after a day fighting the crowds in Venice.
There are a couple of restaurants around the island, and it's really worth taking to time to explore the area. It has a less touristy vibe than mainland Venice, but still offers impressive views of the city.
Nearby Transportation
This hostel's location on the island of Guidecca is convenient to San Marco Square. It's about a 5 to 10 minute ride by
water bus
to the main area of Venice. Take lines 4.1, 4.2, and 2. Do make sure you budget for the daily pass which can be surprisingly expensive. At the time of writing a 24 hour pass was €20, and a 48 hour pass was €30.
Activities
The hostel's on-site bar is at the center of all the activities. They host frequent parties for guests with music, dancing, and drinking games. This parties can go late into the night, and many guests love the fun, but if you're in Venice to sleep, then they can be a bit annoying. Make sure you ask for ear plugs at the reception area if you're not interested in joining the party.
Amenities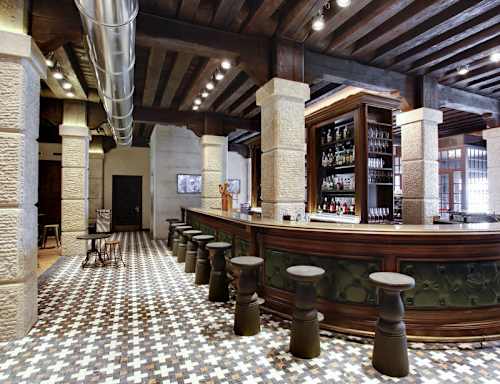 This is a fun hostel with lots of great amenities. They offer a buffet breakfast every morning for a fee and there's an on-site restaurant and bar that sells an number of decent dishes and drinks. The hostel also has the standard amenities available as well, like wi-fi, plug adaptors, and air conditioning. You're not allowed to bring outside food, but there are vending machines and ATM's you can use on-site. If you're running out of clean clothes you'll also much appreciate the laundry facilities.
Staff
The staff here are friendly and fun. They keep the atmosphere lively and social, but they're also professional and available to answer any questions you may have. Don't hesitate to ask for local travel tips or an insider's perspective on the city.
Heads Up
This is a fun and social hostel, but for some guests the partying can be too loud and too late into the night. Make sure this is the atmosphere you're looking for before you book. The hostel also has a convenient, but expensive location on the island of Guidecca, so make sure you factor in the water bus pass when planning your budget.
Generator Venice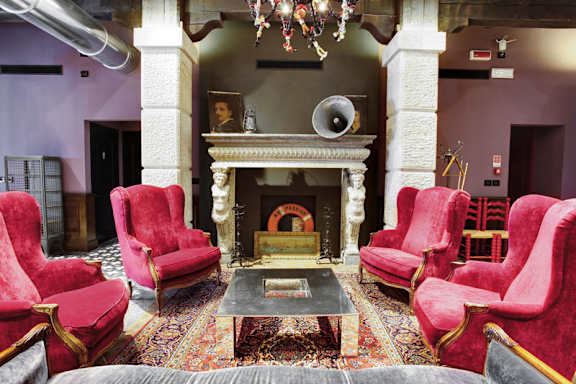 Do you have a favorite hostel that you would like to review? Let us know!