If you're solo traveling to Amsterdam, this should definitely be a top choice. It's very social with plenty of people to meet and talk to in the smoke room and bar. They did a very good job of keeping the showers clean and the security is definitely tight. Location is right in the middle of a very touristy area with smoking cafes and clothing stores, easily walkable to the Red Light District. - Mark
What sets them apart?
This is the ultimate party hostel with an excellent bar, a smoking room, and a fun atmosphere. It's also right in the heart of Amsterdam near shopping, bars, and the Red Light District.
Hostel Personality
Who's staying here?
Make no mistake: this is a party hostel. Guests party late into the night (or early into the morning). Most guests are young and looking to have a good time. If you're in Amsterdam to the see the sights, then this may not be your place, but if you want to meet other travelers and have fun all night long, then you've found your place.
Insider Tip
If you're tall, skip the lower bed and choose a top bunk as there's not much space between the two bunks.
Flying Pig Downtown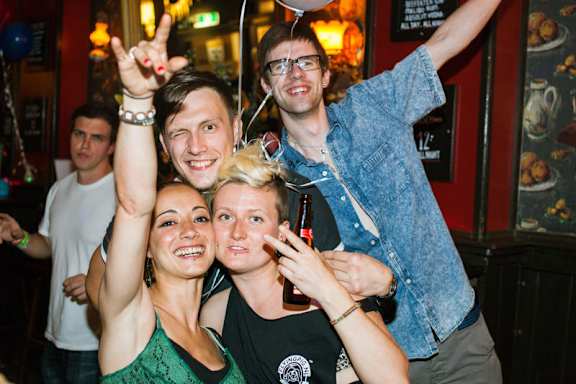 Flying Pig Downtown Hostel is a classic hostel in the heart of Amsterdam. It's has a reputation that's well deserved as one of the best party hostels in the city. The bar stays active late into the night and you're sure to meet other guests hoping to take full advantage of the city's nightlife. Everything from the crowded dorm rooms to the smoking room by the bar lends itself to an all night party.
Despite the party reputation, the staff do take the cleanliness of the hostel seriously and the showers and bathrooms are routinely checked to make sure they're in good condition. The rooms are basic but clean as well.
The Facilities
Dorms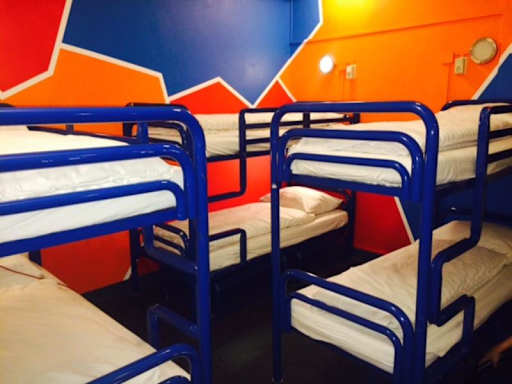 This hostel really has a huge range of dorm rooms to choose from. If you're on a super tight budget and don't care about privacy, the 32 bed room is your best option. Don't expect to sleep, because that's not what happens here, but this is a cheap place to crash if your goal is to party.
There are dorm rooms between 4 beds and 32 beds, with everything in between. Female travelers have said they're much more comfortable in the female only rooms at this hostel, which is recommended over the mixed rooms, particularly if you're traveling alone.
Private Rooms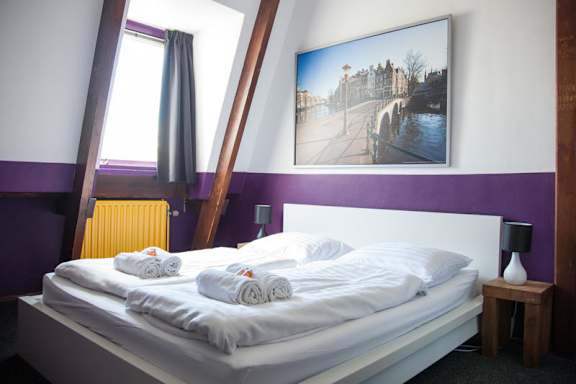 This hostel really is about dorm rooms, but there are private double rooms available if you want some space to yourself. The rooms are small but have ensuite bathrooms and a bit of privacy which some guests really appreciate.
Bathrooms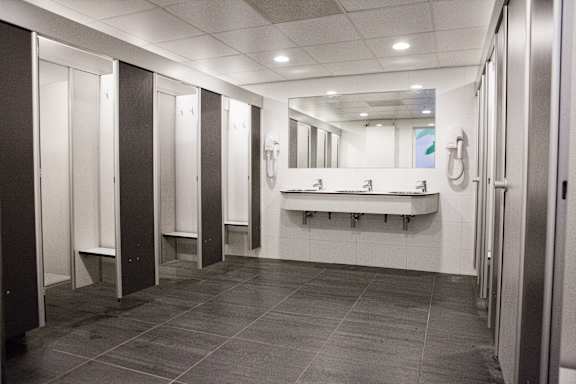 Despite the party hard reputation of this hostel, staff take the cleanliness of the bathrooms seriously. There are routine checks to ensure things are clean and the showers in particular are kept very clean.
Bar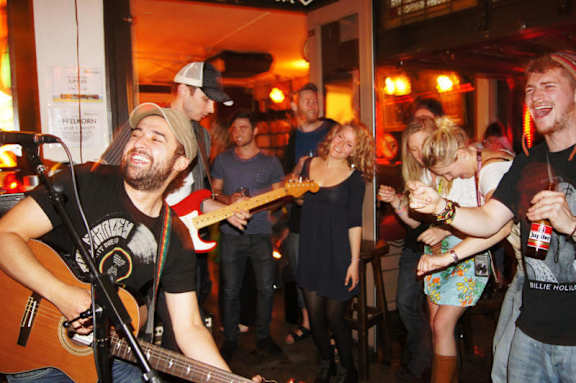 This hostel's bar is where the party is. There are DJ hosted parties many nights that keep guests dancing and drinking late into the night. Every night really is an all night party. Next to the bar is a smoking room, which many guests appreciate. This is one of the most lively party hostels in Amsterdam, so if sleep is on your agenda, don't stay here.
Common Areas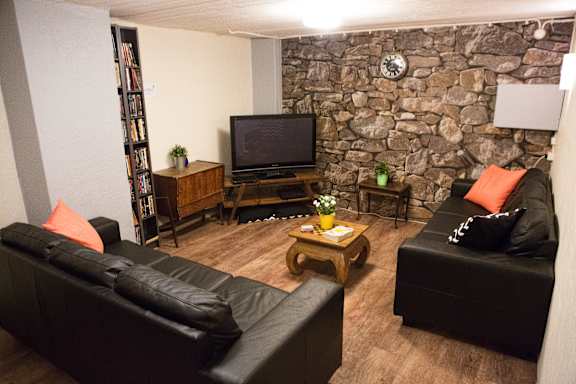 Hang out in the lounge to rest off your hangover or chat with friends and family back home. There's also a smoking room next to the bar and a kitchen that opens at 1 PM every day if you want to cook a meal.
The Location
Amsterdam City Center
What's Nearby?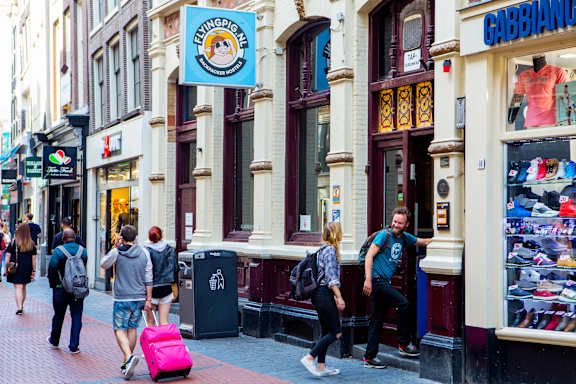 This hostel is all about location. It's right on one of Amsterdam's most popular shopping streets, Nieuwendijik. During the day you can enjoy the best shopping experience in Amsterdam, and at night you can party in one of the best nightlife areas.
The hostel is also close to most of the city's top cultural attractions. In less than a ten minute walk you can be at Oude Kerk, Dam Square is just a five minute walk away, and The Anne Frank House is about 15 minutes away on foot. The Red Light District is also nearby.
Nearby Transportation
It's easy to reach the hostel if you've arrived by train. Centraal Station is just a five minute walk away. If you're flying in, you can catch a train at Schiphol Airport that'll take you into the city center. Trains leave every 10 minutes until 1 AM. Trams are also very accessible from the hostel, and they can take you all over the city.
Activities
This hostel is really about the all night party. Head to the bar and stay into the morning. There's often a DJ that keeps the music going. Drinks are reasonably priced, there's a smoking room next door, and there's always something going on. Every night is a party at the Flying Pig Hostel.
Amenities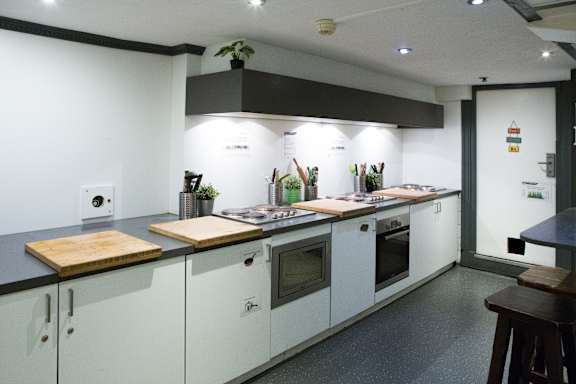 Despite being the ultimate party hostel, the security here is excellent. You'll pass through several keycard access doors to get to your room. There's also 24 hour reception service and security lockers in every room. Luggage storage is also available.
Breakfast is served in the morning for an additional price. If you sleep through breakfast, lunch is also available. There's also a shared kitchen available to guests, but it's not open in the mornings.
Staff
The staff here are all about the party. The bar stays open and lively late into the night and guests appreciate the laid back attitudes of the staff.
Heads Up
This is a popular hostel with a strong reputation. Some guests felt it was over-hyped and overpriced, but others say it's one of the best party hostels they've ever stayed at.
Flying Pig Downtown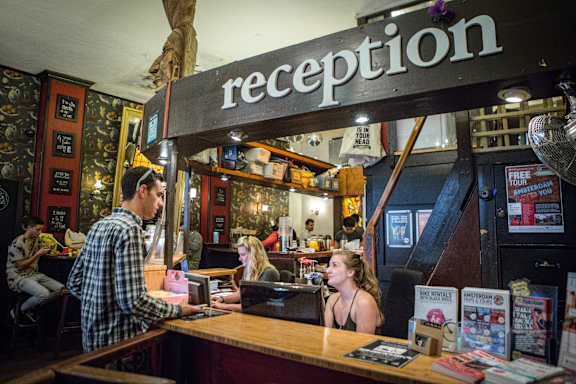 Do you have a favorite hostel that you would like to review? Let us know!