Super personable and friendly staff! Check-in was a breeze and the bar downstairs is super cool! Great location too. I will stay here next time I'm in Amsterdam! - Tara
What sets them apart?
This hostel is affordable and offers a fun atmosphere. If you don't want to pay much, but want a social place to stay, then this is a great option.
Hostel Personality
Who's staying here?
This is a bit of a party hostel so you can expect a younger crowd that's looking to have a good time and party late into the night.
Insider Tip
Be prepared for lots of narrow stairs, particularly if you're staying in a private room on the top floor.
Flying Pig Uptown
Flying Pig Uptown Hostel is the sister hostel to the Flying Pig Downtown Hostel. It's located near the Museum District and is an affordable place to stay with a social vibe. The bar downstairs can stay active late into the night. This is a bit of a party hostel, so bring ear plugs if you're hoping to sleep.
The rooms are basic but decent. The location is a bit removed from some of the more popular tourist attractions, but public transportation is very convenient so it's easy to get around town.
The Facilities
Dorms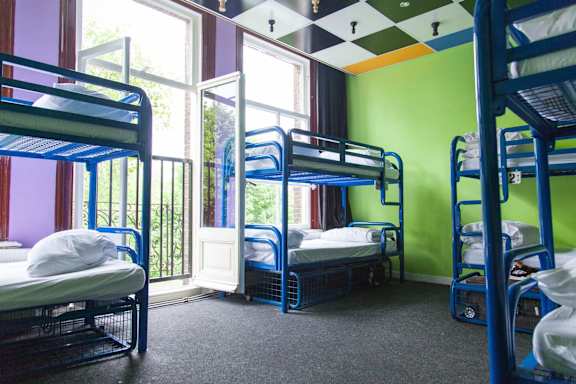 Dorms vary greatly in size and sleep between 3 and 14 people, with everything in between. There are mixed and female only rooms. The female only rooms are have six beds. The rooms have carpets which buffers the sounds a little but also picks up every stain and smell.
Private Rooms
Double and twin private rooms are available for guests who want their own space. The rooms are modest in size but have comfortable mattresses and most have natural light. You can choose between rooms with private ensuite bathrooms and rooms that use shared bathrooms. Do note that the private rooms are on the top floor, so you'll have to carry your bags up those treacherous stairs all the way to the top.
Bathrooms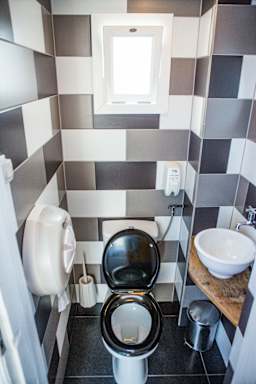 Some rooms have private ensuite bathrooms while others use shared bathrooms. The bathrooms are relatively clean with large showers but the hot water can be hit or miss at times.
Bar
People come to
Flying Pig Uptown Hostel
for it's lively bar and nightly events. The bar stays open late into the night and it's always a good time. It's the perfect place to enjoy music and hang out with other travelers. The beer is cheap and there are good drink specials every night.
Common Areas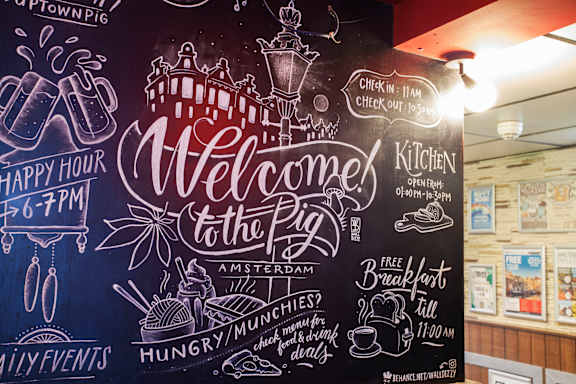 Many guests enjoy the indoor smoking room where you can relax, but if you're not a smoker, the smell may start to get to you. The hostel also has a shared kitchen that's perfect for preparing your own meals.
The Location
Vondelpark
What's Nearby?
This hostel is located right between the museum and fashion districts. It's close to music venues, clubs, bars, and coffee shops. If you're interested in the cultural side of Amsterdam, the Van Gogh, Stedelijk and Rijksmuseum are just a short walk away.
Dam Square and many of the other popular attractions around Amsterdam are about a half hour walk away. There are plenty of tram connections nearby though, so it's easy to get there by public transit.
Nearby Transportation
The Museumplein tram stop is about a five minute walk from the hostel. From there you can catch trams directly to Canal Belt, Rembrandtplein, Dam Square, and the central train station.
Activities
Head to the bar for their nightly parties and activities. There's usually music and fun late into the night. It's the perfect place to meet other guests and generally let loose.
Amenities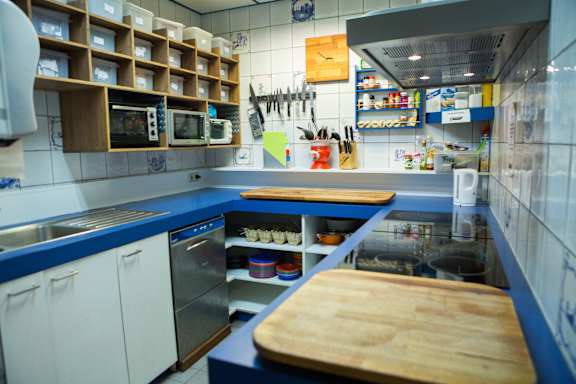 This hostel has the standard amenities like Wi-Fi access, luggage storage, security lockers, and vending machines. There's a shared kitchen where you can cook meals or you could grab a snack from the vending machines. Breakfast is also served every morning for a small price.
Staff
The staff here are laid back and relaxed, just like the vibe of the hostel. They'll help you when they can and are generally responsive to any concerns you may have.
Heads Up
This is a bit of a party hostel. Some guests felt it was a bit dated and the indoor smoking room appeals to many guests, but some didn't like it. There are also a lot of narrow stairs leading to the rooms.
Flying Pig Uptown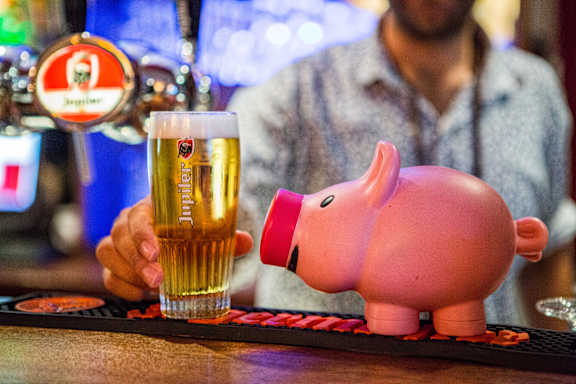 Do you have a favorite hostel that you would like to review? Let us know!