South Australia On a Budget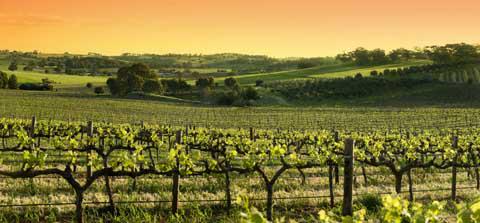 Millions of travelers are attracted to Australia for a variety of reasons. Sure there are adventures waiting around ever Aussie corner, but sometimes you just want to sit back and relax. That's when it's time to visit South Australia.
Nestled between Western Australia and Queensland, this state is home to 1.6 million people. Even with that many people, however, it's still less than 10 percent of the entire country's population. With less tourists, infamous wine, delectable produce and an untouched environment, Southern Australia is the perfect spot to kickback in the outback.
Sights
South Australia is full of wildlife, vineyards and some of the most stunning scenery in the world. To catch a glimpse of some of the animals that call Australia home, visit Kangaroo Island. This internationally renowned island is home to bandicoots, wallabies, possums, and koalas. On Baird Bay or Eyre Peninsula you'll find sea lions, and Port Lincoln is home to the Great White Shark. And if you're more into the stationary scenery, take a breathtaking trip to world-heritage sites Naracoorte Caves or Wilpena Pound.
Many visitors who find themselves up for the challenge of driving the Aussie highways get the opportunity to experience all the sights. South Austrailia is home to several scenic highways – Birdsville Track, Eyre Highway, Oodnadatta Track and Stuart Highway – each with their own sights and stories.
Regions
Southern Australia is divided into nine different regions. The state's capital, Adelaide, is in the region named for the city. The Winery Areas include some of the state's most incredible wines. The Fleurieu Peninsula just south of Adelaide is home to coastal villages and the gateway to Kangaroo Island. Just off the coast of the mainland is Kangaroo Island with miles of natural beauty. The Limestone Coast is in the southeastern section of South Australia and contains Mount Gambier. The Murray River is the fruitful region around the winding river, and the Yorke Peninsula is so nice even the Aussies go there for holidays. The Eyre Peninsula is miles and miles of coastline, and Flinders Ranges has the Mount Remarkable National Park for exploration and adventure.
Activities
While many divers make their pilgrimage to the Great Barrier Reef, there are plenty of adventurous sights to be seen under the shores of South Australia. Rapid Bay, for example, offers bursts of colorful reefs and visits with leafy sea dragons.
Is there anywhere more relaxing than an afternoon wine tasting? Yes, an afternoon wine tasting in South Australia. With premium wines and five-star restaurants, the Barossa Valley is the country's most popular wine region. Travel through the cellar doors to relax in the hills and vineyards of the region. If you haven't had your fill of wines after a trip to Barossa, there's also the Clare Valley, McLaren Vale and Coonawarra.
For the traveler who finds relaxation in cosmopolitan places, simply staying in Adelaide would do the trick. There is amazing architecture to explore, boutiques to browse and beaches to swim. Spend your evenings attending posh art events, dining in world-class restaurants and dancing the night away in the club of your choosing.
South Australia is also home to many festivals throughout the year. Check the calendar to see if there's anything going on during your visit. The Tour Down Under, for example, is an exciting international cycling race held ever year. There's also the Clipsal 500 V8 race throughout Adelaide, or the Adelaide Fringe celebrating comedy, music and theatre.
Food and Dining
If you're a fan of the freshest of foods, South Australia will have your mouth watering. The Adelaide Central Market is know for its fresh produce, cheeses, seafood, meats and other quintessentially Australian flavors. With generations of nationalities migrating to this region, you'll have no trouble finding a dish you'll love here. From Italian to Greek, Polish to German, Chinese to Vietnamese, South Australia can tickle any taste bud.
Transportation
While driving through South Australia is certainly an option, remember that many of the roads in the north and west are unpaved requiring extra caution. Traffic police are strict, so foreigners better know what they're doing before getting behind the wheel.
There are many statewide regional bus systems in South Australia. Most of them will take you to the major destinations. There is also a rail network with limited stops within the state, and of course, biking s always highly encouraged. The city of Adelaide, in particular, has many established bike paths.
Related:
Looking for a party? Find a
hostel in Sydney
,
Melbourne
,
Cairns
, or along the
Gold Coast
.