Cairns On a Budget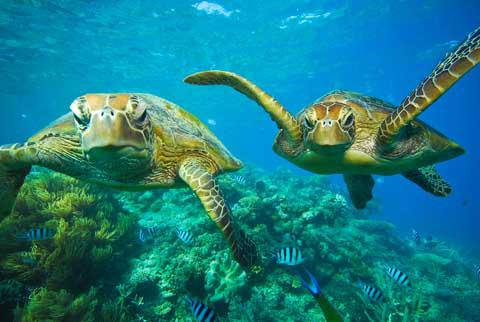 Most travelers go to Cairns specifically to visit Great Barrier Reef. The city itself is surprisingly large and cosmopolitan with a population of approximately 140,000. The city's economy is almost exclusively based on tourism, although you will find some jobs centered around agriculture, or more specifically sugar cane, bananas, coffee, tea, wine, and some tropical fruits. The city itself is surrounded by rainforest and makes a great base for exploring Kuranda, with the Barron Gorge National Park and the Daintree offering a quieter tropical getaway than Cairns.
Cairns has a tropical monsoon climate with a wet season between November and May. The dry season may still experience some rain and is between June and October. The city receives a decent amount of rain and has hot and humid summers with milder temperatures during the winter months. High temperatures are typically in the high 70s Fahrenheit in July and the high 80s in January. Flooding is not uncommon during the wet season.
Sights
There is no shortage of natural beauty around Cairns. The Botanic Gardens have tropical vegetation and the fascinating Gondwana Evolution trail. The Centenary Lakes are across from the Botanic Gardens and have a Rainforest boardwalk through the forest to the lakes. There's also a picnic area where you can enjoy a meal. Lake Placid is in Barron Gorge National Park. It's a beautiful lake that is surrounded by rainforest. Other natural areas worth visiting include Mount Whitfield Conservation Park, Smithfield Conservation Park, Copperlode Dam, Atherton Tableland, and Daintree Rainforest.
Of course, the greatest attraction in the area is the Great Barrier Reef. There are a decent number of operators that run both day and liveaboard scuba diving trips from Cairns. It's best to choose a smaller dive boat where you'll receive more personalized attention. They also travel to areas that are less frequently visited than the larger boats and therefore in better condition.
Museums around town include the Cairns Regional Gallery and Cairns Museum.
Neighborhoods
Cairns runs from Edmonton in the south to Ellis Beach in the north. It's approximately 52 kilometers long from north to south and the city has experienced a significant amount of sprawling development. The Northern Beaches are made up of a good number of communities including Machans Beach, Holloways Beach, Yorkeys Knob, Trinity Park, Trinity Beach, Kewarra Beach, Clifton Beach, Palm Cove, and Ellis Beach. Smithfield is an inland suburb between Yorkeys Knob and Trinity Park and is a hub for these northern beaches. South of Smithfield is Freshwater Valley, which includes the suburbs of Caravonica, Kamerunga, Freshwater, and Stratford. Cairns's city center is near the suburbs of Cairns North, Parramatta Park, Bungalow, and Portsmith.
Cairns's is an energetic travel destination with plenty of backpacker havens and parties. A quieter alternative is to stay outside of Cairns at a beachside resort, of which there is no shortage. It is just as easy to book a snorkeling or scuba diving trip to the Great Barrier Reef from these resorts, and you will avoid some of the crowd and chaos of the city. These resorts may actually be more expensive, but they often include many amenities and offer a wonderful spa style vacation.
Activities
Because Cairns is such a popular destination for all travel types, you will find no shortage of facilities in the form of hotels, hostels, restaurants, bars and clubs. If you're looking for a great nightlife, there is always a place open where you can grab a drink or join in some festivities. It is important to realize there is no swimming beach in the central Cairns area. The ocean is actually more of a mud flat. There is a large lagoon style pool in the middle of the city that is quite popular year around. When you head either north or south of the city, there is a much wider selection of swimming beaches.
People head to Cairns not only for the parties but for the adventure sports as well. While you're in the area definitely try your hand at skydiving or scuba diving. If you're flexible with time, the best way to save some money is to go standby. Wait for a cancellation and you could save yourself upwards of $150 on the more expensive activities.
Food and Dining
The Esplanade has a high concentration of bars and restaurants that offer guests good food, seafood, and beer. Most places don't open until 11 am so you'll be hard pressed to find a good breakfast option. On the north side of the Esplanade you'll find some more expensive restaurants. If you arrive before 6:30 you might receive an early bird discount of between 20% and 30%. It is best to confirm this in advance.
Away from the Esplanade you'll find small cafes and milkbars that are popular with locals. There's also a decent number of Japanese restaurants around town, but prices are not cheap.
Transportation
The city center is relatively small and you can easily walk around. There are also frequent buses from the center of town that travel to the suburbs and the Northern Beaches. It's possible to buy a daily bus ticket if you plan to travel frequently by bus. If you're planning to head out of the town center then it's beneficial to have a car. There are a good number of car rental agencies at the airport. Another alternative is to book a tour that will take you to a number of destinations in the area.
Related:
Looking for a party? Find a
hostel in Sydney
,
Melbourne
,
Cairns
, or along the
Gold Coast
.