Adelaide On a Budget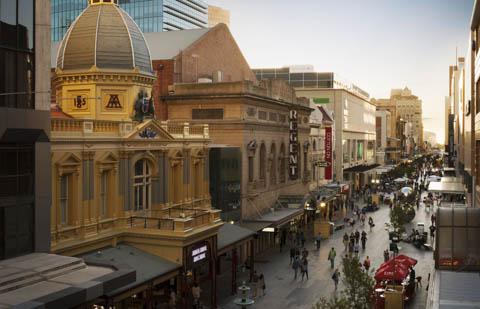 Adelaide is the often overlooked capital city of the State of South Australia. It's also the fifth largest city in the country. Despite being skipped by most travelers, Adelaide is an interesting city to explore and has a decent amount to offer open minded travelers. It has some fascinating architecture, unique shopping, and wonderful cafes and restaurants. Part of the appeal of Adelaide is its location in the midst of Australia's wine regions, including McLaren Vale, Barossa Valley, and Clare Valley. Any of these destinations could be visited as a day trip from Adelaide.
Adelaide has a hot summer Mediterranean climate. The summers and dry and hot and the winters are mild, although the wind may make the temperatures feel cooler than they are. Most of the city's rain falls during the winter months, although there may be infrequent, light showers during the summer months. Hail is also common during the winter season.
Sights
If you're looking for a good view of the city, then head to Montefiore Hill or Adelaide Hills, particularly at night. Other places worth visiting include Adelaide Oval, Port Adelaide, or North Terrace, which has many museums and shops that are worth visiting. Hahndorf is a German settlement that is just a short drive away. There you will find a chocolate factory, the Beerenberg Strawberry Farm, and picnic areas.
Within Adelaide some of the more interesting museums include the Migration Museum, the South Austalian Museum,
Port Adelaide Train Museum
, Gawler Museum, the South Austalian Meritime Museum, and the National Motor Museum. Churches in the city include Holy Trinity Church, St. Francis Xavier Cathedral, St. Patrick's Church, and St. Peter's Cathedral.
Nearby national parks include Belair National Park, Cleland Conservation Park, and Morialta Conservation Park.
Neighborhoods
Adelaide's city center is one square mile in size. It's where you'll find the majority of the tourist attractions including interesting architecture and some great museums. North Adelaide has many of the city's older stately homes. There is also fine dining and parks in the area. Port Adelaide has a good number of pubs. There are also Port River cruises that leave from here. Glenelg is the area's most popular beach destination. There is also plenty of shopping and dining opportunities in the area. Also within an hour's drive of Adelaide are some of the country's best wineries.
Activities
A great time to visit Adelaide is during the festival season, referred to as "Mad March." During this time you'll have the opportunity to go to any number of festivals, including the Adelaide Fringe, the Clipsal 500 Car race, the Adelaide Festival, WOMADdelaide, The Adelaide Cup horseracing carnival and the touring Soudwave and Future Music Festivals.
Otherwise, there are
plenty of other activities and things to do in Adelaide
.
Food and Dining
In Adelaide you'll find a variety of restaurants along Gouger Street. Options include Asian, Italian, and seafood restaurants, among others. Weekends can be busy so reservations are recommended. Hutt Street also has a few excellent high end restaurants as well as several gourmet shops and supermarkets. Rundle Street is where you'll find many cafes and a few other dining options.
In North Adelaide there is an interesting mix of restaurants along Melbourne Street. There are also some affordable take out options as well as pubs, cafes, and bakeries.
Transportation
If you're motivated to visit Adelaide, you'll find it at least a day's drive from any other capital city in Australia. The closest is Melbourne, which you can drive to in about eight or nine hours. There is an international airport which is the easiest and fastest way to reach Adelaide, although flights can be expensive. The most expensive and time consuming option is to take the train. There are several routes that arrive at Adelaide and they can be enjoyable, but tickets are more expensive than flights.
If you're planning to stay in the city center, you can walk to most of your destinations, but to go anywhere outside the city center you'll have to take public transportation or drive. The public transportation system is quite good and reliable, so you do not need a car to visit Adelaide. The system includes a metro, tram, and buses. The metro has four main lines and two branch lines. The tram runs from the Adelaide Entertainment Centre in Hindmarsh to the Adelaide central business district following along North Terrace and King William Street. The bus network is very comprehensive and fills in where the other options don't go. In general service is frequent and reliable.
Related
Looking for a party? Find a
hostel in Sydney
,
Melbourne
,
Cairns
, or along the
Gold Coast
.