Darwin On a Budget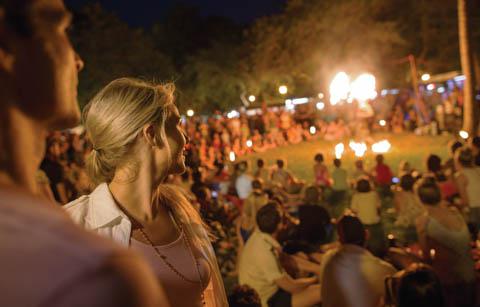 Darwin is a tropical city set against the Timor Sea in north central Australia. It is also the capital city of the Northern Territory. Despite being a relatively small city, Darwin is very diverse with residents from all over the world. The city itself has a very relaxed vibe with plenty to do. Visitors can enjoy everything from traditionally Asian style markets to culturally diverse events such as concerts, festivals or art shows.
Darwin serves as a hub for trips to Kakadu National Park, Litchfield National Park and Katherine Gorge. Tourism is the largest industry in the city and amenities for tourists are plentiful.
Because Darwin is set in a tropical climate, you'll find it has two seasons, a dry season between May and October, and a wet season between November and April. While rare, the city is occasionally struck by cyclones. Most visitors go to Darwin during the cooler dry season between the months of April and September. Temperatures are typically in the high 80s Fahrenheit and nights are cooler.
Sights
Darwin has many sights for visitors including cultural sights, historical landmarks, and natural settings. There are many parks both in and near the city. There are also several great museums and several historical attractions. Check out the suggestions below, or see this
3-day Darwin itinerary for more ideas
.
Some of the most popular places to visit in Darwin include the Darwin Wharf Precinct,
Fannie Bay Gaol
, Burnett House at Myilly Point, and Adelaide River War Cemetery. Also be sure and visit Bicentennial Park,
George Brown Darwin Botanic Gardens
, Lake Alexander, the Museum and Art Gallery of the Northern Territory, and Northern Territory Parliament House. There are some truly fascinating natural settings around the city and it's recommended, if you have access to a car, to take some day trips from town and explore the nearby parks and reserves. After all, much of the appeal of Australia is the country's unique environment and nature.
Neighborhoods
Darwin can be separated into the central business district and the newer northern suburbs. The central business district is bounded by Daly Street to the northwest, McMinn Street to the northeast, Mitchell Street to the southwest and Bennett Street to the southeast. Within the central business district, Stokes Hill wharf waterfront area has been the focus of much redevelopment. The city's industrial areas are along Stuart Highway toward Palmerston. Casuarina Square is the shopping precinct. Expensive residential areas are along the coast and include Larrakeyah and Brinkin.
Activities
Popular parks and nature areas near Darwin include Berry Springs Nature Park, Casuarina Coastal Reserve, Aquascene,
Crocodylus Park
, and the Territory Wildlife Park. Because Darwin is a gateway to the Northern Territory, many people also use it as a base to explore Kakadu National Park, Katherine, Litchfield National Park, and Tiwi Islands. In fact, all of these nearby destinations are on the list of
the top 5 must do attractions in Darwin
.
Because of the area's great multicultural heritage, there are some really wonderful markets where you can buy some locally made handicrafts. This is a great city to pick up some aboriginal souvenirs or one-of-a-kind works of art. Even if you're not shopping for something to buy, many of the markets are worth taking a stroll through just to look. Some of the more popular markets include the Tiwi Art Network,
Aboriginal Fine Arts Gallery
, and Casuarina Square.
Food and Dining
There are a range of restaurants in Darwin's downtown area. Many of the more popular places to eat are located around Mitchell and Knuckey Streets where you'll find cafes, pubs, and fine dining. Lunch is a great time to eat out as options are plentiful and prices are cheaper. You can enjoy everything from sushi to tapas at a discount during lunch hours. If you're on a tight budget then your best options are pubs, Indian, Asian, and fast food restaurants. It's also possible to pick up some ingredients and prepare your own meals.
Transportation
To truly take advantage of being in Darwin, you really need to have a car. Most of the destinations are spread out, and parking is readily available.
If you don't have access to a car, there is a
bus system
that will help you reach the attractions that are closer to the city. Some sights may be within walking distance, but without a car, you will miss many of the popular activities in Darwin. Walking around the city center can be hot and uncomfortable. Cycling is a good option as the area is generally flat and drivers are used to cyclists. If you don't have access to a car and want to get out of town it's possible to arrange a tour.
Related
Looking for a party? Find a
hostel in Sydney
,
Melbourne
,
Cairns
, or along the
Gold Coast
.