Tasmania On a Budget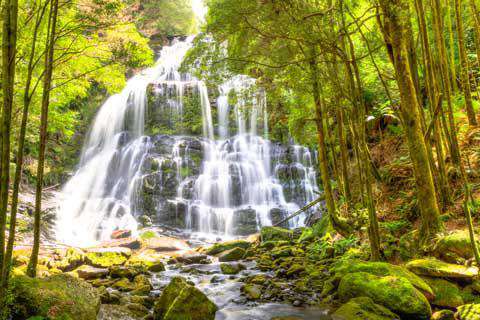 Who doesn't want to escape to a remote part of the world for some rest and relaxation? For those kinds of vacations, don't count out the island of Tasmania. This destination should be at the top of every nature lover's list. Over 45% of this island is national park land.
Tasmania is Australia's only island state. With approximately 500,000 people, it is the also the smallest state in the country. It's roughly the size of the state of West Virginia with much of its population living on the south and north coasts. The island sees all the seasons and a relatively cool climate. Keep in mind, however, the seasons are different down under. Their summer runs from December to February while their winter spans over June to August.
Sights
Since most of this island is comprised of protected national parks, you'll probably stumble on to one of these without even looking. Whether you find yourself on the red rocks of Bay of Fires, in the caves of
Mole Creek Karst
, or walking the cliffs of The Gorge, keep your eyes out for the abundance of wildlife that calls Tasmania home - kangaroos, wallabies, wombats, ringtail possums, platypuses and, of course, the Tasmanian Devil.
If you didn't get enough cave diving in Australia's Mole Creek Karst National Park, take a trip to Hasting Caves. As the largest tourism cave in Australia, Hastings Caves will blow you away with stunning chambers of flowstones and shawls. After exploring stalactites and stalagmites all day, deep your in feet in the thermal pool.
For a bit of history, add in a stop at Port Arthur. This is the best preserved convict site in the whole of Australia. Guided tours will show you all over this colonial site including the Commandment's House, ruins of the penitentiary, the guard tower and the asylum.
For a perfect stroll after a long day of touring, head to Sullivan's Cove for an evening in Salamanca Place. Lined with a long row of sandstone buildings, you can easily lose yourself under the stone arches and in shops full of crafts, jewelry and books. If you happen to be there on a Saturday, be sure to hit the Salamanca Market to find handmade crafts from local artisans.
Regions
The island is split into seven different regions. The most popular region is Southern Tasmania as it's home to the state capital of Hobart. Northern Tasmania contains the mountainous regions of the northeast, while the North West Coast features small townships and cities. The East Coast is where you'll cozy up on the stunning beaches of this island including the Bay of Fires and Wine Glass Bay. The West Coast is the least populated area of the island and is the center of Tasmania's mining industry. The South West region is a national park, and the Bass Strait Islands are two scenic islands sitting between Tasmania and mainland Australia.
Activities
Tasmania is an outdoor lover's paradise. There are so many trails for hiking, biking, and off road touring. Tasmania is home to many hiking trails, some long and some short. If you're interested in hiking, check out this great guide to
the best hikes in Tasmania
. Also, one of the most popular treks is the Overland Track, which is a 5 (or more) day hike through some of Tasmania's most beautiful wilderness areas. If you're planning to do this,
here's everything you need to know about the Overland Track hike
.
If the water is more your style, though, there are plenty of scuba diving sites. Places like Bichero, Bay of Fires, and Flinders Island have giant kelp forests and shipwrecks just waiting to be explored.
If you'd rather stay above water, there are beautiful kayaking spots full of secret coves and beautiful coastlines to glide around.
Between diving, fishing, hiking and biking, there's no end to the adventures you'll have in Tasmania.
Food and Dining
As Tasmania has grown into an international destination, so has the foodie scene. There is a wide variety of cuisine to choose from, but be sure you try some of the specific dishes they're known for. If you see seafood, wallaby, leatherwood honey or homemade fudge on the menu, order it right away.
Transportation
The easiest and most convenient way to get around Tasmania is by car. Keep in mind many of the coastal roads can be a bit winding and difficult. The roads in this state use an alphanumeric system for their roads. In general, these roads are clearly marked, so navigating Tasmania isn't too tough.
If you're not comfortable driving in a foreign land, buses are an option. Just be sure you have plenty of time, as the buses are often not on schedule. Keep in mind there are no passenger trains on the island.
Related:
Looking for a party? Find a
hostel in Sydney
,
Melbourne
,
Cairns
, or along the
Gold Coast
.