What sets them apart?
St. Christopher's Inn Barcelona is part of the St. Christopher's chain of hostels found throughout Europe. This is one of the premiere party hostels in Barcelona, and its large size, quality amenities, and well established reputation mean you won't have to look far to find a crowd to party with. The hostel's on-site bar, Belushi's, is a destination in itself. Travelers and locals alike gather here and guests of the hostel enjoy discounts on drinks and food at the bar.
Hostel Personality
Who's staying here?
This is a self proclaimed party hostel and it's popular with party-goers of all ages, but in general it attracts a younger crowd. If you're traveling alone, this place practically guarantees a group of ready-made friends with its many activities and strong social atmosphere. Small groups also enjoy the many perks this hostel offers. This hostel also accepts larger groups of more than ten people.
Insider Tip
Find out the club nights when you arrive for the best deals on drinks and food.
St Christopher's Barcelona
St. Christopher's Inn Barcelona is a branch of the popular
St. Christopher's
European hostel chain. These hostels have a well established reputation of keeping things fun and active. It's a very large hostel that stays close to full year around, so whether you're traveling alone or with friends, you won't have to look far to meet new people.
This hostel is all about the party, which is often centered around the popular on-site Belushi's Bar. The bar is a hub of activity for backpackers (from all over the city, not just for this hostel), so when you stay here the party actually comes to you. If you're looking for a place that is reliable, fun, and popular, then St. Christopher's is one of the best in Barcelona.
The Facilities
Dorms
With more than 400 beds in total, this is a large hostel with a wide variety of rooms to choose from. The dorms rooms have either four, eight, twelve, or sixteen beds with smaller rooms being slightly more expensive. You can also choose between female-only and co-ed rooms. Each bed is a "POD" bed, which means it has a privacy curtain, electrical plugs, USB sockets and a reading light. If you've had enough partying for the night, you can tuck yourself in to your own little POD while you nurse your hangover.
The rooms are relatively large and there's air conditioning that keeps things cool during those warm Mediterranean nights. The rooms are secured with digital key cards and every bed has its own security locker. Bring your own lock though, or you'll need to pay 4 euros to buy one.
Private Rooms
If you're the type that needs your own space, or if you're a couple, then private rooms are more likely your style. This hostel has a wide selection of private rooms available. There are twins, four bed, six, bed, and eight bed rooms, so whether you're traveling as a couple or with a larger group of friends, there's a convenient option for you. Rooms are available with either shared bathrooms or private ensuites as well.
Bathrooms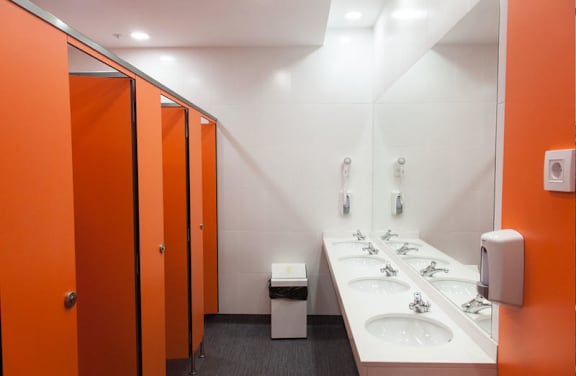 The bathrooms are clean and modern, but this is a large hostel so don't expect them to be completely spotless. The hot water is reliable and super hot and the showers have great water pressure. They are push button showers, which means they run on a timer to conserve water, but you can restart the flow by pushing the button again. The showers also each have a convenient little shelf and hanger to make sure your things stay dry.
Bar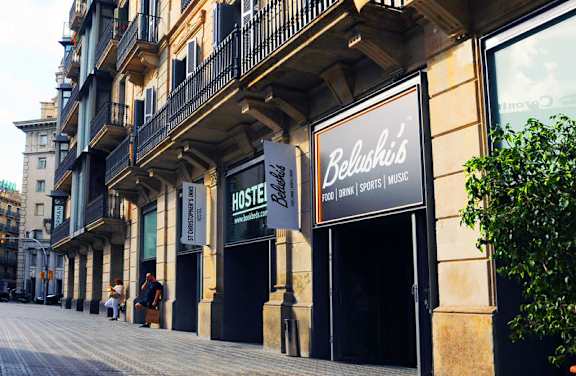 St. Christopher's is famous for it's on-site bar,
Belushi's
, which is found on the ground floor. Some guests stay at this hostel specifically for the bar, and other travelers head over from their own hostel to hang out here in the evenings. Belushi's is an American style bar that draws a crowd almost every night of the week. Try their famous burgers or other international food options if you're looking for an affordable meal, too. The bar has loud music and a happy hour that stretches well beyond an hour. During the happy "hour" you can enjoy two-for-one drink specials and various discounts on food. Guests of the hostel also receive a number of guest-only discounts and coupons.
Common Areas
Most guests hang out at the bar if they're looking to socialize, but there are also several more
relaxed common areas
where you can chill and chat. If you want to catch up with friends back home, head over to the Internet lounge. There's also some very basic
kitchen
facilities like communal fridges and a microwave. Every morning breakfast is served outside under the warm Mediterranean sun. The
outdoor terrace
is a great setting to start your day and the
buffet breakfast
, for a small price, offers enough food to energize you for the day or nurse your hangover from last night's festivities.
The Location
Eixample
The Eixample neighborhood is where the old world charms of the Gothic Quarter merge into modern Barcelona. Here, many famous museums and attractions can be found, as well as plenty of restaurants, bars, shops, churches, and other sights. Public transportation in this part of town is very common, and the streets are laid out in an orderly fashion, so it's hard to get lost.
What's Nearby?
This hostel couldn't be more central! It's at the top end of Las Ramblas, which is just a two minute walk away. It's very conveniently located just one block from Plaza Catalunya (three minutes away) near the Ciutat Vella district. Many of Barcelona's top landmarks are just a short walk away, and anything that's not walkable is easily reached by public transit (Plaza Catalunya is a major transportation hub, too). You can wonder over to the fascinating La Boqueria Market, which is less than half a mile. Also within a mile of the hostel are Passeig de Gracia (a shopping avenue), Tivoli Theatre, Gaudi's famous Casa Batllo, and Placa Reial. If you want to hit the beach, it's just a short 15 minute bike ride to one of the best beaches in the city.
Nearby Transportation
This hostel is conveniently just a short walk from Plaza Catalunya, where you'll find a major transportation hub and access to almost anywhere in the city. The closest metro stop is Catalunya Metro Station and the airport bus stop is also just a short walk away. From here you can get anywhere in the city, or out of the city to take a day trip to Costa Brava, Montserrat, or other nearby destinations very easily.
Activities
You'll start your visit off right with a
free Sangria
on your first day. This will set the tone for the rest of your stay at St Christopher's. Hang out for happy hour at the bar or watch the latest sporting events with locals, expats, and travelers. Then head out on the town for the hostel's
nightly pub crawl
, which is one of the most popular activities here. During the day you can learn about Barcelona during one of their daily free walking tours. This will give you a great overview of Barcelona so that you know how to get around and what to spend more time seeing on our trip. The hostel also has an endless list of activities to choose from, including cocktail masterclasses, paella cooking sessions, wine and cheese tastings, and Beer Pong competitions.
Amenities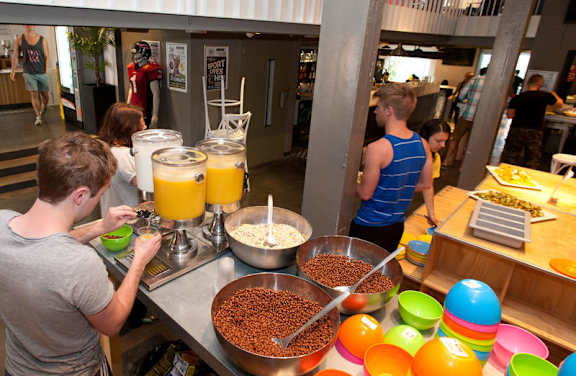 The large size of this hostel means they can offer a wide variety of amenities. In addition to all of the standard stuff like free wi-fi and bed linens, this hostel also has a very basic shared kitchen (with fridges and microwaves), a book exchange, public computers, and bicycle rental. The security system is all state of the art with electric key card access. Breakfast is served every morning on the outdoor terrace and the on-site bar offers food and drinks. There's also an elevator to help you haul your luggage up to your room.
Staff
The staff here stay busy and active, making sure this hostel keeps running like a well oiled machine. From daily welcome drinks to nightly pub crawls, you'll regularly have a chance to meet and chat with the staff. Many guests return to this hostel over several visits to Barcelona, simply so they can see the staff and friends that they've made. Despite the hostel's large size, you'll never feel like just a number here, as they do everything they can to make sure everyone feels welcome and comfortable.
Heads Up
This is a popular and reliable hostel, but that doesn't mean there it still doesn't have some minor annoyances. It's a party hostel, so you can expect the noise and hassle that comes with that, such as noise. It attracts a young crowd and for some travelers it feels a bit too "frat" like. The rooms also have motion sensors on the lights, so if someone returns late the lights may turn on. Fortunately the blackout curtains on each bed help to minimize this inconvenience.
St Christopher's Barcelona
Do you have a favorite hostel that you would like to review? Let us know!