Staff really friendly!!! Amazing location and environment! - Solo Traveler
What sets them apart?
The Hipstel Paseo de Gracia hostel is all about cheap rooms in a central location. The rooms are basic, the staff is helpful, and the price is good if you're looking for a place to crash in Barcelona that won't cost a lot of money. The hostel doesn't have all of the free amenities of other hostels, but they do have breakfast and dinner that you can pay for, very nice common areas, and a shared kitchen for all of the guests.
Hostel Personality
Who's staying here?
This hostel is all about cheap beds, so it appeals to young backpackers who don't want to spend a fortune. If you're on a budget but don't want to sacrifice location, then this hostel is a good value.
Insider Tip
Bring shower shoes if you're using the shared bathroom.
The Hipstel Paseo de Gracia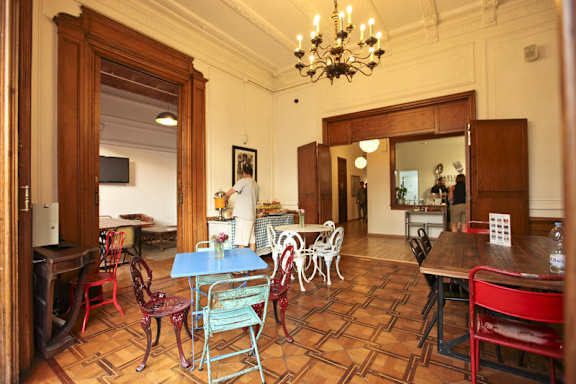 Are you looking for a cheap bed in a central location? This is the place. They don't offer all of the activities that you might find at other hostels in Barcelona, but they do have an affordable dinner every night and cheap breakfast in the morning. The rooms are small and basic, but they meet your needs if you're looking for a place to crash at a bargain price. The staff here is nice and friendly, and the common areas are comfortable. If you're looking for a conveniently located hostel that won't break the bank, then this is it.
The Facilities
Dorms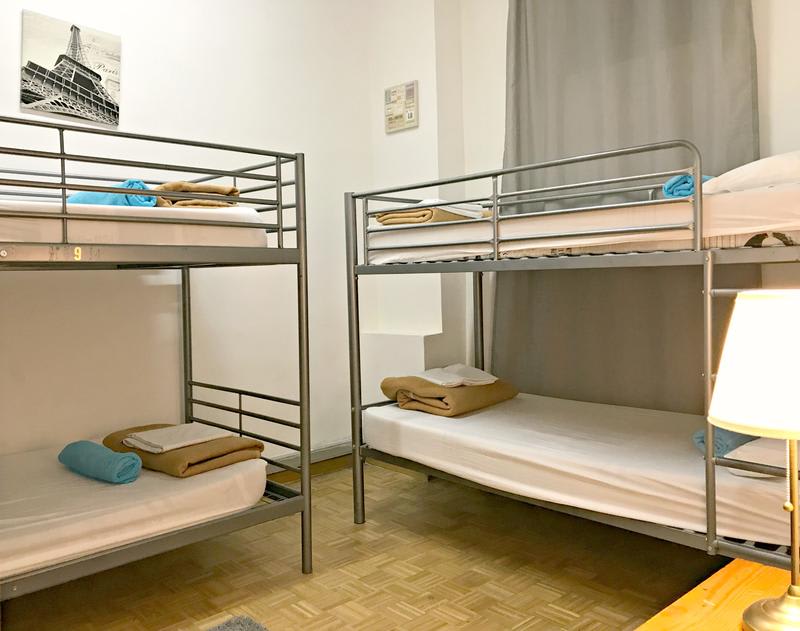 This hostel has six, ten, and twelve bed dorms. The six bed dorm is female only and the other rooms are co-ed. The rooms themselves are a bit small and the beds are very basic. There's no air conditioning but they do have fans. The beds come with a locker where you can store your valuables.
Private Rooms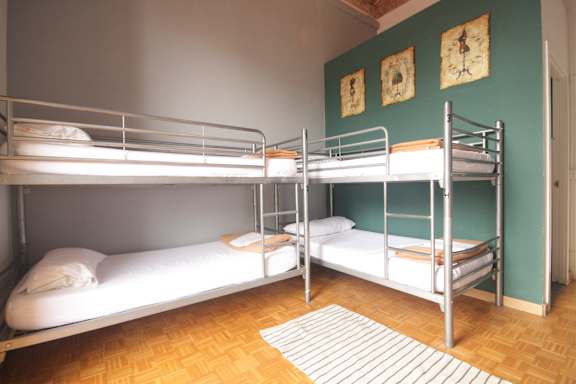 If you want a little more space and privacy, you can stay in a private room. There's a wide range of sizes starting with singles and going all the way up to six bed rooms. Some rooms have single beds, others have double beds, and the larger rooms have bunk beds and feel like a dorm room. You can choose between rooms with en-suite bathrooms or shared bathrooms down the hall. This is a nice setup for small groups of friends who want a cheap place to crash where they can share a room.
Bathrooms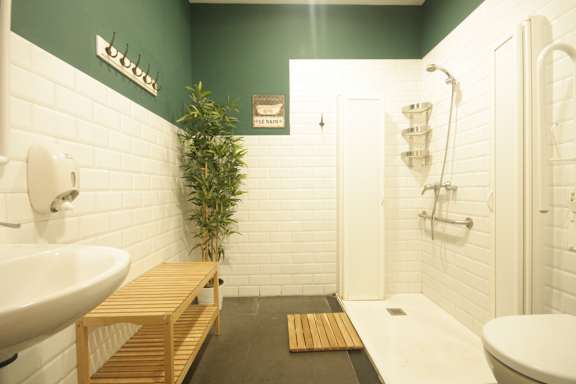 The bathrooms at this hostel are small and basic with modern facilities. There are bathrooms on the hallway that guests share. Also, there are private rooms that have their own bathrooms. The hot water is reliable and the showers are good.
Common Areas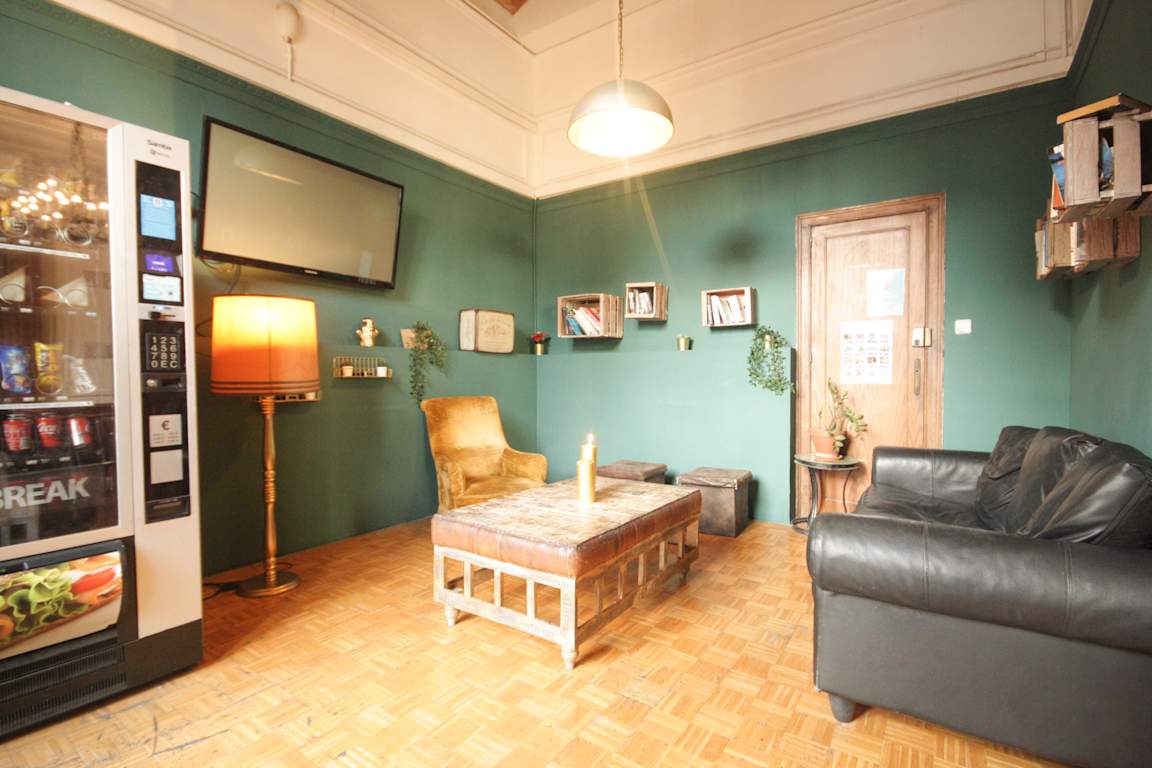 This hostel has nice common areas where you can relax and hang out. There's a lounge area and television room with movies you can watch. They also provide nice sofas where you can curl up with a good book.
There's a kitchen that is stocked with the basic supplies you might need and an eating area where you can enjoy your meals. An outdoor terrace is also available where you can soak up the Mediterranean sun.
The Location
Eixample
The Eixample neighborhood is where the old world charms of the Gothic Quarter merge into modern Barcelona. Here, many famous museums and attractions can be found, as well as plenty of restaurants, bars, shops, churches, and other sights. Public transportation in this part of town is very common, and the streets are laid out in an orderly fashion, so it's hard to get lost.
What's Nearby?
One of the biggest appeals of this hostel is its convenient, central location. It's within walking distance to many different sights and attractions, so you can explore the city on foot and see many different areas. For the price, you really can't beat the location.
The hostel is right near Passeig de Gracia and is just a few minutes' walk from Gaudi's Casa Batllo. La Pedrera is also just a few minutes away. The Sagrada Familia Basilica is just a 15 minutes' walk as well.
Plaza Catalunya and Tivoli Theatre are just a half mile away and Boqueria Market is about a mile away.
Nearby Transportation
This hostel is walking distance to many sights and attractions around Barcelona, but if you want to travel farther, it's also conveniently close to the metro. Passeig de Gracia Metro and Train Station is a few minutes away and from there you can reach Barcelona El Prat Airport in about half an hour. Plaza Catalunya, with its many transportation connections is also just half a mile, or a ten minutes' walk away.
Activities
This hostel is more laid back than most hostels in Barcelona, and it doesn't have all of the activities you might find at some of the more active places. Still, there's a great dinner served nightly for a small price and breakfast is served every morning, also for a small price. The common area has a variety of movies to choose from so it's not uncommon for there to be impromptu movie nights as well.
Amenities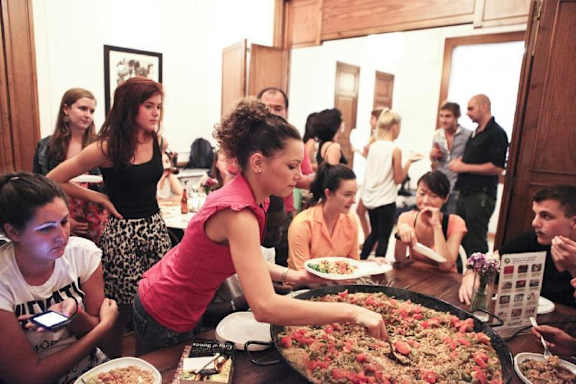 This hostel has the basic amenities you'd expect at most modern hostels, including Wi-Fi, bed linens, and security lockers. There's also a shared kitchen that guests can use, vending machines in the common area, and a laundry service for a small price.
Staff
The staff at this hostel are multi-lingual and available to help you with any questions you may have. They are friendly and welcoming without being as involved as some staff at other hostels around Barcelona. Don't hesitate to let them know if you have any questions or concerns or to ask about local restaurants nearby.
Heads Up
This is a basic hostel for a cheap price, but with a lower price comes some inconveniences. The beds are a bit basic without much privacy. The rooms can get hot and can be noisy at night, and the atmosphere isn't as social as you'd find at other hostels around Barcelona. But with its central location and low price, this hostel is still a good value for the money.
The Hipstel Paseo de Gracia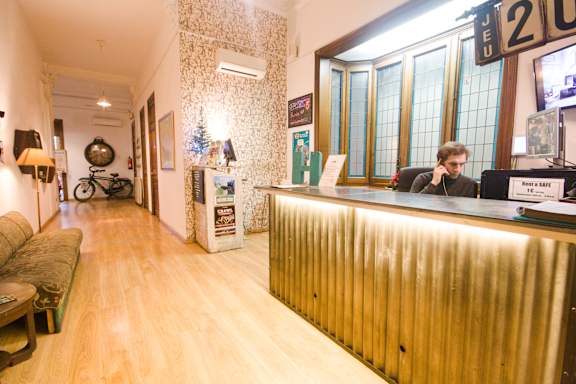 Do you have a favorite hostel that you would like to review? Let us know!