What sets them apart?
A community vibe is what makes this hostel special, and the staff works hard to make it your home away from home. While many of the Sant Jordi hostels are very party-oriented, this one is more about a social and community vibe (with some partying in the evenings), experiencing the local surroundings, making friends with your fellow travelers, and finding your inner creativity. And the facilities are modern, clean, and amazing, too!
Hostel Personality
Who's staying here?
A mix of travelers stay here, from young backpackers to independent travelers and small groups. Everyone is usually looking to have a good time, though, and meet up with each other, make friends, and explore Barcelona.
Insider Tip
This location is ideal for exploring Gracia, but get to know the metro system if you plan to spend more time in the city center.
Sant Jordi Hostels Gracia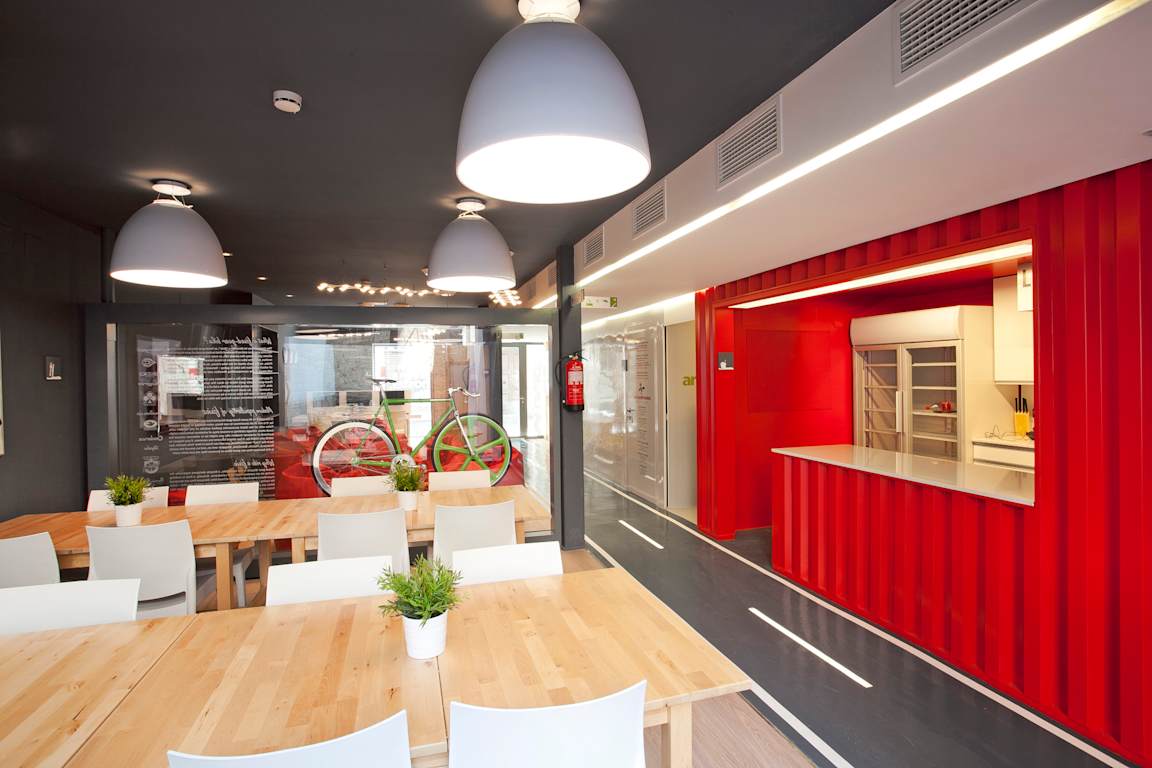 This location of the
Sant Jordi
chain of hostels sits in the heart of Gracia on a quaint alleyway surrounded by restaurants, bars, cafes, and shops. The staff is well known to make sure that everyone here has a good time. They put on a variety of activities such as dinners, yoga classes, and pub crawls to help everyone get to know one another, explore Barcelona, and have a great time.
While most of the Sant Jordi hostels are known to be serious party hostels, this branch is a little more mellow. It still has a party vibe to it in the evenings, but it can be a little more relaxed and chill, too. Everyone is welcome to join in on the activities, and they are not all party-themed. They have group dinners to help people meet up and make plans while the other events are all fun and well organized.
The Facilities
Dorms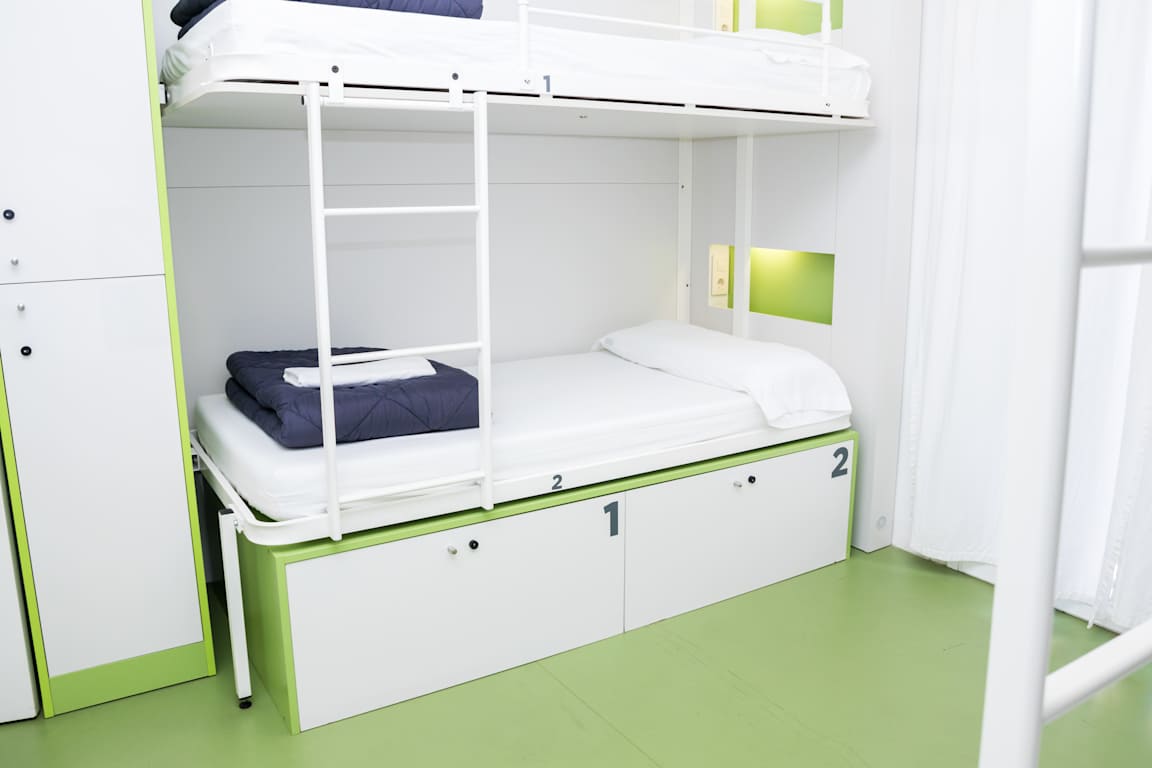 Dorms here are modern, clean, and nice. Keeping with the same green and white color schemes as other Sant Jordi hostels, this branch provides free linens and blankets, as well as a reading light and a plug for each bed. They don't have curtains, however. Lockers are in the rooms which are large enough for a big backpack or a suitcase. Some of the rooms have small balconies, too. Everything is air conditioned.
Dorm rooms come in a variety of sizes, and at different prices. The 8-bed rooms are less expensive, but less private. Four and six-bed rooms are also available. All rooms use the shared bathrooms on the halls.
Bathrooms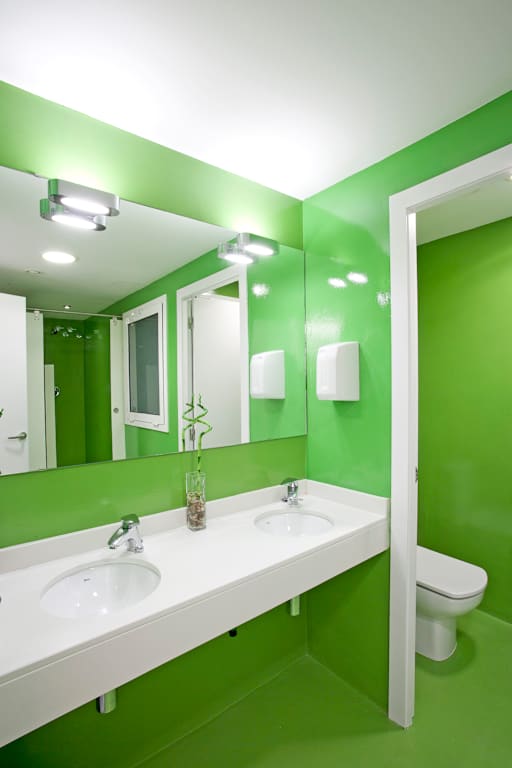 Bathrooms are clean and modern, with plenty of hot water. The Sant Jordi staff work hard to keep up with the crowds of people to make sure they stay clean. Hair dryers are provided. Showers have individual stall doors for privacy.
Common Areas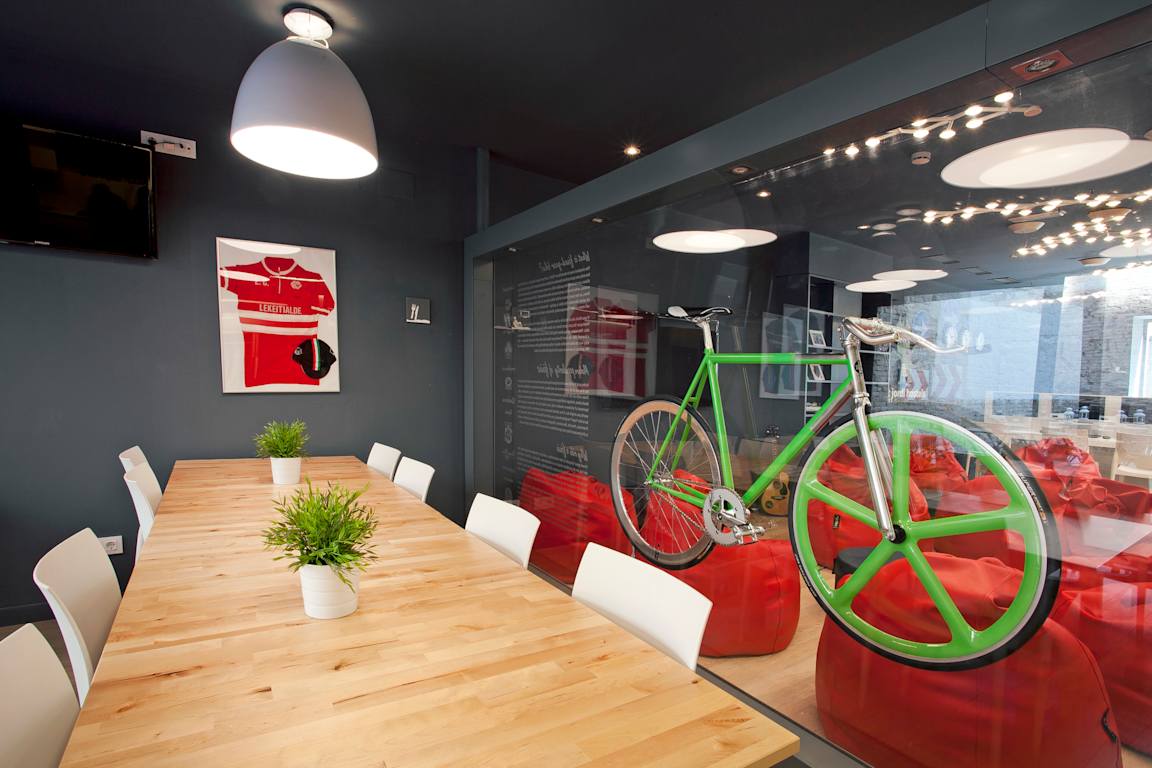 The main common area on the ground floor offers plenty of room for everyone to relax and hang out, and an outdoor terrace is also available. The main lounge and TV area has comfortable bean bag chair seating for when you want to chill with your friends or watch a movie. Next to this is the main kitchen and dining area, which is a popular spot for everyone to gather for breakfast and the group dinners.
Outdoor Space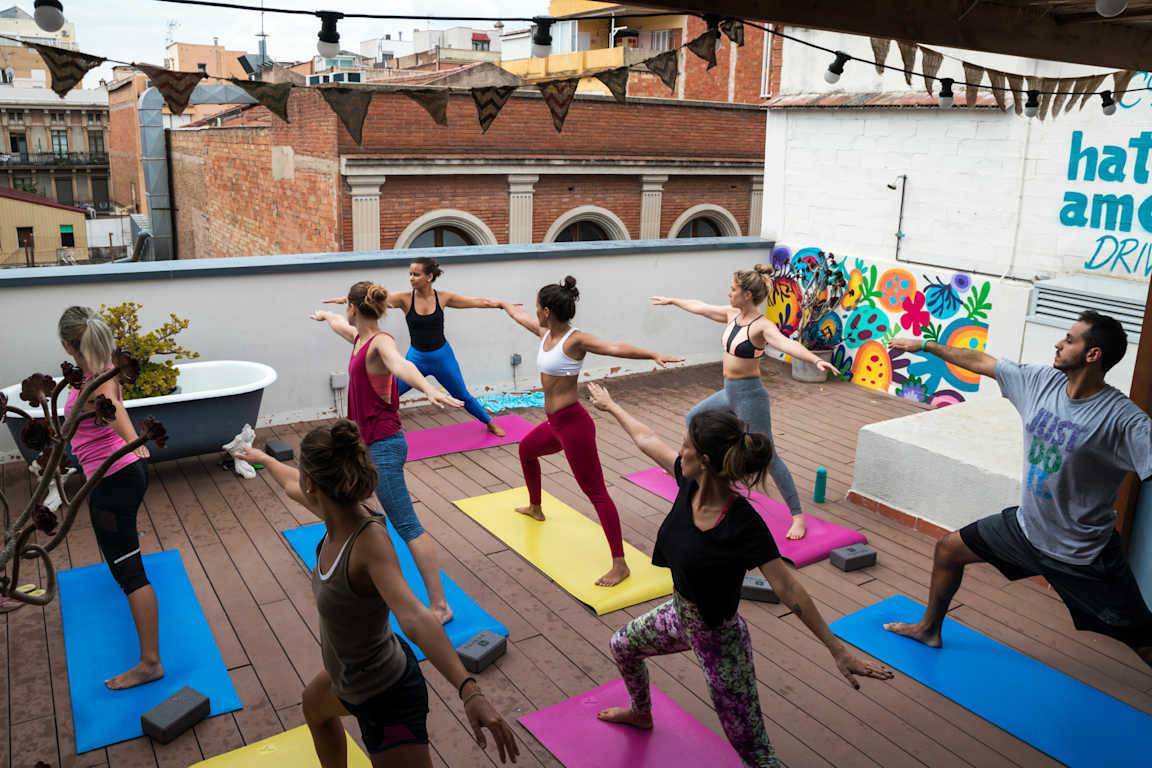 With a rooftop terrace and an outdoor patio seating area, guests can enjoy the warm Barcelona weather. The terrace is a nice spot to have some drinks or meals with friends or even participate in the hostel's yoga classes. The other outdoor seating area provides a good spot to have some morning coffee or some late night chats.
The Location
Gracia
The Gracia district is a more quiet and authentic section of Barcelona. Full of shops and restaurants, this is the type of neighborhood that visitors and locals both enjoy for its overall atmosphere and culture.
What's Nearby?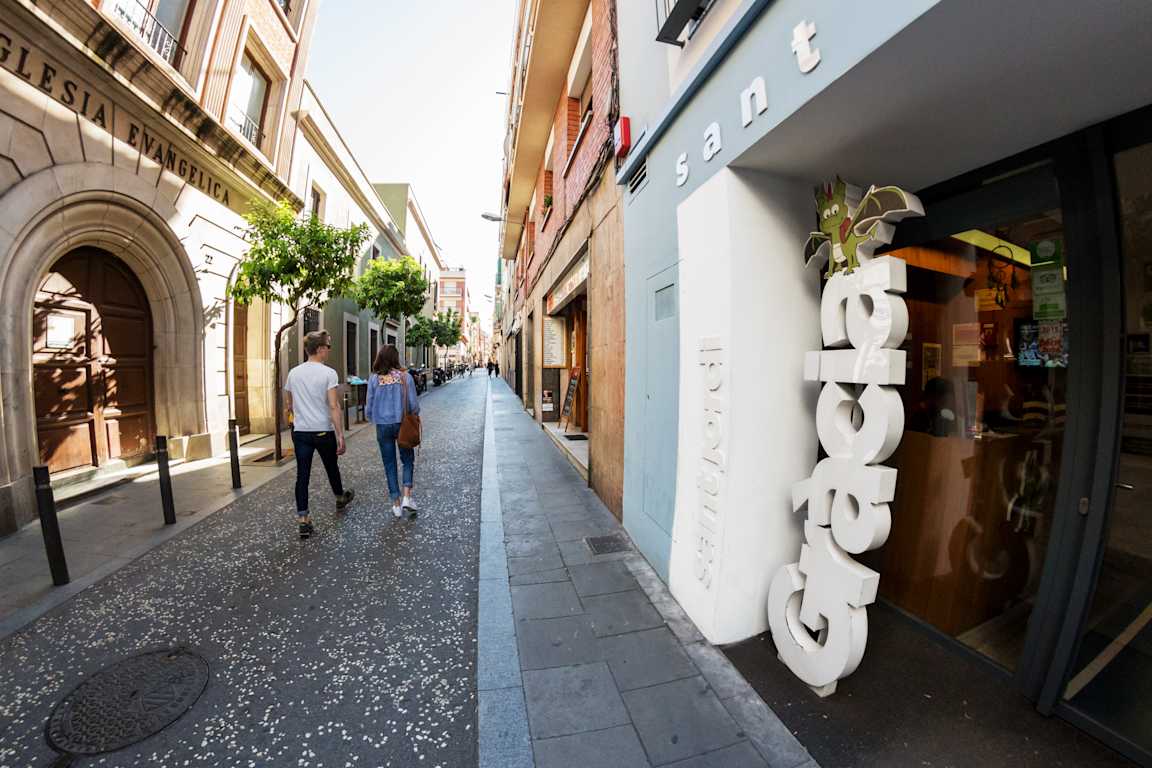 The Gracia neighborhood is full of small, narrow streets with plenty of atmosphere and charm. Within just a few blocks of the hostel you'll find a nice square with cafes and restaurants, plus plenty of shops and grocery stores. The locals say that you should just wander and take in the vibe of the community. Theatres, comedy clubs, and other attractions can be found here, too. Look for those hidden gems!
Nearby Transportation
Two metro stations are nearby: Fontana (Line 3) and Joanic (Line 4). Along Line 3, in just a few stops you can be down in Passeig de Gracia (the main shopping street), or Plaza Catalunya, Las Ramblas, and the Gothic Quarter. Line 4 will also take you through the Gothic Quarter and down to Barceloneta Beach, too. Several bus lines also pass through the neighborhood, just a few blocks from the hostel.
Activities
With plenty of activities offered, guests will never get bored. Walking tours of the city help you get to know Barcelona before diving further into the sights and attractions. Morning yoga classes keep you in shape. The communal dinners help you get to know your fellow guests (and eat some great food like Paella). The evening pub and nightlife tours will take you to some of Barcelona's hottest clubs. They also have a variety of other activities scheduled at different times, so ask the staff what else is going on. They have something for everyone.
Amenities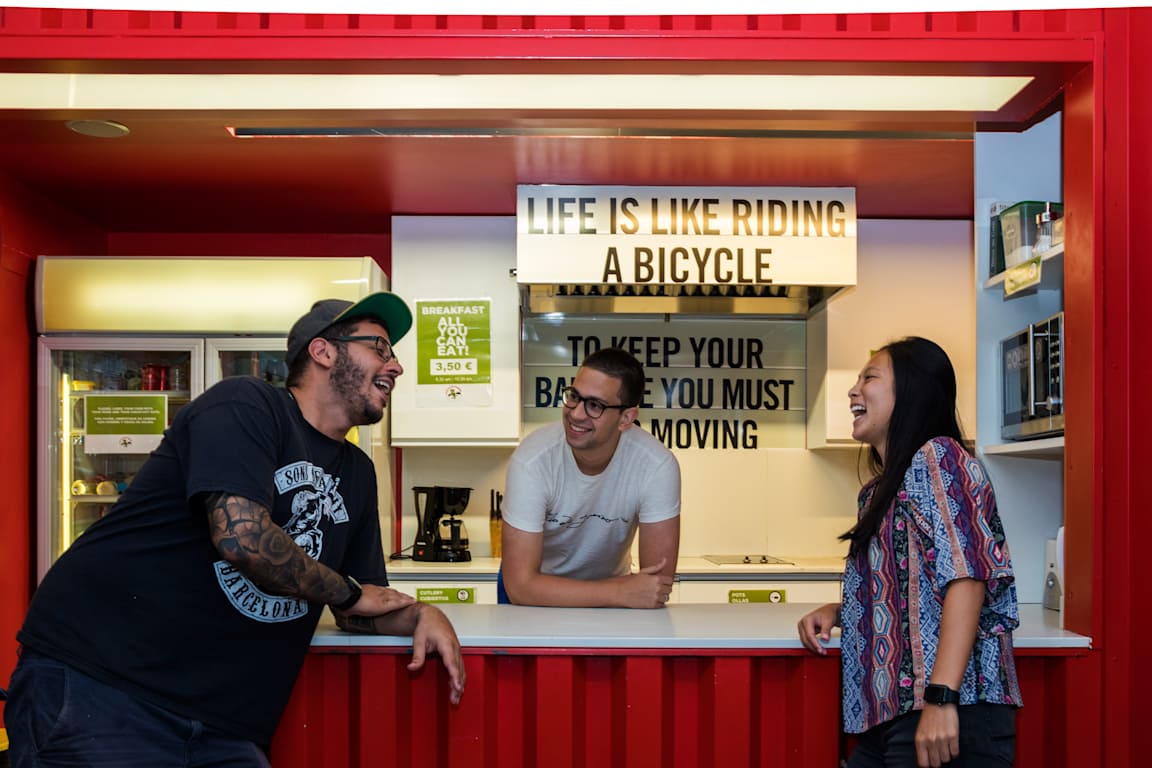 The Sant Jordi chain prides themselves on having plenty of modern comforts for guests, and this branch is no exception. From a modern kitchen full of utensils to bike rentals to laundry facilities, they have everything you could need. Luggage storage, free Wi-Fi, elevators, key-card access, 24/7 reception, a book exchange, and more are on the list.
Staff
The staff make this place great. They go out of their way to make sure everyone is having fun, comfortable, and safe. They organize so many activities that they create a true community feel for all of the guests at this hostel. Other guests have said the same, and many return multiple times just to keep having the same great experience here, and all because of the great people that work here.
Heads Up
It's hard to find fault with this hostel, as they offer so many great things. Many party-goers have complained that it does not live up to the party reputation of other Sant Jordi hostels, but this particular hostel is not as party-oriented as the others. Some have also said that the bathrooms and dorm rooms are a bit small.
Sant Jordi Hostels Gracia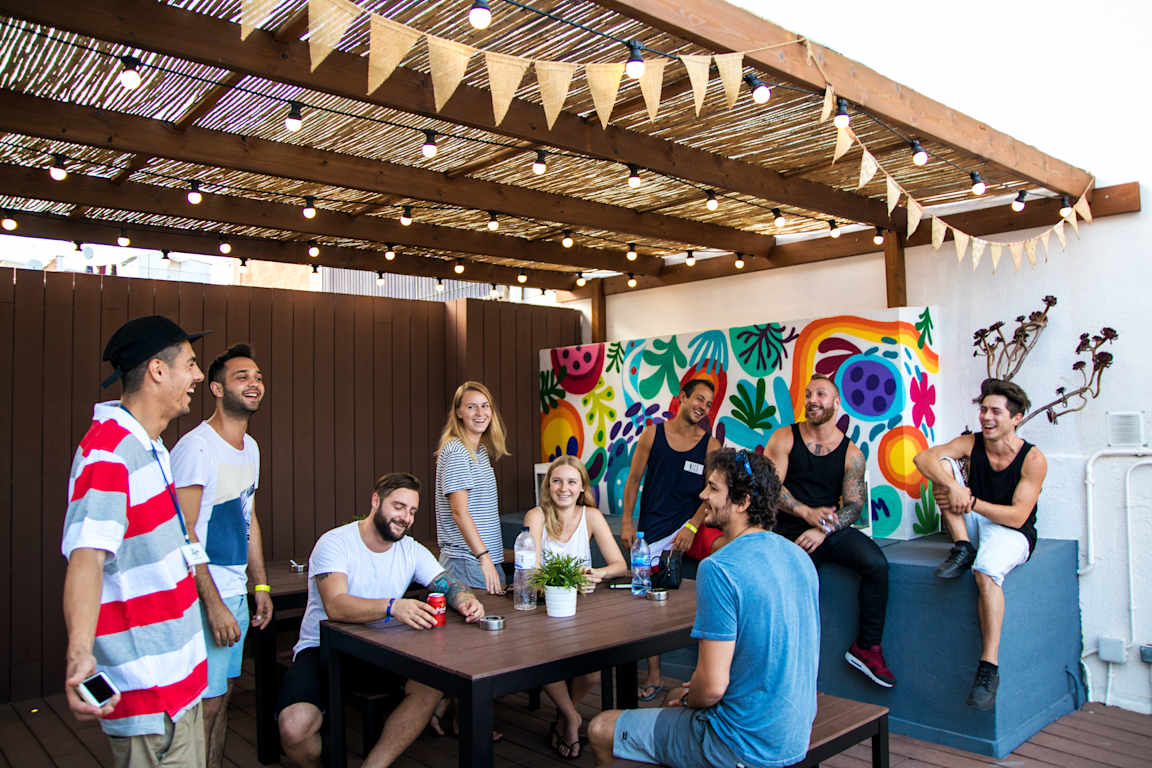 Do you have a favorite hostel that you would like to review? Let us know!