Some of the most common destinations in Thailand where digital nomads reside are Bangkok and Chiang Mai.
I stayed about three months in Thailand, so I have a pretty good sense of what adversity a digital nomad can face abroad, and how much money it takes to live in Thailand. I will talk about the prices in dollars ($ 1 = ~ 31 baht).
Overall Costs
Costs are an individual thing, but I want to talk about the myth that Thailand is a cheap country. It really is, but only for the locals. In Bangkok, I spent about $300 in four days, and I didn't buy anything too expensive – accommodation, food, taxi, two excursions. That's it. My companions went through a similar situation.  
However, after spending some time there, you simply learn how to save money by buying in the right places.
Let's start with a simple breakdown of the costs of a digital nomad in Thailand:
Accommodation (apartment) per month: $160 – $1,600
Meal at cheep restaurant: $1.5 – $2
Meal at expensive restaurant: $10.5 – $20
Water per liter: $0.65 or 3 cents (from the water filling stations)
Mobile data per month: $26
Coworking space per day: $9.6
Train pass per month: $35.5
Taxi per km: $0.3 but $1.2 is base rate
Coffee: $2.5 – $4
Beer (500ml): $1.6
Cigarettes: $4
Toothpaste: $1.8
Shampoo (400ml): $1.8
Deodorant: $1 (31 baht)
Toilet paper (6 pack): $2.6
Gym membership per month: $35.5 – $64.5
Cinema: $6.5
Tourist tours: $30
Laundry costs per kg: $0.5 – $1.5
ATM withdrawing: $6.5 – $7
Accommodation is a very important item because it can take away most of the budget. It's important to start with the right expectations and understand that in Asia, the comforts which the western world is accustomed are much more expensive.
Accommodation is significantly more expensive in the time of year from December to the end of February because this is the peak travel season in Thailand. Generally, the high season is from November to April, and the low season, when accommodation is often half the price, is from May to October. I was in Thailand during the peak season for three months when most tourists come, and the prices I am discussing below will reflect that.
Bangkok
As I already said, the concept of accommodation here is really different than in Europe or the USA. The friends that I came to Thailand with had booked three nights at a hostel in Bangkok (in Asia hostels are often called "guest houses") online. The accommodation was right next to Khao San Road, one of the most popular tourist streets in this city, where we spent four days.
The night cost us about $7. For that money, we got a room of about two square meters, one bed, and a small, private bathroom. And nothing else. We didn't even have a window in the room, so it was interesting to combine jet lag with the feeling of confusion after waking up in a completely dark room, without any idea what part of the day it could be.
This guest house was great for us to initiate because, after it, everything seemed ideal. 😊
The price for food in restaurants is about $2.5+, but street food is cooked in an improvised restaurant that "comes" every day in a moving vehicle costs about half the price. Also, food in more secluded streets for a few minutes' walk can be half as cheap. Have in mind the fact that food like pizza, hamburgers and similar "western" food is much more expensive.
Transportation is very cheap with tuk-tuks (see picture) or by taxi, but the distances you will cross are generally very long. Bangkok is a huge city, so taking a taxi can take a lot of money, especially when someone is new and doesn't know how to bargain.
One time we had a goof and offered more money to the taxi driver during the bargaining than he initially asked for. 🙂
See also our average travel costs for Bangkok.
Patong, Phuket
For about $300 per month on Patong (during December, the peak season) you can get a clean room with air conditioning ten minutes from the beach, possibly with closets (yes, this is a special item there). And if you are lucky, with a common kitchen.
I appreciate that we found the best accommodation on this beach when we look at the price-quality ratio, so this should be taken into account.
Accommodation is about 30% more expensive if you decide to use air conditioning compared to a fan. Electricity is expensive.
You usually get a significant discount if you stay somewhere longer than a week or two. Try AirBnB for some good options.
A cooked meal will cost you about $2.35+. However, by walking a few kilometers away from the main tourist street and the beach, you can get a meal a half cheaper.
Transportation around the town of Patong is $6 wherever you go, but everything you need is a maximum of half an hour on foot. If you want to visit some other beaches or go to Phuket Town (the administrative capital of the island) it is more expensive.
At Patong, we worked in our rooms. We immediately organized chairs and a table to make this possible, and the internet connection was satisfactory all the time – not too fast, but constant and stable.
Here, the basic costs, accommodation, and food could fit in $470 per month, and for those who save, it could be significantly less. For example, accommodation in dorm rooms, rooms that you share with others, is much cheaper. But, if you have that figure, you will have to be careful at every step how much money you spend.
For a slightly more comfortable life, I would set aside at least $700 a month, but with that figure, you will probably still have to watch what you spend your money on.
See also our average travel costs for Phuket, Thailand.
Chiang Mai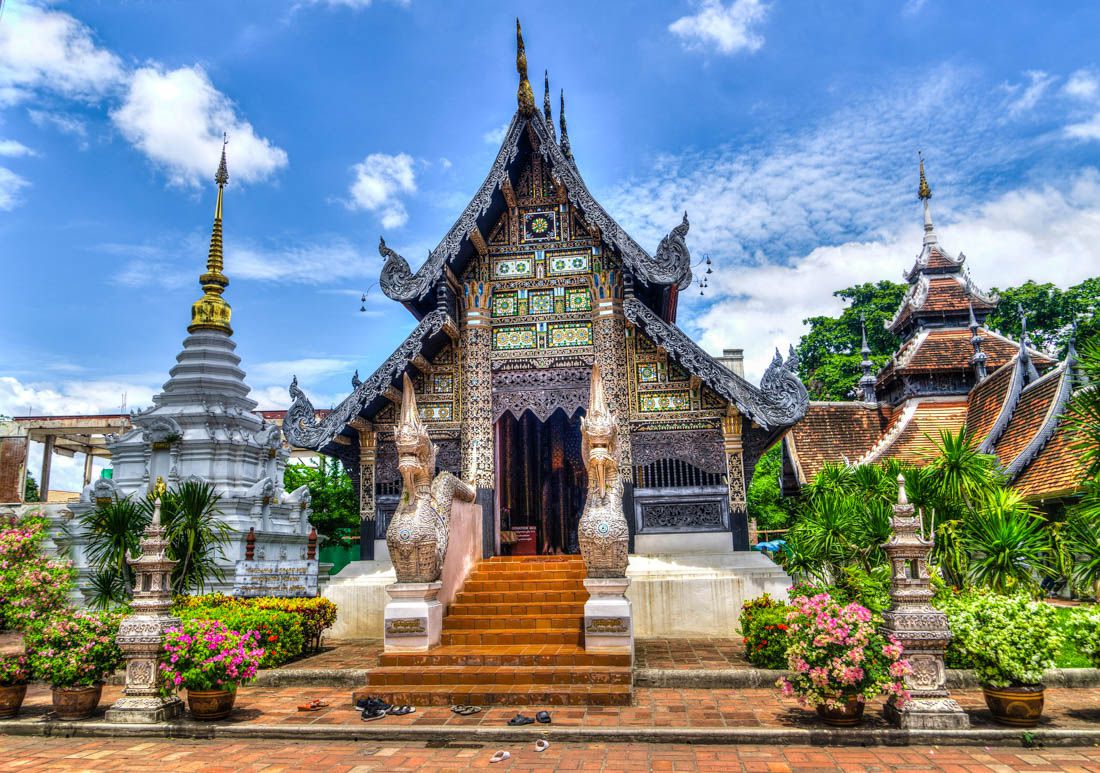 Chiang Mai is considered one of the best destinations for digital nomads. First of all,  it is extremely cheap, and then because it has at least six coworking spaces. 
The city is rich in cultural events and is ideal for getting to know Thai culture and local customs, which are still somewhat different in this town in the north, from those from the south of Thailand. Thais from the north are considered more relaxed and less temperamental than those from the south.
The accommodation (10 minutes on foot from the central point of the city) cost me about $140 per month. However, it was necessary to leave a deposit of the same value, and electricity and water are charged extra, about $25 per month. For that money, I got a clean room with a big bed, a table, a chair, a closet, a TV and a bathroom. And of course, WiFi, which was stable.
Food is relatively cheap in Chiang Mai. Number 9 is a restaurant that my friend and I visited every day. The food in it is $1.5 – $2.5 per meal or up to twice as much for "western" food.
Coworking space PunSpace is about 90 euros a month, but I spent little time in it. I stayed more often in the Maya mall AIS CAMP coworking space where, in addition to digital nomads, there were a lot of students. WiFi in it costs about $2.5 per month, and the additional cost is a drink (not necessary to order).
Transportation around Chiang Mai is significantly cheaper than other parts of Thailand I've been to. The most money we paid was $12 for a ride from almost 20 kilometers to a famous tourist destination. Having in mind that we rented minibus (10 seats) just for ourselves.
I estimate that I could survive in Chiang Mai, with an emphasis on "survive" (accommodation + food – three meals, drinks, and dessert) for about $290 per month, although for a more comfortable life you should set aside at least $700.
Bryan has visited exactly one more country than his wife, and she won't let him forget it! Also an avid photographer, he enjoys entrenching himself within the local culture in order to learn more about the people of a place. He is the co-founder of Budget Your Trip and loves a good adventure, an exotic meal, or a passionate conversation about global events.