Fortaleza On a Budget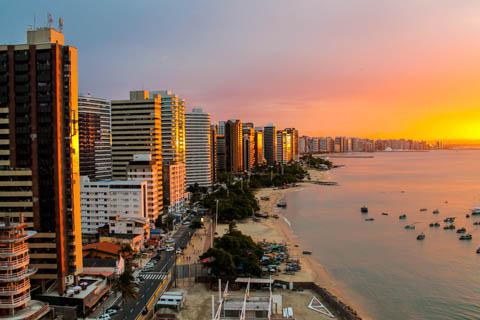 A major city on Brazil's northeastern coast and the capital city of Ceara state, Fortaleza is best characterized by its city landscape lined with beaches and palm trees. It also features some great seafood as well as long-standing folk traditions in culture and dance.
Sights
One of the city's top attractions is the Theatro Jose de Alencar, an architectural landmark dating from 1912 that holds traditional dance performances nearly every night. It is located on the south side of the Praca Jose de Alencar-a public square with pleasant greenery and a popular site to catch some of the city's best street performers. Further entertainment can be found at the Dragao do Mar, a culture center that has an art museum, library, and cinema, located in an area of surrounding nightlife. Praca do Ferreira is the main city square, featuring plenty of stores, restaurants, a movie theater, and benches for taking a break to watch the bustle of the city go by.
For an escape from the bustle, visit the Parque Ecologico do Coco-Fortaleza's largest green area. Located near the Iguatemi mall, the park is an area of conservation that protects a number of threatened species of plant and animal life. Visitors also frequent Beach Park, located just outside of the city. It is a major waterpark resort with thrill rides, a stretch of natural beach, hotels, and dining.
Neighborhoods
The city of Fortaleza stretches about 20 kilometers along the Atlantic coast and up to 10 kilometers inland. The oldest part of town is Centro, a great place to wander and a hub for shopping with many busy streets lined with small stores. The bus station is about 4 kilometers south of Centro, and the airport just 2 kilometers further south. The main areas of interest for visitors are mostly located east of Centro. Praia de Iracema is a well-touristed area best known for its concentrated nightlife, restaurants, and accommodations. Meireles is a middle-class beach suburb with many upscale places to stay, while Varjota just south of Meireles is another middle-class suburb and home to many of Fortaleza's best restaurants. East of Meireles is the port area, Mucuripe. From here, the coast veers southward and leads down to the city's best beach, the 5 kilometer-long Praia do Futuro.
Activities
Besides exploring the city and enjoying its culture, music, and food, many visitors seek out the urban beaches. The nearest city beaches are Praia de Iracema and Meireles, though the most attractive is Praia do Futuro, about 5 kilometers from Meireles. Surfing competitions are often held here, while kite and wind surfing are also popular. Other activities include golf, schooner cruises, and festivals.
Food and Dining
Cuisine of Brazil varies greatly by region, usually a mix of indigenous, European, and African influences. As one of the largest cities in Brazil, Fortaleza has a full range of flavors from traditional dishes to international fare. Fortaleza and the state of Ceará as a whole are renowned for the seafood. As a result, there are plenty of seafood restaurants as well as a fish market where patrons can choose from a wide selection of shrimp, lobster, squid, and much more.
As far as traditional cooking goes, there are few favorites that can be found in Fortaleza. Churrasco, or grilled Brazilian barbeque, is central to Brazilian culture and cuisine and is often accompanied by a condiment called farofa, which consists of toasted manioc flour often enhanced with butter, salt, pepper, and bacon. Pacoca is also a staple in Northeastern Brazil, especially Fortaleza-a dish made of sun-dried beef, red onions, and cassava flour. Other main dishes include escondidinho de carne seca (shredded beef seasoned and topped with mashed cassava, or mandioca, butter, and then cheese) and baiao de dois (a casserole type dish made with beans and rice, green onion, pepper, cheese, meat, and coriander). For dessert, try a unique take on tapioca-prepared as a thin pancake and packed with sweet or savory flavors.
Transportation
The main airport serving the city is Pinto Martins-Fortaleza International Airport, named after Euclides Pinto Martins, a Ceara-born aviator, who in 1922 was one of the pioneers of the air-link between New York City and Rio de Janeiro. It is located about 11 kilometers south of the downtown area. There are a number of airlines operating to other parts of Brazil, such as Avianca Brazil and Azul Brazilian Airline, as well as international services including Condor which flies to Frankfort, TAP Portugal which flies to Lisbon, and LATAM Brasil which operates seasonally to Orlando. Visitors can take a bus or taxi between the airport and city center.