Recife On a Budget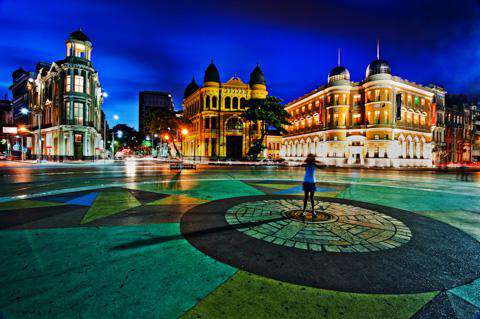 One of the largest cities on Brazil's northeast coast, Recife is also the capital of the state of Pernambuco. The city gets its name from the Portuguese word for "reef," as it was built around a landscape of natural reef beaches. Many people visit to enjoy these beaches, experience the culture, and explore the history of this important Brazilian city.
Sights
Having been built around its beaches, Recife is home to one of the world's best urban beaches, Boa Viagem Beach. Blanketed in white sands, this beach is lined with 8 kilometers of hotels and restaurants as well as a beach road and walkway dotted with food and drink stands and other vendors selling beach necessities. The waters offshore from the beach are, however, known for sharks so swimming is not always recommended. Other beach options include Brasilia Teimosa Beach, which is smaller and less crowded located near the port, and Pina Beach, which is well-developed and popular just north of the main beach.
As far as historic sights go, one of the best known is Kahal Zur Israel Synagogue, which was built in the first half of the 17th century by Jews who settled during Dutch occupation. The structure was restored to its original form in the early 2000s and today serves as a museum and cultural archive as well as an active place of worship for the Jewish faith. As far as other religious landmarks go, the most important church of the city is the Church of São Salvador do Mundo, which was built by the Dutch in the early 16th century as a Catholic church. Another popular site is the Convento Franciscano de Santo Antonio (Franciscan Convent of Saint Anthony), known for its extravagant gold-covered engravings and elaborate ceiling paintings.
Neighborhoods
Recife can be generally divided into four major zones: Centro (Center), Zona Sul (South Zone), Zona Oeste (West Zone), and Zona Norte (North Zone). The historic and governmental Center consists of a number of neighborhoods-both on islands and the mainland-connected by a series of bridges over the Capibaribe River. The South Zone, as the most modern part of the city, is the hub for tourism. Here visitors will find beautiful natural reef beaches as well as hotels, restaurants, bars, the airport, and the city's largest shopping mall. The West Zone has two well-known museums (Instituto Ricardo Brennand and Museu-Oficina Francisco Brennand), a university, military school, and the remnants of the Atlantic forest that once covered Brazil's east coast. And finally, the North Zone is largely residential, known for its schools, hospitals, parks, and bars.
Activities
In addition to beaches and historical sight-seeing, Recife also has opportunities for experiencing the modern culture of the city. The Caixa Cultural Recife, for example, is a modern venue for exhibitions, shows, cinema, and recitals. Other events, workshops, and lectures for both children and adults are also held here. Another neat venue for modern art is the Parque de Esculturas de Francisco Brennand where visitors can observe 90 exhibits of varying sculptures by plastics artist Francisco Brennand, all installed on a harbor dock. A museum and workshop of the artist can also be visited at the Museu-Oficina Francisco Brennand. Other museums throughout the city cover topics including natural history, archaeology, abolition, military, trains, and other aspects of local history.
Additional opportunities for entertainment include a zoo, botanical gardens, Mirabilandia theme park, tours of all kinds (both offshore and on the mainland), an annual Carnival festival with music and dancing, and much more.
Food and Dining
Cuisine of Brazil varies greatly by region, usually a mix of indigenous, European, and African influences. As one of the largest cities in Brazil, Recife has a full range of flavors from traditional dishes to international fare, and some of the best quality restaurants in the country. Brazil's northeastern coastline is also renowned for the seafood. As a result, there are plenty of seafood restaurants as well as seafood markets where patrons can choose from a wide selection of shrimp, lobster, squid, and much more. Other common ingredients include things like manioc flour (main ingredient of tapioca), cuscuz (corn flour), pumpkin, yam, palm oil, coconut sauce, native fruits, jerked beef, goat, and lamb. There are even specialties specific to the city including desserts such as Bolo de Rolo and Bolo Sousa Leão, which are both varieties of cake. Another favorite throughout the city is a soup known as caldinho, which comes in an assortment of flavors. Additional dishes include caldeirada (seafood stew), buchada (goat stew), dobradinha (bean stew), cozido pernambucano (beef stew), rice and beans, and many more.
Transportation
Recife is served by Guararapes International Airport, also known as Gilberto Freyre International Airport, which is located in the city's southern outskirts. From the airport, travelers can take a subway, bus, or taxi to the downtown area. Some cruise ships also arrive at the port of Recife.