Salvador On a Budget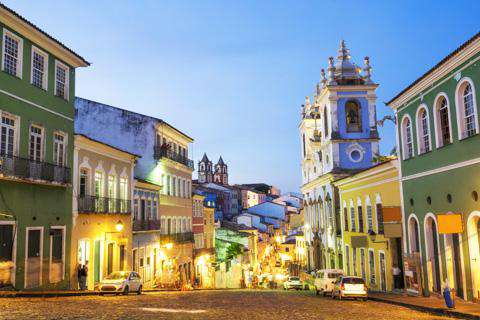 Salvador de Bahia was the first capital of Brazil, founded by the Portuguese in 1549. Also known as "Brazil's capital of happiness," Salvador is famous for its plentiful and spirited street festivals. The third most populous city in Brazil, Salvador is also well-known for its Afro-Brazilian culture and Portuguese colonial architecture.
Salvador moves to its own rhythm and culture and the city itself is visibly more Afro-Brazilian in population. It's not unlikely to see locals dancing or performing in the streets of the historic district. Salvador is also the origin of the Candomble religion, a significant source of influence on Afro-Brazilian cuisine and art. Originally based on the African Yoruba, Fon and Bantu beliefs, Candomble has also integrated some aspects of Catholicism over time and can be observed in many of the churches in Salvador.
Just as in all large cities, be aware of your surroundings and belongings. Even locals know that there are specific neighborhoods that are safe to walk in and others to avoid no matter what time of day.
Sights
The Historic Center of Salvador and a UNESCO World Heritage site lies in the neighborhood of Pelourhino, also known as the old town. Here, you'll find the famous colorful 16th-century colonial buildings and Baianas in white dresses standing in the square offering to take photos with tourists for a fee. Artistic and musical performances can often be observed in the heart of the historic center during the day. The lavish, gold Sao Francisco Church and Convent with blue and white paintings of Sao Francisco's life on Portuguese ceramic tiles in the courtyard is a another sight to see.
Directly across the way is the Catedral Basilica de Sao Salvador, a 17th-century church containing a mix of rococo, neoclassical and baroque style decor and architecture. Pelourhino is a safe area for tourists to enjoy nightlife. It's not uncommon to find many restaurants and bars open up into the streets, set with tables and chairs outside to listen and dance to live Samba music. Pelourhino is also a great place to buy souvenirs and local art in galleries that double as shops.
The most expensive neighborhood of Vitoria connects the Old City and Barra. Best known by locals for its expensive estates and tree-lined streets, Vitoria also houses many museums, such as Museu de Arte de Bahia, Palacete das Artes and Carlos Costa Pinto Museum and leads the way to Campo Grande.
Largo do Campo Grande is a cultural hub and plaza where locals congregate for various festivals and activities. Nearby are famous theaters Teatro Castro Alves and Vila Velha Theater. In the center of the small park is a monument dedicated to the heroes who battled for Bahia's independence.
The closest beach just south of Pelourhino, Porto da Barra, is also a popular tourist destination for the the farol and praia, or the lighthouse and beach of Barra. Despite cold waters and rocky shores, swimmers still enjoy wading around the lighthouse. Forte do Barra is a popular place for couples to sit and watch the sunset. Barra is also home to many gay beaches and nightlife. Many hotels can be found on the waterfront on Avenida Sete de Setembro and Avenida Oceanica.
Further east of Barra are Rio Vermelho and Amaralina, both known for their beautiful beaches. Rio Vermelho is a hip neighborhood full of bars and pubs, popular for nightlife frequented less by tourists and more by locals. Seafood market by day, Mercado do Peixe is a popular after-hours spot at night, just getting started a 3 a.m. when all the others bars are closing. Amaralina is visited for its beach, but is otherwise, a quiet, residential middle-class neighborhood. Right in the thick of bars and restaurants and next to the beach of Rio Vermelho is the modern 2-star Mar Hotel Rio Vermelho. For a quieter stay, the Hotel Ibis is a trusted and reasonably-priced accommodation further east in the Vermelho neighborhood.
Just west of Pelourinho, Comercio is the commercial center of Salvador located in the Cidade Baixa, or the "lower city,"where ferry docks and the craft market Mercado Modelo are located . Mercado Modelo also sells clothing, art and souvenirs but don't be shy to haggle as the first price is never set. To move between the upper and lower city, the iconic Elevador Lacerda costs 15 cents each way and beats taking the uneven and often slick, rocky steps along the cliffside. While the ride doesn't provide a view, photos can be taken in the viewing platform through the long glass corridor at the top of the elevator.
Those searching for international brands and department stores can head with the locals to the newest American-style shopping mall, Salvador Shopping, located in on the east side of Salvador in Caminho das Árvores. Other large shopping malls in the city include Center Lapa, Salvador Norte Shopping and Shopping Liberdade.
Liberdade is a boisterous and lively district where parties are plentiful. Home to the largest African-Brazilian population in Salvador, Liberdade is also the headquarters of famed musical group, Ilê Aiyê, among other blocos afros, or Black musical bands, who rehearse for their Carnaval performances here. Note: in the unlikely case you may need to, it is acceptable to call Afro-Brazilians "afros," but never "pretos."
North of Liberdade is the neighborhood of Bonfim, popular for the Basilica do Senhor do Bonfim. Though not as aesthetically impressive as some of the other churches in the center, it is attended regularly by locals and frequented by tourists because of its interesting history involving Candomble as well as Bonfim's Sala dos Milagres, or Room of Miracles. In this room, ex-votos are offered to the saint and hanging wax replicas of body parts litter the ceiling, representing those who have been healed or are still praying for healing. Outside, you can't miss the thousands of ribbons tied to the gates of the church, representing wishes made by visitors from all over the world.
Easily reached by bus, on the north peninsula of Salvador is Ribeira, a neighborhood with a long stretch of beach, small bars and restaurants. Ribeira is also famous for its ice cream shop, Sorveteria da Ribeira, which serves unique flavors like tapioca and milho verde, or green corn. Though quiet during the week, Ribeira is bustling on Sundays with people playing music, dancing and strolling.
Southeast of the Centro Historico is Dique de Tororo, a man-made lake displaying the eight statues of orixas that form a circle in the center of the water. While businesses line the perimeter of the lake, a stroll around the Dique itself is calm and quiet, featuring more statues and descriptions of the different deities of Candomble. While safe in the daytime, beware as the Dique, though beautifully lit in the evening, is also known as a hotspot for crime after dark.
Activities
Salvador is the birthplace of modern Capoeira, an iconic and unique mix of Afro-Brazilian martial arts and dance, originally developed when imported African slaves had to find a way to defend themselves against their masters without weapons or knowledge of the new land. You can catch a Capoeira show in Pelourhino's Bale Folclorico da Bahia or even take a beginner's lesson at Mestre Curio's Escola de Capoeira Angola next door.
As in all of Brazil, Football is life in Salvador. Watch a game at the Itaipava Arena Fonto Nova which holds 56,000 people. Tickets can be purchased online at Futebolcard.com, at the arena's ticket office or at the Ticketmix booth in Salvador Shopping.
Take a boat ride to Ilha dos Frades, an island in the center of the Bay of All Saints. Explore beaches, 17th and 18th century churches, ruins of a hospital and a slave warehouse.
Ponta de Humaita is a well-known place for locals and tourists alike to enjoy the sunset. Sundays offer live music and sometimes a small market of food stalls and games.
Visit the Sister Dulce Memorial, a museum dedicated to Sister Dulce, also known as "Mother of the Poor," the philanthropist and founder of the Obras Sociais Irmã Dulce, or the Charitable Works Foundation of Sister Dulce. Admission is free.
Follow the drumming to experience the soul and energy of the famous percussion group Odolum, as they play all over Salvador. Visit the Casa do Odolum, headquarters of the non-profit drumming school and a performance venue in Pelourhino. Drumming classes are held throughout the day and live performances are held on Tuesdays and Sundays in the Old Town.
Festivals
To name all the festivals and parties celebrated in the party capital of Brazil would take ages, but here are a few of the biggest celebrations in Salvador.
Just as other big cities in Brazil, Salvador has a huge celebration complete with trio eletrico parades and dancing for Carnaval in early February, or 40 days before Easter.
The Festa do Bonfim at the Church of Nosso Senhor do Bonfim takes place on the second Thursday of January and celebrations last for ten days. A procession begins at the Church of Conceição da Praia and continues for 8 km, ending at Bonfim Hill, where baianas wash the steps of the Church of Bonfim in their bare feet, after which dancing, eating and drinking take place in the square of Bonfim.
One of the largest parties celebrated in Salvador is the Gay Pride Parade in mid-September. In fact, the oldest gay and human rights organization in Brazil, Grupo Gay da Bahia, originated in Salvador. While it's less frequented than Rio and Sao Paolo, many consider Salvador to be Brazil's most gay-friendly city.
Festa de Yemanja celebrates the goddess of the sea at Rio Vermelho Beach on February 2 each year. Gifts are collected in baskets throughout the day and sent out to see when they are full in the late afternoon, at which time an all night celebration in the street begins.
Festa de São João celebrates Saint John the Baptist with on June 24. Forro music, square dancing and corn-based foods are served with liquor for this celebration which also feature crafts and pottery.
Food and Dining
Salvador offers a variety of its very own cultural foods; you can experience some of the most authentic Afro-Brazilian cuisine in Salvador. Acaraje is one of the cheapest and most popular street foods, sold in small stalls run by Baianas wearing white dresses and headwraps. A fritter of mashed brown beans fried in dende palm oil, Acaraje is usually accompanied with or without shrimp, vatapá (a paste made from sundried shrimp, peanuts, cashews, coconut milk, and dende) hot sauce, and salad. Visit the famous Tabuleiro da Dinha for what many call the best Acaraje in town. Tabuleiro da Cira is also very popular among natives and travelers alike.
Moqueca is a traditional Brazilian fish stew, made with various seafood, coconut milk, tomatoes, garlic and onions and often with various other ingredients depending on the cook and the region from which it's made. Jardim Das Delicias and Maria Mata Mouro both boast beautiful ambiance and delicious moquecas. Away from the common tourist area is Paraiso Tropical, known for their ample portions of shrimp and octopus moqueca.
In addition to regional food, Salvador also has plenty of traditional Brazilian barbecue restaurants, such as Boi Preto Grill in the Armacao district, which boasts the best churrascaria buffet at a price that reflects the quality. Tereza Paim is known for its feijoada and local fare in Rio Vermelho.
Transportation
Unlike the other large cities in Brazil, Salvador is not well-connected. Without a Metro, Salvador relies heavily on public or private ground transport, offering public buses, taxis or private cars as the main three options for transport.
"Onibus coletivo" (city buses) are the least expensive at three reais, though they may be unreliable when it comes to timeliness. It is not uncommon to wait longer than expected as buses are inconsistent despite the posted schedules. When taking a bus, enter through the back door and pay the fare to the cashier sitting at the entrance, then exit through the front door by the driver. Another option is the "executivo," a minibus which is slightly more expensive, but is air-conditioned and will accommodate luggage without problem. Executivos are commonly used between the airport and the historic center.
Taxis are the most expensive among the three options, but certainly faster and worth it if you are limited on time. Public taxis can be identified as white cars with a blue and red stripe on the sides. Most taxis are metered, but it's a good idea to negotiate a set price. Ripping off tourists (even nationals) is common. Some drivers may charge based on number of persons riding, add extra charges for air conditioning, heavy luggage, or radio. Be sure to negotiate the entire cost of the trip before you get in.
Related:
Looking for a party in
Rio de Janeiro
or
Sao Paulo
?
Traveling alone to
Florianopolis
?