Foz do Iguacu On a Budget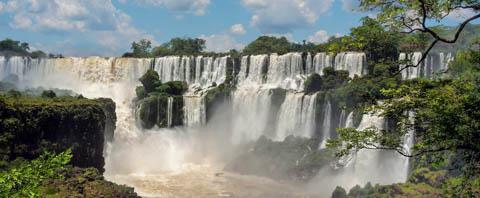 Foz do Iguacu is a larger city in Brazil that is most famous for the Iguacu Falls. The city serves as an entry point for Paraguay and Argentina as well. The obvious reason to visit the city is to see the beautiful falls, and together with Ciudad del Este, Paraguay and Puerto Iguazu, Argentina, it makes up one of the largest tourism sights in South America.
The falls itself are quite impressive. Over three times as much water flows over Iguacu Falls as does over Niagara Falls. You can enjoy the various hiking trails and viewpoints that are in the area as well. There is a designated
national park
on the Brazilian side of the river and a shuttle bus is available to connect the Visitor's Center to the falls. There are also a handful of tour operators who are eager to show you the area. Here is a great
guide to tours in Brazil
if you're interested. Another interesting option is to take a boat ride offered by Macuco Safari.
The city has a humid subtropical climate. There are two seasons, a hot and humid summer and a dry and cold winter. Average summer temperatures are around 80 degrees Fahrenheit and average winter temperatures are around 60 degrees Fahrenheit. Rain falls mostly in the spring and summer months. Warmer clothes may be required during the winter months between late April and early September.
Sights
The most obvious reason for visiting the city is to see Iguacu Falls (or Iguazu Falls). This is one of the most famous sights in the country and it is a truly spectacular area to explore. The surrounding area has many trails which offer viewpoints of the falls. There are also many tour operators that can help organize a trip to the falls for you. This
guide to Iguacu Falls
can help you plan the details of your trip.
In addition to Iguacu Falls, there are a handful of other sites in Foz do Iguacu.
Parque das Aves
is an interesting bird park that is near the waterfalls. You can wander around on your own, or hire a guide to show you the park.
Also nearby is Itaipu Dam, which is the world's largest electric power generator, and is interesting to see.
There's also a photo opportunity at Three Borders Landmark, where you can see Paraguay, Argentina and Brazil all at once.
Neighborhoods
Foz do Iguacu has a populations of about 265,000 people. The falls is located on the border of Argentina and Brazil and there are about 257 individual falls spread over 2.7 kilometers.
Avenida Brasil (Brazil Avenue) is the main road in the city. The road is 5 kilometers long and runs through the city's downtown. It has many retail shops and is a place of activity for the city. There are major revitalization proposals in place for the avenue, many of which focus on making the street more pedestrian friendly.
Activities
As Foz do Iguacu is a major tourist destination, numerous tour operators have set up shop in town and offer any number of activities for visitors to the area. Helicopter tours are one interesting way to see Iguacu National Park and understand the enormity of the falls. There are also a variety of tours that use any number of vehicles to access the falls. Some of these tours combine electric cars with boat tours to let you get in close proximity to the falls.
Food and Dining
As a tourist destination, there are a decent number of amenities available for travelers. There are a reasonable number restaurants around town that offer a diversity of cuisine including pizza, grilled meats, or traditional fare. You can also grab a drink at a couple of different bars about town.
You'll also find hotels and hostels of varying quality and price. Whether you're on a tight budget or looking for some comfort and a splurge, there are a variety of options to choose from in Foz do Iguacu.
Transportation
Foz do Iguacu/Cataratas International Airport is near the city. There are frequent flights arriving from Rio de Janeiro, Sao Paulo, and Santiago de Chile, among other cities. The city is connected to the airport with bus number 120. It's about a 30 minute ride. There is also bus transportation between the Foz do Iguacu and most major cities in the area.
Bus 120, heading towards the airport, also travels to the Brazilian entrance to the falls.
Related
Looking for a party in
Rio de Janeiro
or
Sao Paulo
?
Traveling alone to
Florianopolis
?