Ilha Grande On a Budget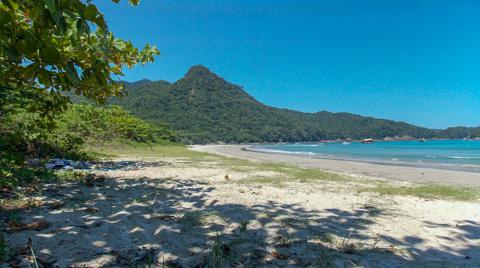 Ilha Grande is a large, beautiful, island located off the southeast coast of Brazil. The island has few inhabitants, resulting in mostly unadulterated beaches and landscapes. There are over a dozen trails and beaches to explore, some of which have been called the best beaches in Brazil. Due to the limited number of inhabitants, ATMs are sparse on the island, so be sure to have cash with you before getting there.
Ilha Grande experiences gorgeous weather all year round, with temperatures rarely dipping below 60 degrees Fahrenheit. The warmest months are from November through March, with temperatures in the high 80's and 90's. Cooler months tend to be from April to October when temperatures are in the 70's.
Sights
Experience the beauty of Ilha Grande at Papagaio Peak, the second highest point on the island which towers above the Villa do Abraao area. A well marked trail takes you on a 2 to 3 hour hike to the summit where you'll be rewarded with stunning views of the island. For a more relaxed hike, head through the beaches and jungle path to see the beautiful Cachoeira da Faiticeira waterfall near Villa do Abraao.
Beat the heat with a tour through the art gallery inside the Vivenda das Bromelias Inn. Or, for something a little more somber, head to the Parnaioca Beach. This off the beaten path destination offers an intriguing view into the history of Brazil as this was once home to pirates and prisoners.
Neighborhoods
The main settlement, and most inhabited area on the island, is Villa do Abraao. Abraao is often used as a base for accommodation when going out to explore the rest of the island. Here, you'll find the majority of accommodations, the tourist office, and the main ports for getting on and off the island.
Other areas of the island are fairly secluded; some are even marked off limits by the government. Always check with your hotel or watch for signs if you plan to hike in remote areas.
Not far to the northeast is Rio de Janeiro; many tour companies offer day trips from Rio to Ilha Grande.
Activities
Enjoy the beauty of the Ilha Grande with a hike on one of the many trails throughout the island. Trails are fairly well marked, although be sure to bring plenty of water and a flashlight as it tends to get dark around 6pm.
Of course, the beaches are the main attraction, with these few being the most popular:
Lopes Mendes: Named by Vogue Magazine as one of the top 10 beautiful beaches in the world, this beach offers great surfing conditions and perfect water to wade through. The beach is accessible via a 20-minute walk along a jungle path.
Praia Dois Rios: Lovely beach and an easy hike from Villa do Abraao
Praia Sano Antonio: A much quieter and relaxing beach
The larger beaches offer activities such as snorkeling, kayaking, sailing, and diving. Use the tourist office in Villa do Abraao to set up any of these activities.
Food and Dining
There are around 30 restaurants total on the island, ranging from up scale to cheap burger joints. Seafood can be considered their specialty; you'll find a lot of fresh Brazilian fish stew along with fresh seafood baked into casseroles.
The main square in Abraao has a relaxed evening drinking scene where people dance and play music. There are also a few beach bars in Abraao, some of which even host seaside barbeque nights!
Transportation
Ilha Grande takes some strategic planning to get to as you must take a bus to your selected port then a ferry to the island. There are three ports on the coast that will take you to the island: Mangaratiba Port, closest to Rio; Concecao De Jacarai Port, closest to Ilha Grande and offers the most connections; Angra dos Reis, closest to Sao Paulo. Depending on your port, you'll find a range of options from private taxi boat to public ferry. Tourist offices in Sao Paulo and Rio can help you find the best option.
There are no roads or private cars on the island, leaving walking and boats are your main modes of transportation. If you want to go to a more remote beach, you can hire a boat to take you there then pick you up in the evening.
Related:
Looking for a party in
Rio de Janeiro
or
Sao Paulo
?
Traveling alone to
Florianopolis
?