Porto On a Budget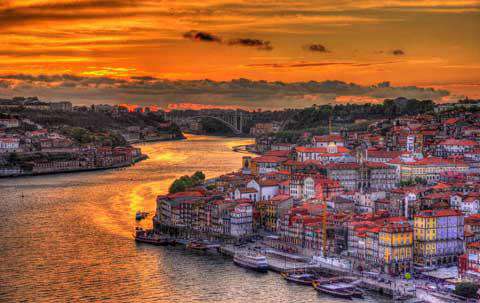 Porto is the second largest city in Portugal. It is also the capital of the Northern Region and a hub for commercial and industrial activity. The city is not as large as you might expect, with a population of only about 300,000 residents, but the metropolitan area has a population of about 2.5 million. This includes nearby cities such as Gaia, Matosinhos, Maia and Gondomar.
Porto's historical city center was given UNESCO World Heritage status in 1996 and the area has been continuously inhabited since the 4th century. The city is stretched out through hills along the Douro River estuary. Porto is an interesting city to explore, although the hills make it challenging to walk around. There is a range of architecture styles within close proximity. It is not uncommon to find medieval style buildings immediately next to the newest modern structures. The hills give the city character, and many of the interesting buildings are built directly into a cliff that looks out on the river. Stone stairs are cut into the rock that runs up and down the cliff.
Porto's climate is semi-Mediterranean, but it is heavily influenced by the Atlantic Ocean, so it is cooler than you might expect. During the hottest summer months though, temperatures may raise about 40 degrees Celsius during heat waves. Winters are mild and humid, but evening temperatures may be cool and even occasionally drop below freezing.
Sights
The best place to begin your visit to Porto is Ribeira, by the river. It's a wonderful area to walk around and a great place to start exploring the city. Make sure you stop by Sao Francisco church and the Stock Exchange palace during your walk. There are several museums throughout Porto that are worth a visit including the Casa da Musica or House of Music, and Fundacao de Serralves, which is a contemporary museum that is designed by the architect Alvaro Siza. It also has a nice garden and park that make for a comfortable place to relax.
Neighborhoods
Notable neighborhoods in Porta include Ribeira, Vila Nova de Gaia, Baixa, Barredo, and Fos. Ribeira is the ancient quarter that goes uphill from the Douro River. There are many historic townhouses and quaint alleyways, and many of these areas are a good choice if you're trying to figure out
where to stay in Porto
. Vila Nova de Gaia is a suburb on the south bank of the river. It's a great place to go if you want to taste port. Baixa has a lot of art deco architecture. There is also great shopping and a relaxed atmosphere. Berredo has steep alleys that feel untouched since medieval times and Foz has large mansions, manicured lawns, and trendy restaurants. It's a seaside neighborhood that is interesting to see.
Activities
For about 10 euros you can take a nice river cruise. You'll have about an hour on the water and it's a great way to see the city and orient yourself. The scenery along the river can be quite beautiful. Other popular activities include port wine tours and city walking tours.
Food and Dining
There are some excellent restaurants in Porto. The quality is usually quite high. Many of the best options are found in Matosinhos near the beach and the seaport which is called "Porto de Leixoes". The dishes are usually filling and delicious. Traditional dishes include Tripas a moda do Porto, which is a tripe dish,
Bacalhau
, which is salted codfish, and Francesinha, which is a toast that is made with layers of meat and covered with cheese and a spicy sauce. It is typically served with beer. If you happen to be in town during the month of the July, you can head to Matosinhos for the fish festival. Fresh fish is served at stands that line the streets. You buy the whole fish and it is prepared right there for you.
Bakeries are also popular in Porto. There you can enjoy affordable pastries, coffees, sandwiches and various baked goods.
Transportation
Like other cities in Portugal, it is best to avoid driving in Porto. There are cobblestone streets that are frustrating to drive on and the city is quite compact, making it difficult to drive with lots of congestion. Porto does have a state of the art
metro system
which is worth using during your visit. It is generally efficient and reliable, and perhaps the best way to travel around the city. It was developed in 2001 and has six lines that cross the center of town. They also reaches into some suburban areas.
Alternatively, you could also travel by bus. The buses, which are run by STCP, are eco-friendly and comfortable. There are routes that go all over the city center and out to most major suburbs. Taxis are also readily available around town and are easy to flag down. They are, however, more expensive and generally unnecessary as most places are accessible by public transit.