Should you visit South Korea or China?
South Korea and China have many things in common, yet many differences. Size, for one thing, is a huge difference. In many ways, South Korea's size has allowed it's economy to prosper, leading to a high-tech tourism industry. However, China still holds on to its past in many ways.
South Korea is a modern, cultural, and moderately priced Asian nation with a diverse number of sights and activities for its relatively small geographical size. Here you can experience big cities, rural countryside, beautiful mountains, unique national parks and relaxing beaches. Modern, western conveniences are all around, and at a price that is a little cheaper than Europe or North America, but still more expensive than many other destinations in Asia.
China is massive, diverse, enigmatic, beautiful, and chaotic. And you should definitely go! But it's hard to summarize the price of everything in a country as large as this. From sprawling metropolises to sparsely populated countryside, the price of travel in China is as diverse as its attractions. Large cities are generally higher in price than the countryside, but overall China is surprisingly affordable.
When is the best time to visit South Korea and China?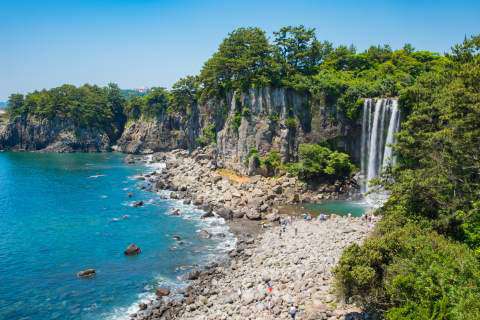 South Korea experiences four seasons, and winter can be cold with a decent amount of snow. However, skiing in the mountains is quite popular, so don't let winter turn you off. However, with warmer summer temperatures, this means that South Korea's peak travel season is from May to September. During this time you can expect more crowds and higher prices, but also more comfortable temperatures and more activities.
As China is geographically large, the weather varies by region. The northeast experiences four seasons, while the south is fairly mild and tropical. The west can be cold in the winter as well, and sometimes harsh in the high plateaus and mountains.
In northeastern China, winters can be very cold and less tourists visit during this time. However, some areas have winter festivals (such as Harbin) which bring in large crowds despite the chill. Summers in the northeast can be warm, and sometimes hot and humid. This is still the peak season in this region, especially in Beijing. Traveling in the shoulder season will usually give you lower prices and good weather.
In the south, from Shanghai down and across to southwest China, expect warm weather almost all year. While winters do get a little cooler, it's not much to worry about. For this reason, travelers visit southern China year-round. Some even avoid the warmer summers in favor of the cooler winters.
In the west, the mountains make everything a little more complicated. Even in the usually warm southwest, higher elevations equate to colder weather. As you venture into the northwest, expect frigid winters but mild summers.
Other than weather, the only thing to look out for are the Chinese national holidays. During these times, which usually last a weekend or a whole week, many local Chinese people will be traveling to experience their own country's grand beauty. Expect hotels to be full and transportation to be crowded. You may wish to avoid the country during these times, or hunker down in a smaller city. Make reservations in advance if you can.
Why is South Korea more expensive than China?
South Korea's economy has been growing steadily for many decades, and this has led to both an increase in luxuries as well as a higher cost of living. For tourists, this translates into higher prices but a good value, as modern conveniences are everywhere. Hotels and hostels are spread throughout the country, but a good, healthy demand from tourists has led to higher prices all around compared to many other Asian nations.
China is still a fairly affordable country to visit for a number of reasons. Although the economy is growing and the Chinese middle class is traveling more, competition for tourists and low wages is keeping the overall price of travel lower than most developed nations.
A pro-business economy means that there are more hotels, restaurants, taxis, and attractions for you to visit, and all of the locals are essentially fighting for your attention and money. Budget hotels in China are growing by leaps and bounds, as local families and large companies open independent and chain hotels and restaurants. Generally, prices for hotels in China are cheaper due to the huge number of hostels and budget-friendly hotels throughout the country. While major cities have many hostels, even smaller cities and small towns are starting to jump on the hostel bandwagon, providing both dorms and private rooms for everyone from students to backpackers to families with kids
What are the most expensive and cheapest cities and regions in South Korea and China?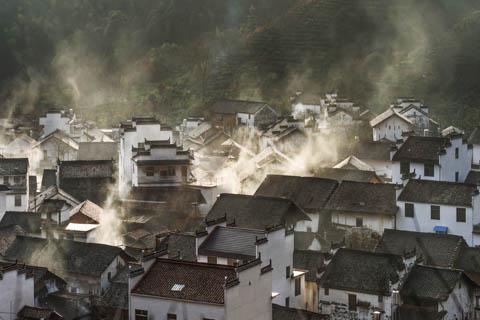 As is the case in many countries, the largest cities are often the most expensive destinations. This is generally true in both China and South Korea.
By far, the most expensive areas in South Korea are resort destinations. In the winter, skiing around mountain areas such as Pyeongchang can get very pricey, as hotels, restaurants, and entrance tickets charge a hefty penny. In the summer, various beach resort areas can experience similar price increases.
Seoul can be expensive if you desire luxury. Although, with any large city comes diversity. So, inexpensive options for accommodation, food, and activities are plentiful. Just shop around if you're on a budget, as good values can be found at any price range.
South Korea's rural countryside offers a good opportunity to view gorgeous mountains or rolling hills at an affordable price. Many smaller cities and towns are inexpensive while still providing plenty of fun activities and an authentic atmosphere.
Some of the most expensive hotels and restaurants in China can be found in Beijing and Shanghai, as well as other touristy areas such as Guilin, Yangshuo, Xi'an, and Chengdu. But again, these crowded cities also offer cheaper options.
Western China can be an expensive region due to its remote location. Here, transportation is pricey, food is more scarce and thus more expensive, and hotels are less frequent. But this enigmatic region can be worth the visit, and isn't too much more expensive than the more populated eastern regions.
Otherwise, some of the most expensive places in China are those that require more activities. A cruise through the famous three gorges, for example, is a must-see, but not so cheap. Hiking in the mountains or visiting famous parks that require entrance tickets, while worth the visit, can add to your travel budget.
Tibet is also relatively expensive due to travel restrictions, remote locations, and a lack of infrastructure.
How you can save money when visiting South Korea and China?
In South Korea, booking ahead for a hotel or hostel can save you money. Locally owned places are not always cheaper, but do tend to have more interesting charm.
Eat with the locals. Local restaurants serving Korean food tend to be much cheaper than places serving western fare. Korean restaurant owners have figured out that many visitors don't care for Korean food, and will price their menus to take advantage of it. Find some Korean food that you like, and don't be afraid to experiment. Your tummy and your wallet will like it!
Use public transportation whenever possible.
Use public transportation whenever possible. China's network of trains between cities has grown lately, and high speed rail lines connect every major city in the east, as well as some in the west. Not only is it fast, but it's also affordable. And in South Korea, public transportation is cheap, fast, and clean.
Look into the price of flights in China. The Chinese government subsidizes many flights and airlines, leaving you with plenty of ways to get around this huge country fairly quickly.
Smile and make friends with the locals in China, especially the younger crowds. Many travelers have stories of how a friendly local got them a great deal or some other amazing benefit that they couldn't have gotten themselves. In both South Korea and China, the younger generations are better at English than their parents and grandparents.