Planning a Trip to Venice
Venice is one of the most romanticized destinations in Europe. It's history, architecture, and unique setting offer a truly one of a kind experience that is not to be missed. Despite the high prices and tourist crowds, visitors can still catch a glimpse of the romantic old-world city that is Venice.
Accommodation
Budget Hotels and Hostels
Predictably, accommodation in Venice can be very expensive. This is particularly true for backpackers who are traveling alone, as there are a limited number of hostels on the island. Many backpackers choose to stay on the mainland, but this option comes with its own expenses and inconveniences (mainly transportation). Within Venice, you'll find a variety of small hotels, bed and breakfasts, and guesthouses. Many backpackers stay in
Mestre
on the mainland, or
Lido
, which is a small island in the lagoon of Venice. Also note that Venice imposes a tourist tax on travelers, and the amount is usually not reflected in the price when you book your room.
A Backpacker Budget
If you're a backpacker in Venice, you'll find very few actual hostels away from the mainland. There are budget hotels that are basic and a bit expensive, and if you want to stay near San Marco Square, these are likely your best options. Having a travel companion will help keep the cost in check as well because dorm rooms aren't as common in Venice as they are elsewhere in Italy.
Hostels that are located in Venice include
Backpackers House Venice
, which is about a half hour walk from San Marco Square, and
Ostello S Fosca CPU Venice Hostels
, which is about a fifteen-minute walk from San Marco Square.
Generator Hostel
, a major hostel chain in Europe, is located just off Venice's main island on the island of Guidecca, which is a short boat ride away.
If you're on a particularly tight budget there are several camping options available outside of Venice. The three most popular options are
Camping Rialto
,
Camping Serenissma
, and
Camping Fusina
.
Bed and Breakfasts and Guesthouses
Most budget travelers who want to stay on Venice's main island choose to stay in a basic bed and breakfast or guesthouse. Prices and quality can vary widely, but you should expect to pay at least 115 euros for a simple, double occupancy room. Prices climb steeply from there. Some hotels offer single occupancy rooms, but the price is not dramatically less than a double, so if you have a travel companion, your costs will be much less.
Apartments
If you're traveling with a group of three or more, your best option may be to stay in an apartment. There are a variety of apartment options available. Most sleep between 3 and 8 people and have a small kitchen. The furnishings are usually basic but comfortable. The prices are usually a bit more affordable than hotels and their location is better than most of the city's hostels, too.
Two apartment options include
Veneziacentopercento Rooms and Apartments
and
AWA Venice Apartments San Marco
.
High End and Luxury Hotels
If you're looking to splurge and live the high life, then Venice is the place to do it. There are some amazing, historic hotels that offer an experience unmatched by others. Below is are a few of the best hotels in the city if budget is of no concern.
The Gritti Palace, A Luxury Collection Hotel, Venice
- This luxury hotel is located along the Grand Canal. The inside is filled with unique Venetian style - Murano glass chandeliers, local art, and luxurious furnishings throughout.
Ca'Sagredo Hotel
- This hotel is located in a fifteenth-century palace that has been impressively restored. It has 42 guest rooms that are each furnished in Venetian style.
JW Marriot Resort & Spa
- This hotel is located on a private island about a mile south of downtown Venice. The property offers a water shuttle service to Venice's main island.
Neighborhoods
Venice is divided by the Grand Canal and has six "sestieri", or neighborhoods. A brief description of each sestiere is below.
San Marco Sestiere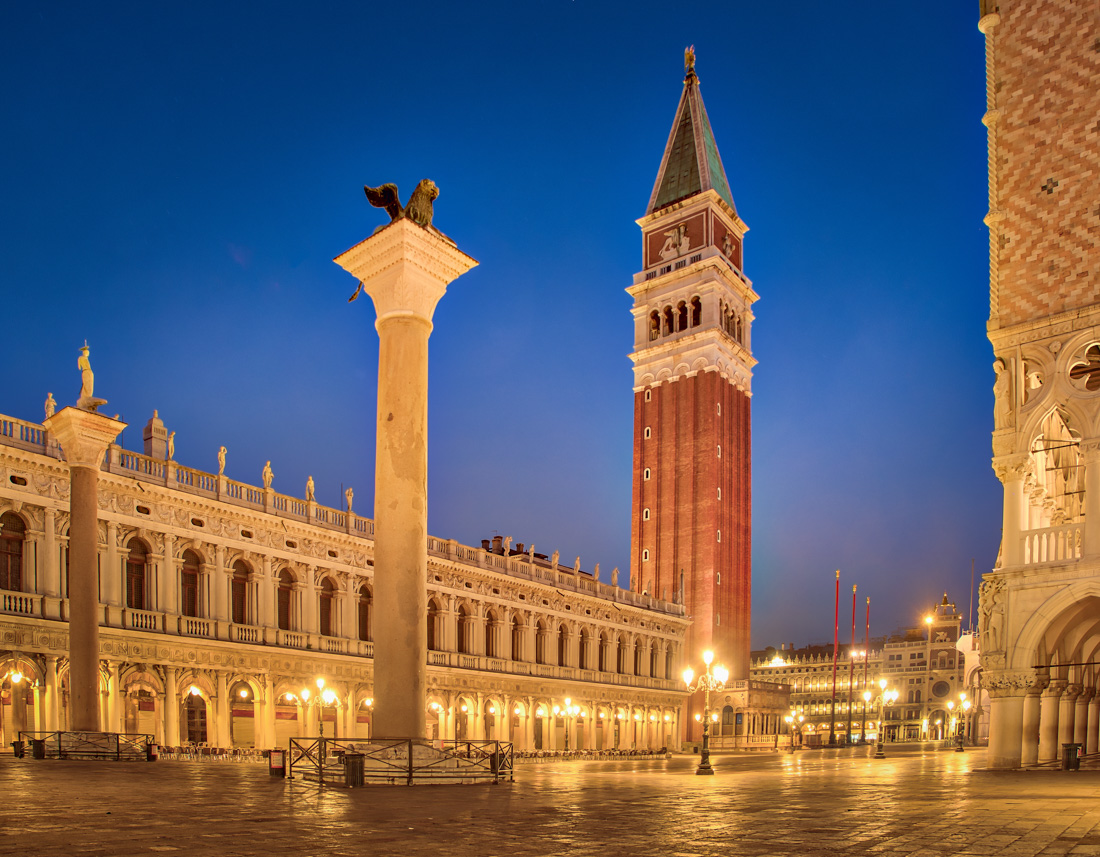 This is the most famous part of Venice and where most tourists hang out. The main square, San Marco's Square, is located here and around it you'll find many famous historic buildings such as
Saint Mark's Basilica
, the
Doge's Palace
, and the
Campanile (bell tower)
. It's a lively square with live music during the evenings and many cafes with outdoor seating. For most people, this is what they think of when they think of Venice.
Dorsoduro Sestiere
Dorsoduro Sestiere is located across the Accademia Bridge from San Marco. This is where you'll find two of the city's top museums,
Accademia Museum
and the
Guggenheim Art Collection
. This is also home to much of the city's university. The area is popular with the younger crowd and nightlife is big in this neighborhood.
San Polo Sestiere
San Polo Sestiere is one of the oldest parts of the city and it's located across the Rialto Bridge from San Marco. This is a great neighborhood to visit in the early morning as there is a large fish market as well as an outdoor vegetable market. This neighborhood has fewer hotels than most, but the ones that are here tend to be more affordable.
Santa Croce Sestiere
Right next to San Polo is Santa Croce. This is one of the less touristy parts of the city, and likely to be your introduction to Venice if you arrive by car. This neighborhood is where you'll find the oldest parts of the University and a variety of expensive restaurants.
Cannaregio Sestiere
Cannaregio Sestiere is one of the largest neighborhoods in Venice. It runs from Santa Lucia train station to the Rialto Bridge and it's a beautiful area with a residential atmosphere. There are many squares and canals but also some shops and restaurants worth exploring. This is also where you'll find the
Jewish Ghetto
.
Castello Sestiere
Castello Sestiere is on the other side of San Marco. This is where you'll catch the boats to the islands of Murano and Burano and it's also where you'll find the Arsenale, the old shipyard, and a fascinating museum.
Venice Lido
Venice Lido has a different vibe. It's convenient for tourists who want to park their car at their hotel. The area is known for its beaches and nightlife, and it's a vaporetto ride from San Marco's Square.
Transportation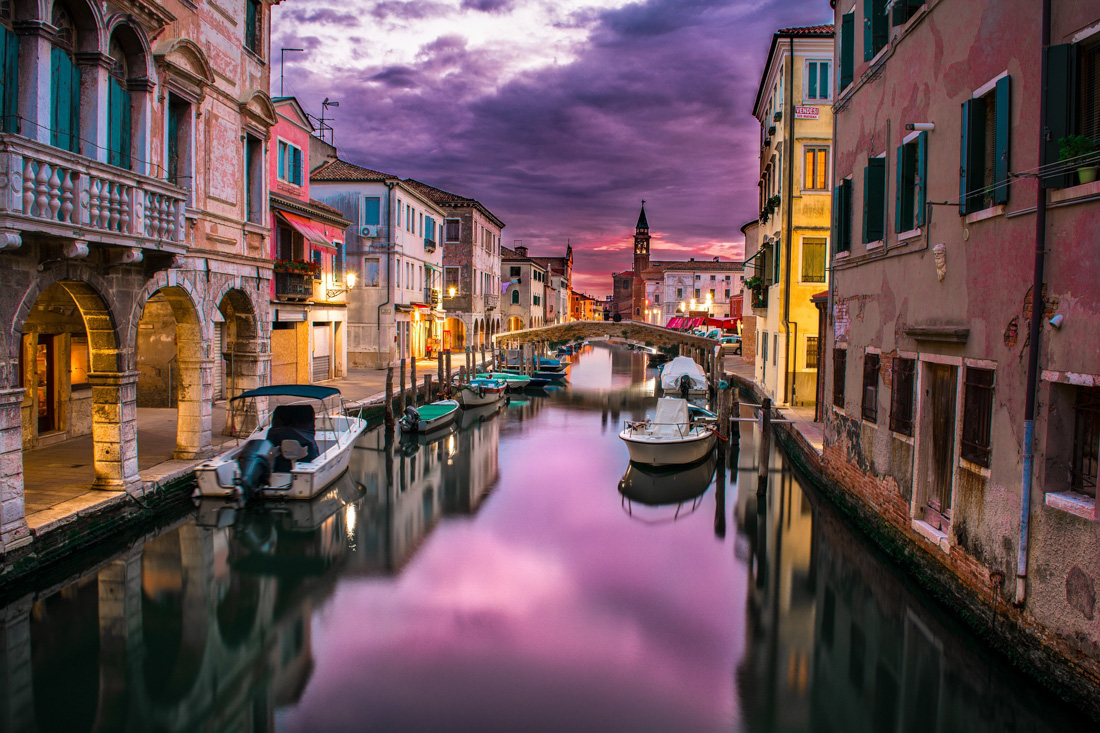 Venice is one of the most fun cities to explore with unique transportation options. For a full description of transportation in Venice check out the
Venice Transportation Guide
.
Venice is a great city to explore on foot. There are no cars, so it's easy to wander around without feeling overwhelmed, but do plan on getting lost. The streets can be very confusing. You haven't really experienced Venice until you've found yourself lost amid the alleyways. After all, you came to explore, right? Shopping is a great activity in Venice, too, and exploring on foot can help you find all of those terrific little places to find your
slow travel souvenirs from Italy
.
Taking a boat is another great way to explore Venice. The city has several different types of boats.
Vaporettos
are the large boats that operate on set routes like buses. The #1 vaporetto route runs along the Grand Canal and is popular with tourists. The trip takes about 45 minutes. If you're coming from the train station to your hotel, the #2 vaporetto is a better option as it is faster and more efficient, although it only runs during the high season.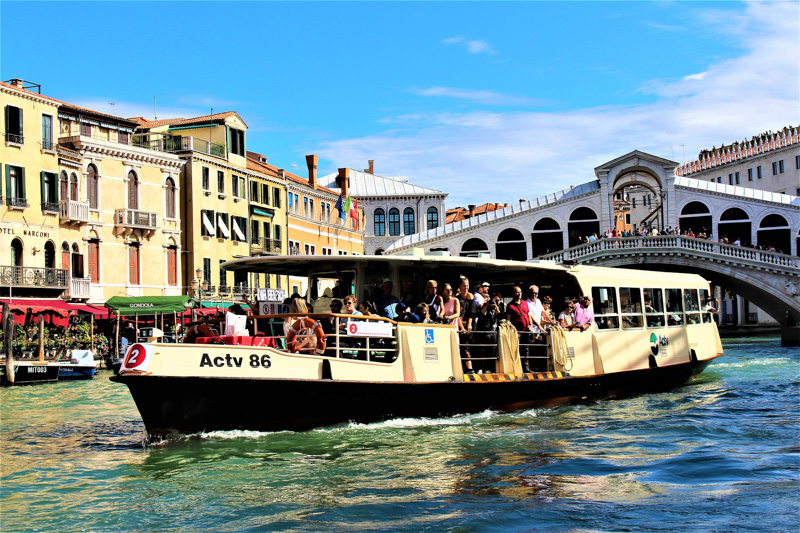 Traghetti
look similar to gondolas but offer short rides across the Grand Canal for just a few euros. And, of course, gondolas are the most famous boats in Venice. They offer more of an experience than a mode of transportation. Gondola tours are expensive, and the routes and time period can vary, so make sure you understand what you've signed on for before paying.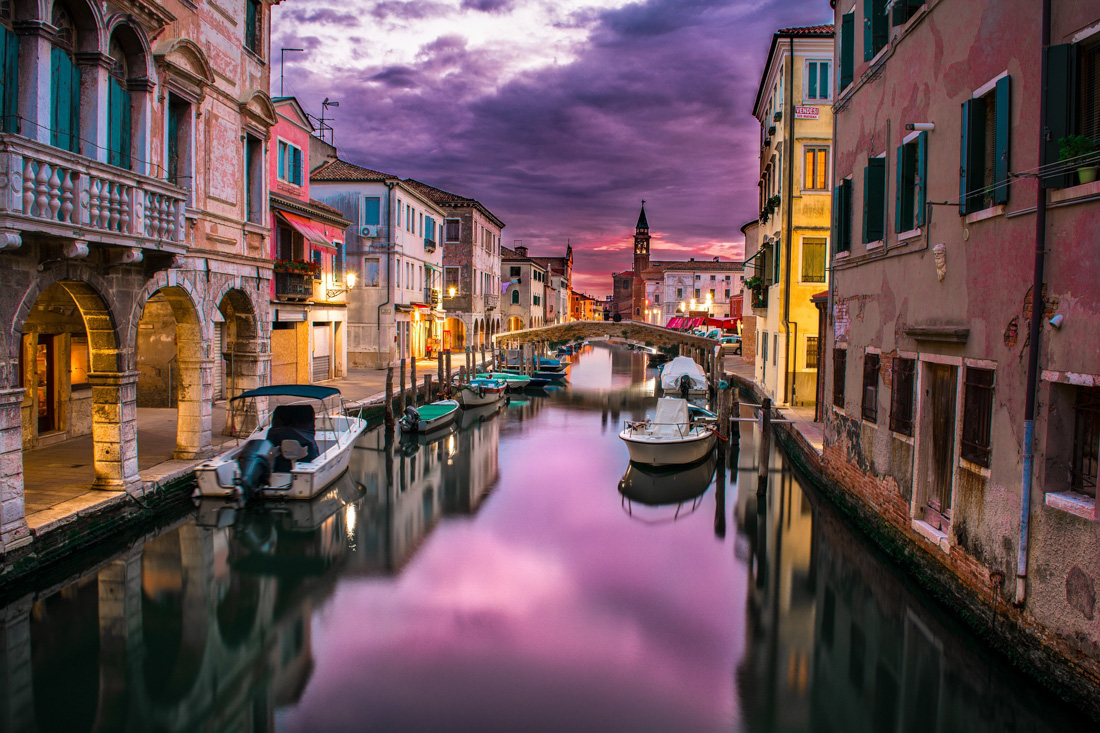 Venice Sights and Attractions
Venice is filled with historical sights and fascinating views. For a full description of the sights and attractions in Venice as well as ticketing information, check out the
Venice Activity Guide
. Most tourists spend the majority of their time in the area around San Marco Square. In this area you'll find the famed
Basilica di San Marco
,
Doge's Palace
,
St Mark's Clocktower
, and the
Bell Tower
.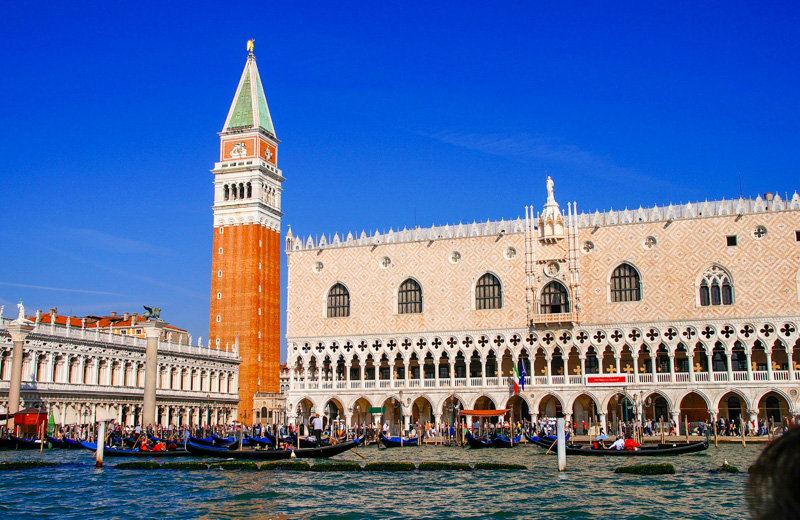 Outside of San Marco Square, you'll find the beautiful
Rialto Bridge
,
Teatro La Fenice
,
Academy Gallery
, the
Jewish Ghetto
, and many other unique museums, galleries, and buildings.
One of the most famous sights in Venice is the
Grand Canal
. It runs for 3.8 kilometers from the lagoon near Santa Lucia railway station to the basin at San Marco Sestiere and is worth experiencing in its entirety.
Day Trips
Some travelers use Venice as a base for exploring other nearby areas, although the expense of the city makes many budget travelers reconsider this option. If you do decide to base yourself in Venice, there are a few fascinating towns that are worth visiting. For a more detailed list of day trips to visit, check out
The Best Day Trips from Venice
.
Popular day trips from Venice include
Verona
, made famous by the Shakespearean play Romeo and Juliet;
Ravenna
, with its Byzantine mosaics; and the medieval town of
Treviso
. Each of these towns is accessible by train.
Padua
is also just a half hour away by train and is said to be the oldest town in northern Italy.
One of the most popular and simplest day trips from Venice is to explore the islands of the
Venetian Lagoon
. These islands can be reached with the Vaparetto (water bus). The two most popular islands are
Murano
, with its famous glassmaking, and
Burano
, with its colorful painted houses. Other islands in the lagoon include Torcello, San Michele, Mazzorbo, and Lido di Venezia.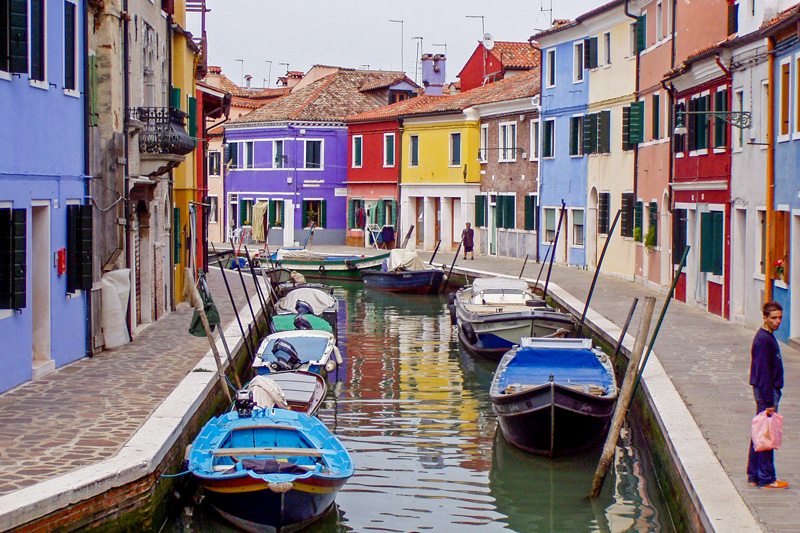 Food
Along the most beaten paths in Venice, you'll find a wide variety of restaurants and cafes. These are typically the most overpriced restaurants in the city with the lowest quality food. In general, food in Venice is expensive, so it's best to avoid the tourist traps and head where the locals eat. Skip any place that has an employee outside advertising the establishment. Most of the best cheap eateries that are popular with locals are found in
Cannaregio
and
Castello
.
Head to a
bacari
if you want some good, affordable food. These small and simple restaurants are typically hidden off the main drags and serve
cicchetti
, which is a small appetizer sized dish that costs about 3 euros. Popular options include fried squid, Baccala Mantecato (a salty cod dish), and meatballs. You'll want to enjoy a glass of wine with your selection. After all, you're in Venice!
Also make sure you try
aperitivo
, which is a drink that is enjoyed before the main meal. It usually costs around 5 euros and is served with a variety of starters such as cheese, ham, olives, etc.
Another fun option is to picnic in Venice. The best area to do this is around
Mercato di Rialto
, where you can find some great food and enjoy the best views.