Venice is famous for its unique transportation system, which is based on the canals that span the city. It's one of the most glamorous cities to explore with its gondolas, vaporettos, and water taxis. If you prefer to wander around on foot, there are many charming streets that cut unpredictably through the city, making for an interesting, but sometimes confusing, experience.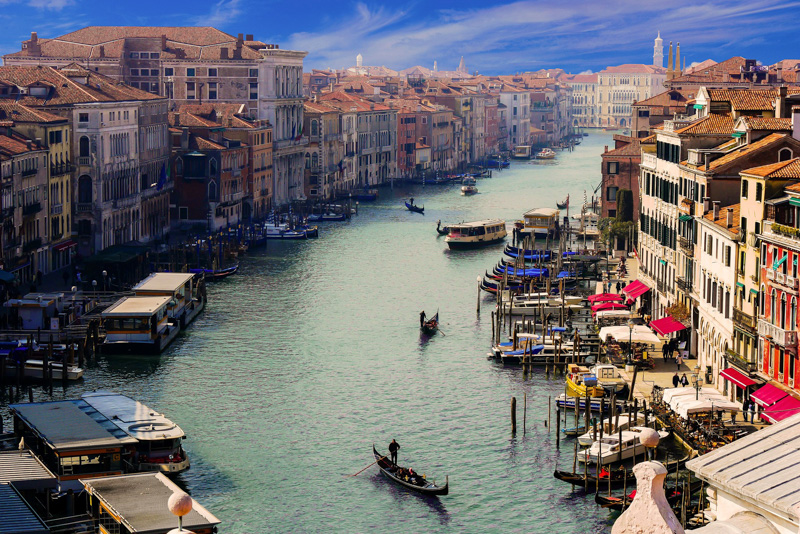 Venice on Foot
For the most part, Venice is a compact and walkable city. There are no cars, so exploring the city on foot is one of the most enjoyable ways to take in Venice. The city is known for its narrow alleyways, which are fun to wander around, but plan to get lost, as this is an inevitable part of the fun. You can pick up a free, basic map at the tourist office, but it doesn't go into much detail so purchasing a map is worthwhile if you're going to be doing a lot of exploring on foot.
You're hardly the first to wander around Venice as a lost tourist, and the city has set up several popular routes, marked with signs towards the most popular sights and landmarks. Look for the markers on the corners of buildings and at intersections. These popular routes include connections between San Marco Square, Accademia, the Rialto Bridge, and the Ferrovia Train Station. If you want to explore a less frequented part of Venice, skip these highlights and head in a different direction.
Venice by Boat
For the places that are too far to walk, Venice has a well established and popular boat transportation system. This is a fun and unique way to explore the city, even for those who prefer to spend most of their time walking.
Venice has three main types of boats for public transportation.
Vaporetto
The Vaporetto are the largest boats. They feel a bit like buses and travel along set routes. Several of the most popular routes run along the Grand Canal or connect Venice to Murano and Burano. It's recommended that you take a ride on the #1 vaporetto. This is the main tourist line that cruises down the Grand Canal and it offers a good opportunity for a self-guided tour of the city. It takes about 45 minutes and stops at every point between the train station and San Marco Square. This is a scenic route and not the most efficient option if you've just arrived and want to get to your hotel as quickly as possible.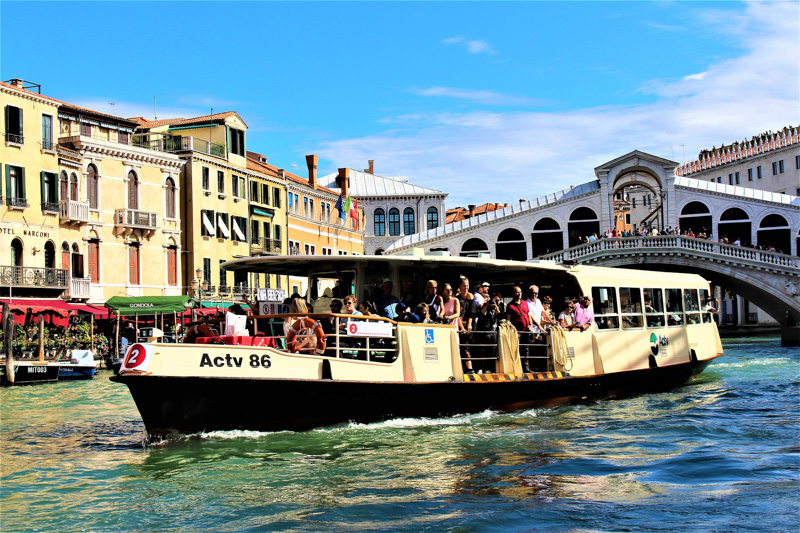 From the Train Station to San Marco Square
If you're arriving in Venice by train and want to get to San Marco Square most efficiently, first get off the train at the "Venice Santa Lucia" train station (not "Venice Mestre" which is still on the mainland). You'll exit the train station right onto the Grand Canal near a vaporetto stop. The #2 vaporetto line is much faster than the #1 and only stops a couple of times between the train station and San Marco Square. It does operate seasonally, so it typically runs only during the high season.
Traghetti
Traghetti look a bit like the famed gondola, but without all of the hoopla. These boats are used to take passengers across the Grand Canal and you'll find stands set up in areas where there isn't a bridge nearby. They're common with the locals, but as a tourist, you'll likely benefit from them as well. It's a short and cheap ride (just a couple of euros) and it's all about efficiency, not the frills.
Gondola
The gondola is the most glamourized form of transportation in Venice. These aren't really used as a form of transportation, but you can hire a gondola for a set price and take a private tour of the city's canals. This will set you back a pretty penny, but for many visitors, this is an experience not to be missed. If taking a gondola ride is important to you, make sure you understand the route and pricing. While there are official set prices, gondola drivers may modify the length or neighborhood to adjust costs, and this can significantly impact your experience.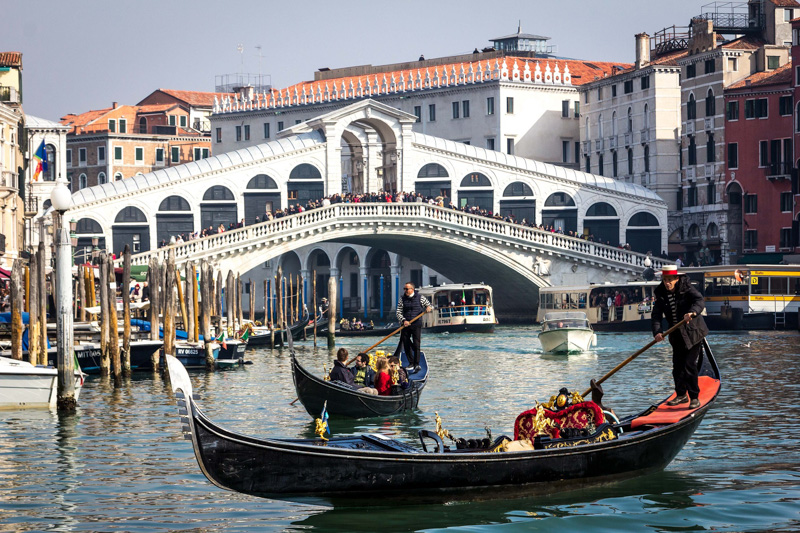 Water Taxi Boats
A number of private boats are available for hire, much like taxi cabs in cities. Most of these look like speed boats with wooden roofs. They will charge a hefty price but can get you somewhere in a hurry if you need it.
From the Airport
It's possible, but more expensive, to take a boat from the airport to the city center. It's cheaper to take the bus to the train station, and from there take a Vaparetto.
To take the bus to Venice from the airport, once outside the airport, look for the number 35 or the number 5 buses. Either will go to the Venice train station, and both take approximately 30 minutes (8 Euro per person).