Sicily On a Budget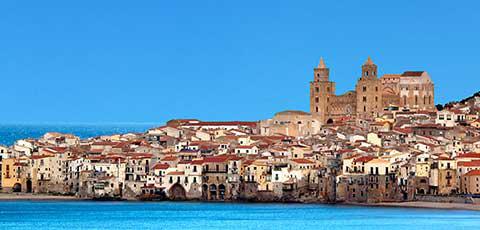 If Italy is a boot, then Sicily is the football about to be kicked. This large island is separated from mainland Italy by the Straits of Messina. It has a dynamic and rich cultural history that is a mix of many different invading forces over the course of history, each leaving its own mark on Sicily's art, cuisine, and language. Various archeological areas can be found throughout the island and many are UNESCO World Heritage sites. Sicilians have their own language, although most speak Italian and many learn English in school.
The island has a Mediterranean climate that is mild but damp in the winter and hot and dry in the summer. You can expect uncomfortably hot temperatures during the summer months so it is best to visit during the fall and spring seasons when temperatures are more mild. As a general rule you can expect the amount of rainfall to go up as you go up in elevation. The southern and southeastern coasts receive the least rainfall and the northern and northeastern highlands receive the most.
Sights
Visitors come to Sicily year around for its excellent climate and impressive sights and attractions. Among the favorite places to visit are archeological sites, beaches, cities and Mount Etna. Popular cities include Palermo, Catania, Syracuse and Ragusa. Other places of interest are Taormina, Giardinni Naxos, Erice, Cefalu, Agrigento, the Pelagie Island and Capo d'Orlando.
There are six UNESCO World Heritage Sites in Sicily. These are Valle dei Templi, Villa Romana del Casale, the Aeolian Islands, the Late Baroque Towns of the Val di Noto, Necropolis of Pantalica and Mount Etna.
Regions
Sicily's provinces include Agrigento, Caltanissetta, Catania, Enna, Messina, Palermo, Ragusa, Syracue, and Trapani.
Activities
Trekking is becoming increasingly popular on the island due to its rugged beauty and stunning vistas. Other places worth visiting include the Salt Flats of Trapani, the seaside town of San Vito Lo Capo and Erice, which is the highest town in Sicily. There are a diversity of activities spread throughout the island. Whether you're looking for an outdoor adventure, a beach vacation, or a city filled with culture, then Sicily has something for you.
Food and Dining
Being an island, Sicily's cuisine is heavily influenced by seafood, as well as the cultures of Spain, the Middle East, and North Africa. The food is often made with tomatoes and olive oil as well as unique spices that give it a very different flavor than the food found elsewhere in Italy, although it does maintain its Mediterranean roots. Popular flavors include almond, jasmine, rosemary, mint and basil.
Sicilian desserts are also excellent. The famous Italian dessert, the cannoli, can be found everywhere in Sicily. Other options include "granita", which is made with ice that is mixed with crushed fruit and juice, and "cassata" which is a cake that comes from Arabic influences.
Transportation
Sicily's main airports are in Palermo and Catania. Catania has the largest airport and it offers domestic flights throughout Italy as well as a few international flights. Palermo also has domestic flights as well as some budget international flights that are worth looking into.
There is train service that connects into the Italian train network in the city of Messina. The long distance trains that travel from Rome, Naples, and Milano cross the Straits of Messina by railferry and arrive at Palermo and Catania. It takes about 8 hours to travel from Naples and 10 from Rome. It can be uncomfortably hot to travel by train during the summer months. You can also travel by bus from Rome and Naples to Catania and Palermo.
Large ferries travel from Palermo to Civitavecchia, Naples, Genoa, Livorno, and Sardinia among other destinations. From Catania, ferries travel to Naples and Malta. There are hourly ferries that cross the Straits of Messina between Messina, Sicily and Villa San Giovanni on the mainland.
Public transportation on the island of Sicily is good during the week but service is very limited on Sundays so plan ahead. Trains are decent and affordable. There are fast trains that run along the main lines between Messina and Palermo and Catania. Less popular routes can be slower and less frequent. Buses are also a good option as there is a comprehensive system that is cheap. The bus hubs are located in Palermo and Catania but there are many routes between small cities and towns. Renting a car is another option for exploring the island as the roads are good and this allows you more flexibility to get off the beaten path.
Related:
Looking for a party in
Rome
or
Florence
?
Traveling alone
Milan
or
Rome
?
Find a
Contiki tour
to Europe.
Train and Bus Prices
The best prices for buses and trains in Italy
can be found on Omio
(formerly
GoEuro
). They let you search across all train, bus, and plane routes throughout the region.