Mount Aspiring National Park On a Budget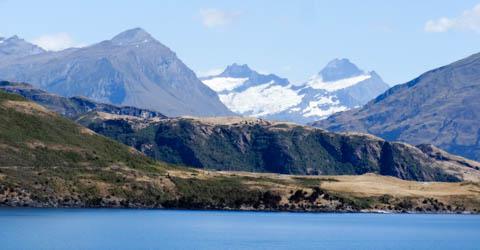 Mount Aspiring National Park is located within the Southern Alps on the South Island of New Zealand in the Otago region. The park is named after one of New Zealand's highest peaks, Mt Aspiring, and is one of the best places to hike in the country. It is part of the Southwest New Zealand World Heritage Area and one of the many locations of filming for the Lord of the Rings movies. The closest towns to this park are Haast, Makarora, Wanaka, and Glenorchy. One of New Zealand's great walks is located in this park, the Routeburn track, and is very popular among travelers heading to New Zealand for long hikes through the beautiful scenery.
Sights
Mt. Aspiring National Park has many incredible natural sights almost everywhere you go. You will see glaciers, pristine snowfields, jagged mountains and the valleys that lie below, cascading waterfalls, and many different types of wildlife.
The Gates of Haast Falls are beautiful to see. They are found on the Haast highway, just after the Gates of Haast Bridge.
Neighborhoods
Haast, Makarora, Wanaka, and Glenorchy are a few towns that surround the park. If you are coming from the north, you will most likely be traveling on the Haast highway to get into the park. The most untouched coast of the country is just south of the town of Haast. However, it is only reachable by foot, helicopter, or boat. It is well worth exploring; you may even run into Robert 'Bean Sprout' Long, who is the father of New Zealand's most remote family and resides in a small hut in the forests along the coast.
Makarora is a town that is at the northern tip of Wanaka Lake. In this town, you can find accommodations, restaurants, gas stations, campsites, and a couple of hikes to do as well. On the opposite end of Lake Wanaka is the town of Wanaka. This is a larger town and attracts many travelers in both the summer and winter seasons. Treble Cone is a ski resort that is nearby, one of New Zealand's biggest resorts. Glenorchy is another town that borders the national park and is located on the Northern end of lake Wakatipu.
Activities
The main activities in this area are hiking, jetboating, mountaineering, and heli-skiing. There are many different hikes in the park ranging from many different levels of difficulty. The Routeburn Track is one of New Zealand's great walks and is located in this park. The track takes about 3 days to complete, and it is best to do this during the summer, as the winter can bring pretty severe conditions to the trail. The track runs between Lake Wakatipu and the Te Anau-Milford Road. For a shorter walk, you could look into doing the Aspiring Hut walk or the Rob Roy track; they both take about one and a half hours.
Jetboating is an exhilarating activity to do while visiting Mount Aspiring National Park. It's pretty self-explanatory what jet boating is; you cruise around on a speedboat at very high speeds making fast turns and 360-degree spins. Usually, the boats will also stop somewhere so you can explore the valleys by foot.
There are many companies that provide guides or instruction for mountaineering on the larger peaks in the park like Mt Aspiring and Mt Awful. Heli-skiing is possible on the Northern Buchanans and Albertburn. Keep in mind that a lot of these tracks and activities are weather permitting, so always be sure to plan in advance for that and check with the Department of Conservation before embarking on long treks.
Food and Dining
There are tons of restaurants and cafes in the towns surrounding the national park. There aren't so many within the park so be sure you stock up on food before going in to explore. In the town of Haast, there is a restaurant called The Craypot and they serve incredible fish and chips, and seafood in general. It is located in Jackson Bay, just on the shore. After lunch, you can take a walk out onto the pier that is near the restaurant. Hopefully, it isn't too crowded when you visit this restaurant, as there are only one or two tables available to sit at. You can always order take away though! In Wanaka, Finchey's Bar and Restaurant is a delicious place to eat and it was built on an old jail site from the 1800's.
Transportation
To get to Mount Aspiring National Park, it is easiest with a rental car. There is a company called
Alpine Connexions
that provides transport to hikers around the Mt Aspiring area and costs around $40 NZD depending on how far into the park you want to go.
Related:
Looking for a party in
Auckland
or somewhere else in
New Zealand
?
Traveling
alone or with a group
?