What sets them apart?
This award winning large hostel offers everything a budget traveler could want, including free breakfast and a good social atmosphere. It's also home to a cultural art center where locals and travelers can participate in open mic nights, art gallery showings, live music, and more. The long list of amenities in this modern hostel will ensure that you feel right at home in Paris. And with metro stations nearby, you can get anywhere in Paris conveniently.
Hostel Personality
Who's staying here?
This hostel is full of younger budget travelers, students, backpackers, solo travelers, and couples. The budget prices mixed with the modern facilities and great common rooms mean that there's plenty of social activity here. It's also a good hostel for groups of friends or even student groups.
Insider Tip
Paris is big, so from this location be prepared to take the metro to get around the city.
FIAP Jean Monnet
A large hostel with plenty of rooms and lots of guests, this place offers a lot for visitors. The social atmosphere is good during the busy summer months because there are always other guests around. The staff organizes a variety of activities for guests to help them get to know one another. They also have live music, art showings, movies, and special events, in addition to plenty of fun activities in the common spaces such as a pool table, a bar, and a restaurant. Free breakfast is always nice, too. The location isn't bad either, as no matter where you are in Paris you'll have to take the metro to get around.
The Facilities
Dorms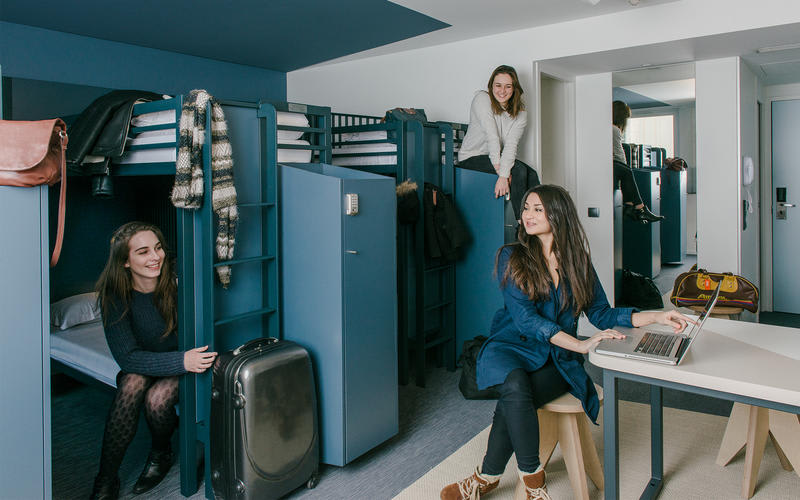 In a word: modern. This hostel is in a relatively new and refurbished building. The dorms have a modern aesthetic with plenty of nice features. Every bed has a plug and a light, and linens and towels are included.
Ensuite bathrooms offer modern showers and facilities, and plenty of hot water. Towels and hairdryers are also provided. The larger dorm rooms have larger bathrooms with multiple showers, so that's a nice feature. Other furniture is included in the rooms such as chairs and a desk. Large windows let in plenty of natural light, and some of the rooms also have small balconies.
Lockers are included in the rooms which are large enough for valuables and some bags, but not all.
Rooms come in a few different sizes, from 4 beds up to 8-bed dorms with bunks. All-female rooms are available, too.
Private Rooms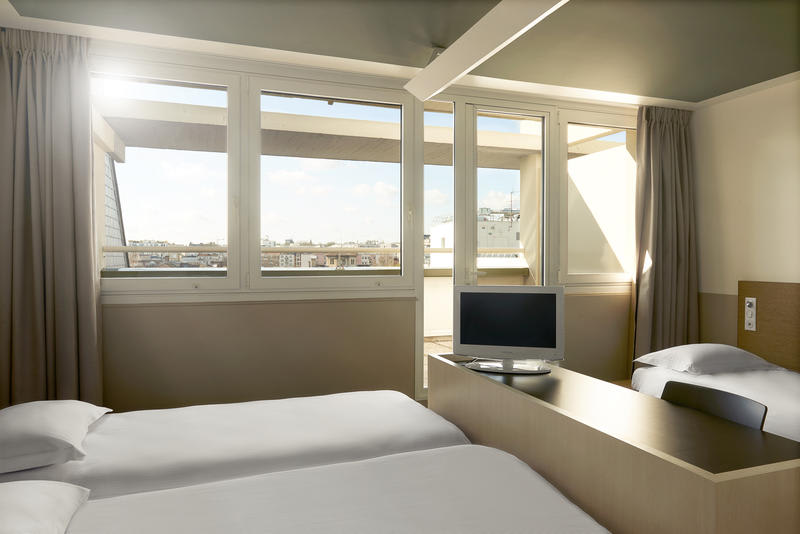 Private rooms can be booked with one, two, or three beds. The feel of these rooms is modern and comfortable with ensuite bathrooms, shelves, desks, and large windows. It's also possible to book a larger dorm room for a group of friends or a school group.
Bathrooms
The bathrooms are fantastic! Not only are they clean and modern, but they are large enough to accommodate everyone staying in each room. Since each room, dorm or private, has an ensuite bathroom then you'll not have to share with too many other guests. Towels are included and hair dryers are available.
Restaurant
The bar and restaurants at FIAP Jean Monnet Hostel are a good place to meet up with other guests, make some new friends, and enjoy a meal or a drink. While it's not a party-oriented hostel, their two restaurants are a fun place to relax and chat with other travelers or even just have a coffee. The food served here is good and affordable, too. And they offer a free breakfast for guests.
Common Areas
The common areas at this hostel are large and plentiful. As this is a very big hostel, the amount of space to make everyone feel comfortable is just right. The common areas include two different lounge areas with comfortable seating. They have a pool table, a TV with DVD's and a Wii.
In addition to the relaxation areas, they also have a small theater for meetings, conferences, or movies. Additionally, they have a conference room for anyone who needs to have a more professional setting for a meeting or to get some work done.
Outdoor Space
The outdoor patio area at this hostel is large, comfortable, and spacious. Some shade parasols make the seating area cool and comfortable in the summer. A ping pong table and some lawn games provide for entertainment, too. This is a nice spot to enjoy a Parisian day if you're relaxing at the hostel, or a good place to spend an evening with friends.
The Location
Petit Montrogue / 14th Arr.
What's Nearby?
Located in the southern area of central Paris, just south of the famous Left Bank and Gothic Quarter, this hostel is in a good neighborhood with plenty of nearby restaurants, bars, cafes, and shops. From here you can walk through the authentic neighborhoods of Paris to get to the city center, or take the metro. The University is nearby, too.
Nearby Transportation
Several metro stations are only a few blocks away, which means that you can quickly access everything else in Paris. The nearest station is Glaciere on Line 6. Also, the nearby Denfert-Rochereau station is on a direct line to Charles de Gaulle airport, and you can be there in around 45 minutes.
Activities
The activities here are varied, fun, and ongoing. As this hostel has a large "culture center" as part of the building, guests can partake in a variety of art and music events. Open mic nights, art displays, live music, happy hours, meetings, shows, and more are on the agenda.
But on a more personal scale, the hostel provides free breakfast and plenty of great ways for smaller groups of friends to meet up.
Amenities
The long list of amenities here will make anyone comfortable. From free Wi-Fi to laundry machines to an elevator, this modern building has it all. Don't forget about the previously mentioned two restaurants and bars, along with free breakfast, movies, and a Wii. The staff can help organize tours and transportation, too.
Staff
The staff here helps keep everything clean and organized. As this is a large hostel, the staff often run it like a hotel with professional service that is not as personal as other hostels, but they are very happy to help with any problems.
Heads Up
Overall, this is a great hostel. Some guests say that it feels like a hotel instead of a hostel at times. Also, they don't have a kitchen to cook your own meals (but they do have two affordabl restaurants).
FIAP Jean Monnet
Do you have a favorite hostel that you would like to review? Let us know!