What sets them apart?
This spacious hostel is located not far from Old Town in a neighborhood that has a very active nightlife. With free breakfast, group dinners, pub crawls, and walking tours, they keep everyone active and social. They also have a bar, community kitchen, and some great common spaces. This very popular hostel gets great reviews from thousands of guests.
Hostel Personality
Who's staying here?
As this hostel has both dorms and private rooms, a mix of travelers stay here. Younger travelers on a budget mainly fill the dorms. So if you're a backpacker, solo travelers, student, or a small group of friends, you'll easily be with like-minded guests here. The private rooms are also filled with mostly younger budget travelers such as couples, and occasionally families or some more mature travelers stay here too. This hostel is also good for larger groups.
Insider Tip
If you want to meet up with other guests, take advantage of the planned activities.
Hostel ELF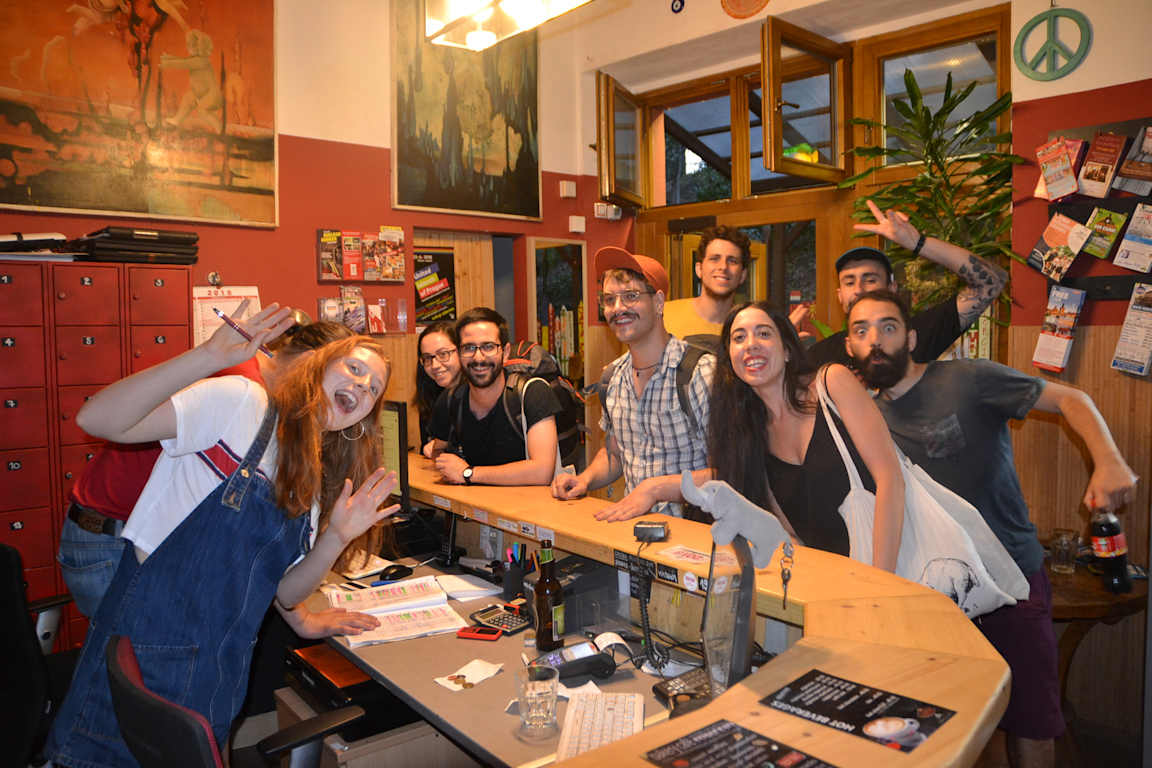 This popular hostel is located in an area that is not too far from Old Town and has plenty of nightlife surrounding it. With a long list of amenities and fun activities for guests, it has earned a reputation as a fun, social hostel with the comforts of home. They have barbecues for guests in the warmer months,
free breakfast
, pub crawls, free walking tours, happy hours, and other fun activities so that guests can get to know one another. This leads to a very community-oriented atmosphere. They also have a shared communal kitchen if you want to cook for yourself, a nice outdoor patio, a bar, and plenty of different types of room to accommodate any type of budget traveler.
The Facilities
Dorms
Dorms at Hostel Elf come in several sizes from 6 beds up to 11 beds and are colorfully decorated. They have plenty of space along with lockers for your backpacks or suitcases. Linens and towels are included, and bathrooms are on the hallways.
Private Rooms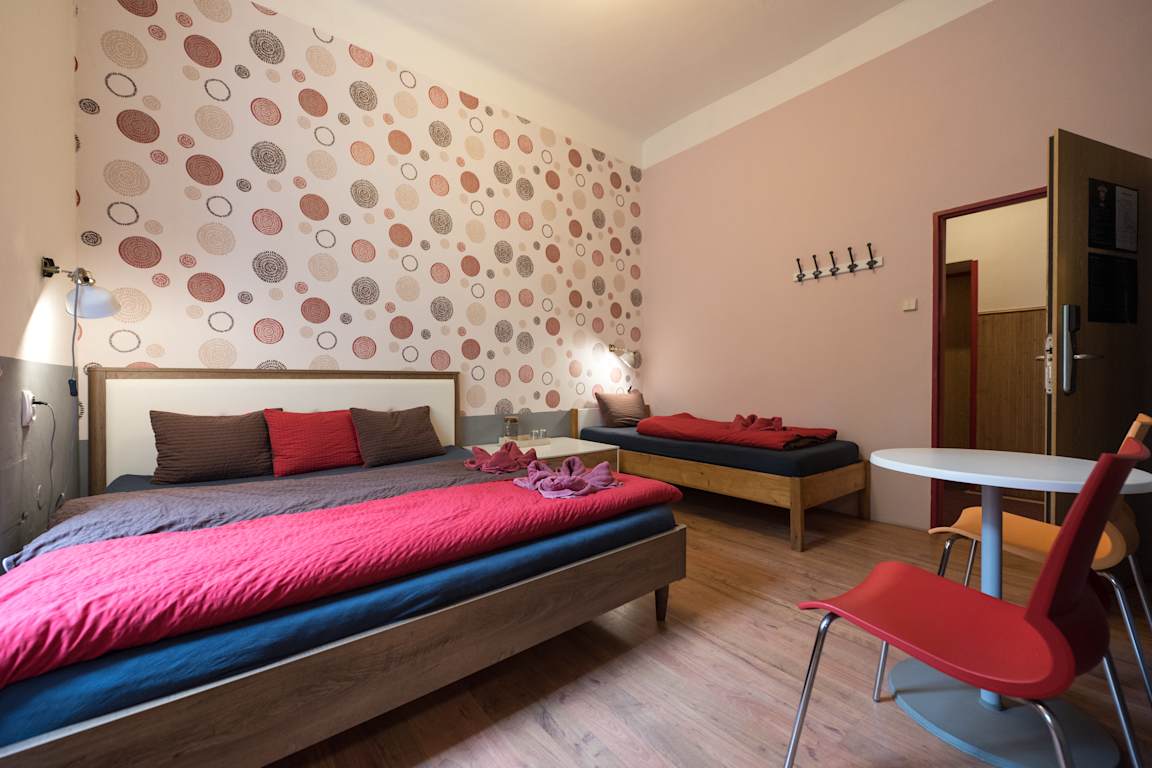 The private rooms at Hostel Elf are comfortable, modern, and nicely priced for the quality of the room. They are like budget-style hotel rooms, and the smaller rooms are less expensive if you're looking to save some money. Some have ensuite bathrooms, while others use the shared hallway bathrooms.
Rooms can fit from 1 person all the way up to the larger private bunk rooms which can hold 11 people. If you're a couple, you'll want to opt for the very nicely appointed double rooms either with or without an ensuite bathroom. The 3, 4, or 5 person rooms are great for families or small groups of friends. And larger groups of friends or school groups would likely be interested in the larger dorm rooms that house up to 11 people comfortably.
Bathrooms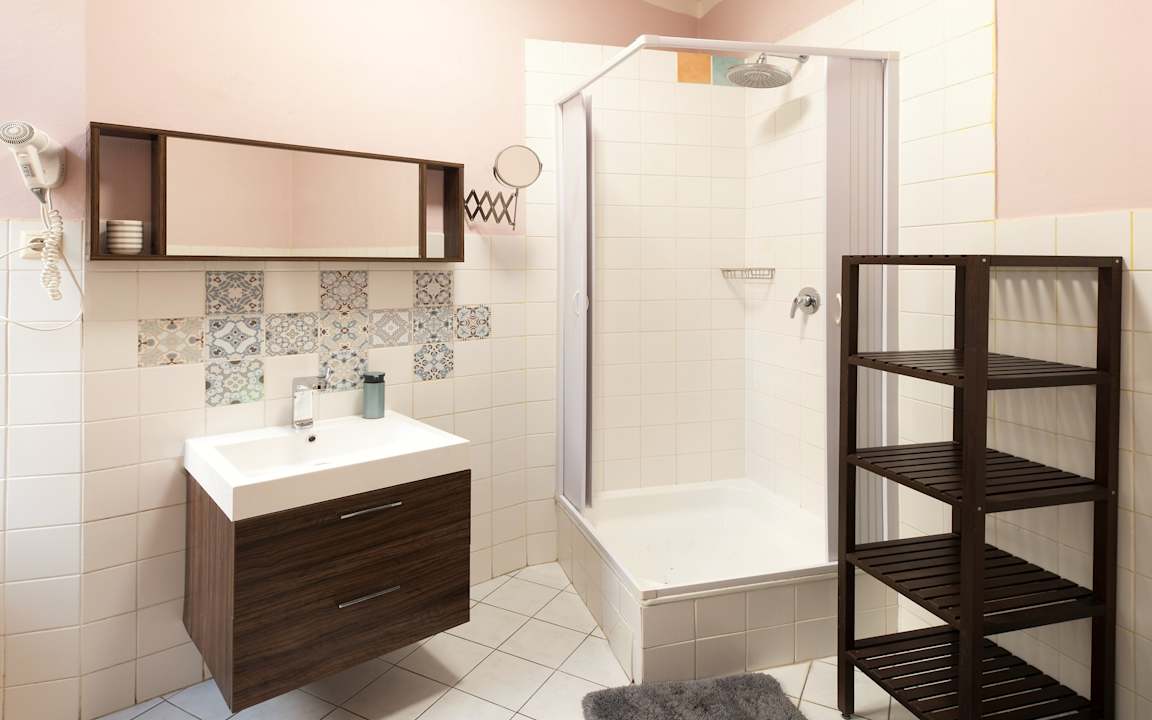 The bathrooms at Hostel Elf are clean, modern, comfortable, and renovated. Showers have plenty of hot water and good water pressure. Towels are included in your stay. Hair dryers can be rented at the front desk. The shared hallway bathrooms are large enough to accommodate those who are sharing.
Bar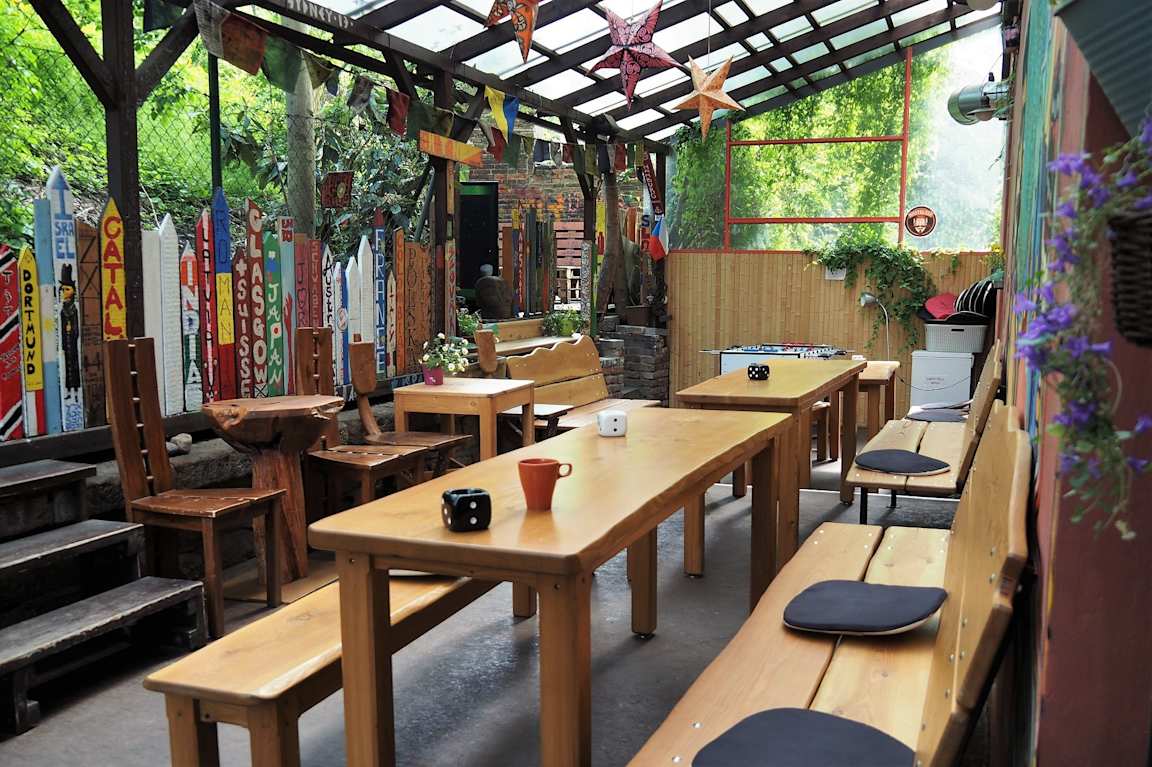 The bar at Hostel Elf is a nice place to relax and meet up with other travelers. It also doubles as a restaurant serving some basic meals as well as a free breakfast. Or take your meal out onto the patio.
Common Areas
Common rooms at this hostel are comfortable and relaxing, and are a nice spot to either read a book, catch up on news from home on the internet, or chat with other guests. A foosball table and board games provide for some entertainment in between events.
The shared communal kitchen is also quite busy and a popular place to meet up with other travelers, especially during breakfast and other meal times.
Outdoor Space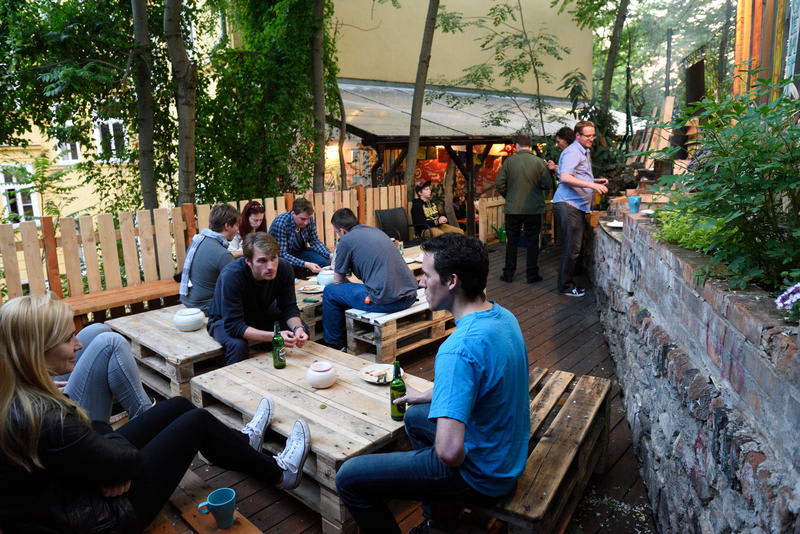 The outdoor patio and garden area is a great place to unwind during the warmer months. They have a barbecue for guests (and the staff hosts frequent meals). The tables are comfortable and you can enjoy a beer, a meal, or just relax and chat with friends.
The Location
Zizkov
What's Nearby?
Located in the Zizkov neighborhood, this hostel is sandwiched between the large park area to the north and the streets to the south which have a large number of bars and nightlife, as well as shops, restaurants, cafes, and other amenities. The park to the north is a large hill covered in trees and grass. It offers great views over the city as well as a few historical sights and nice garden areas.
From the hostel it is a 20 minute walk into Old Town, or you can take the bus which has a stop just outside the hostel's front door.
Nearby Transportation
The main bus station is only 10 minutes away, and the train station is 15 minutes on foot (which also has a metro station). A bus route stops right in front of the hostel. Furthermore, a few blocks away is the tram line which can take you around the city, into Old Town, or out of the city to other neighborhoods around Prague.
Activities
Hostel Elf and its staff work hard to keep everyone happy and having a great time. Starting with the free breakfast every morning, guests can also take free walking tours, enjoy dinners at the barbecue (seasonally), and join up with other travelers for the pub crawls to nearby bars and clubs. You'd really have to try hard not to meet other guests here, as this hostel has a great community vibe!
Amenities
This hostel has a long list of amenities, starting with the great kitchen and free breakfast. They also have free Wi-Fi, laundry machines, key-card access, a foosball table, tours 24 hour reception, luggage storage, and more.
Staff
The staff work hard here to make sure that everyone stays safe, has a good experience, and keeps the place as clean as possible. They have earned a reputation as a fun group of people running a highly rated hostel.
Heads Up
As with any hostel, some guests say that things are not always kept as clean as it can be, but the staff works hard to stay on top of any issues. Also, they don't offer an all-female dorm, but you can always talk to the staff for any requests as they have a variety of rooms in different sizes.
Hostel ELF
Do you have a favorite hostel that you would like to review? Let us know!