Everything was perfect, not a single complaint. The location was amazing, bathroom was super clean, and the bar's happy hour was the best. - American guy
What sets them apart?
A modern vibe with plenty of comforts as well as activities to meet other guests, this hostel has plenty to offer budget travelers looking for a convenient place to stay while exploring Prague.
Hostel Personality
Who's staying here?
A wide range of travelers stay here, as they have budget-friendly dorms, private rooms, and also apartments for families or small groups. The bar, common areas, and group dinners bring everyone together for a fun social atmosphere.
Insider Tip
Make sure you take advantage of the free walking tours.
Sophie's Hostel
This boutique-style hostel has the amenities of a modern hotel combined with the social atmosphere of a hostel. They have dorms, private rooms, and apartments, too. They offer group dinners, walking tours, happy hours at their bar, and a fantastic breakfast (for a small fee). The location in New Town is also not bad, as it's just a short walk into the Old Town area. Thousands of guests have left positive reviews, giving this hostel a very very good rating, that is much deserved!
The Facilities
Dorms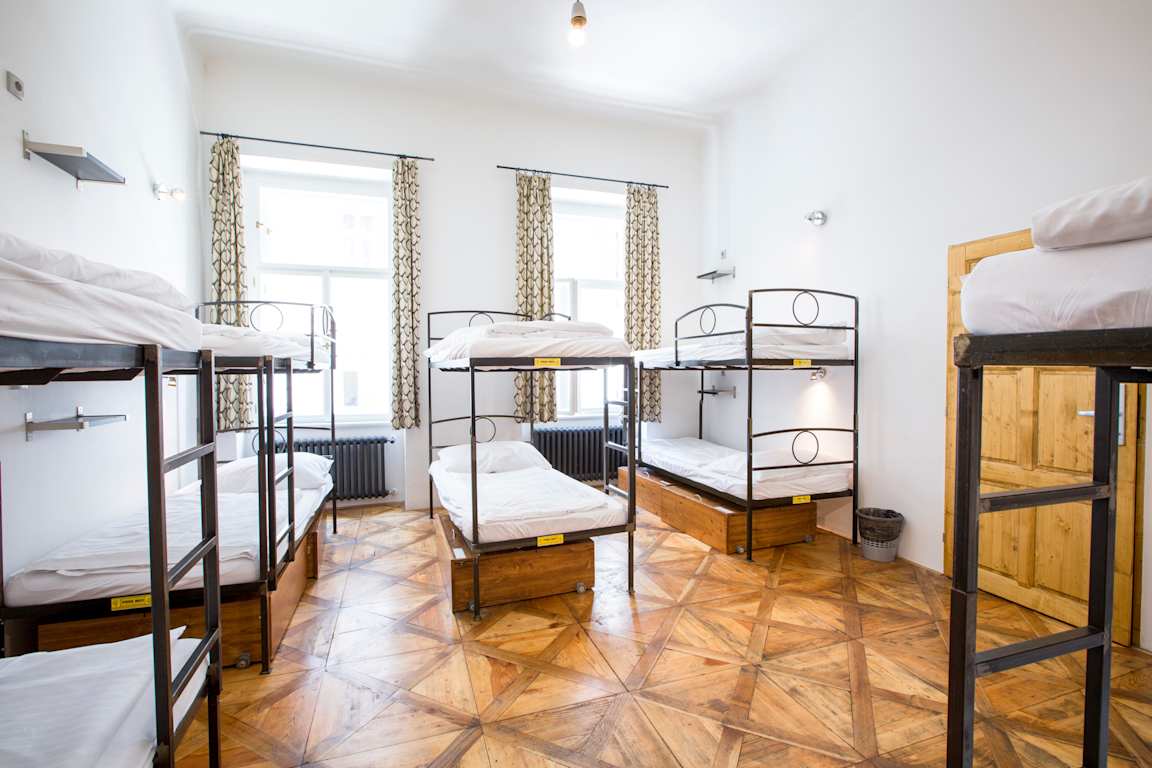 Dorms at Sophie's Hostel are comfortable and clean. Some of the dorms have bunks, while others are single beds. An all-female dorm option is available, and dorms range in size from 5 beds up to 13 beds. Most rooms have ensuite bathrooms, but not all. The large windows let in plenty of natural light, too. Beds have small lockers so you can store your bags to keep them safe, and every room is secured with key-card access.
Private Rooms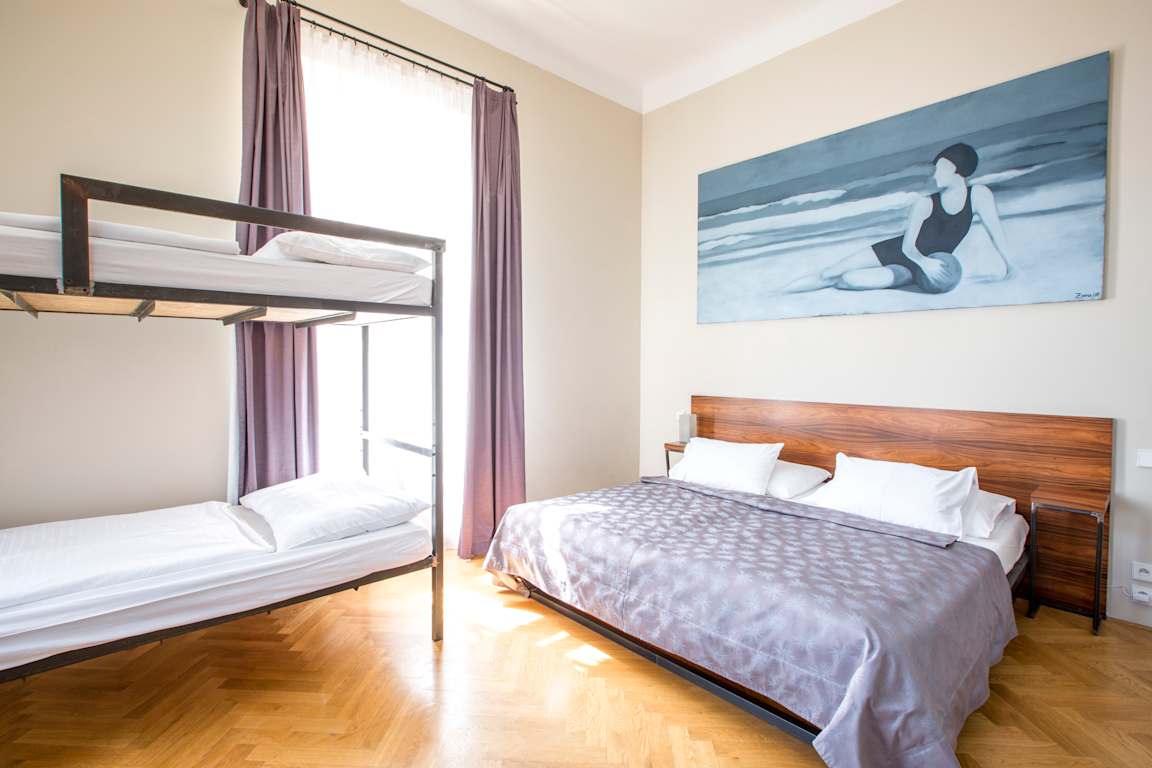 The private rooms here are quite nice. If you're just a couple looking for a room, then a double would be perfect. With the feel of a budget-style hotel room with modern touches, the price is just right and it's very comfortable. Three-bed rooms are also available.
Apartments can also be booked here, and they are large enough to sleep up to 5 guests. They come with kitchens and lounge areas in addition to the bedrooms. These apartments are fantastic options for families with kids or small groups of friends who want to have their own space for their time in Prague. The bathrooms in these apartments are also very modern and new.
Bathrooms
Most of the rooms have ensuite bathrooms and all of the bathrooms are modern and comfortable. Plenty of hot water can be found here for your shower. The larger dorm rooms have multiple bathrooms which is very convenient, and they are divided between the shower rooms and the toilet rooms. The bathrooms in the apartments are extremely modern and luxurious. Towels for the dorms can be hired at the front desk if you didn't bring your own.
Bar
The bar and cafe area at Sophie's Hostel is nice. It's a great place to relax and mingle with your fellow guests. This is not a party-oriented hostel, so the bar here is really more of a social mixing place with some comfortable seating and beer on tap.
Common Areas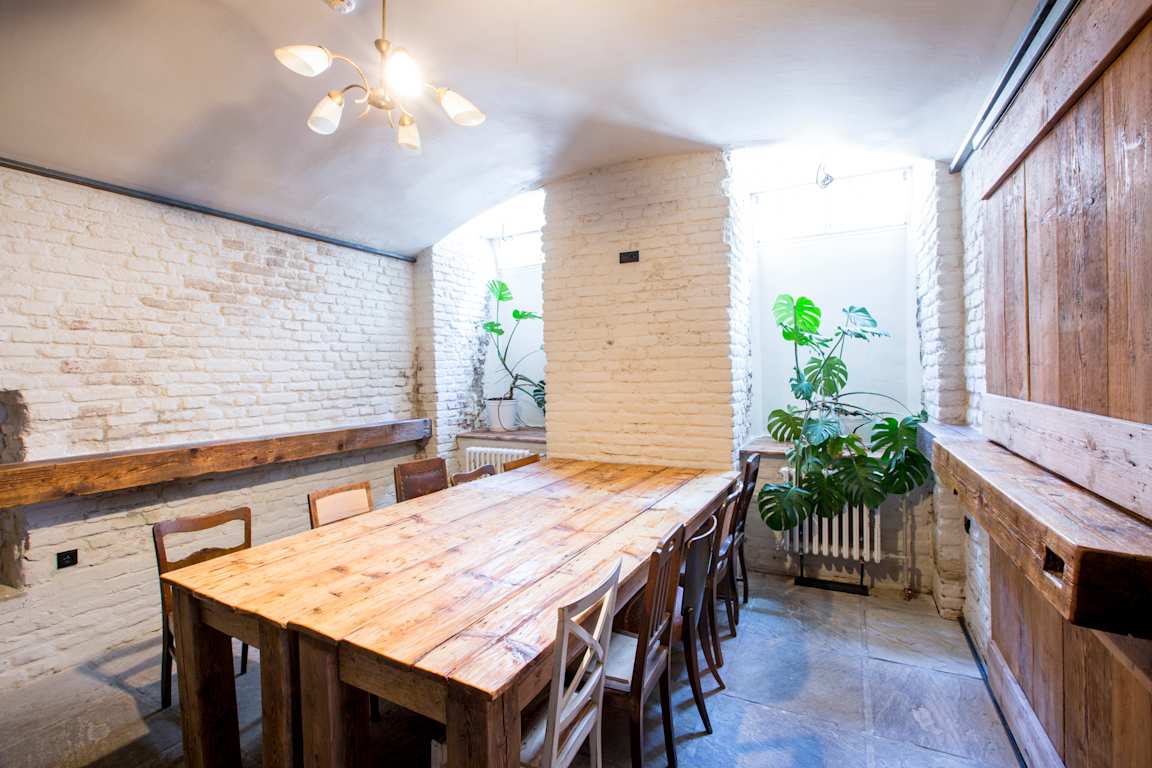 The bar area mentioned above is the main common space here. They serve breakfast here too, and they offer plenty of seating for everyone. With small and large tables for everyone to have their own space or a larger group of friends, this is a good space to relax, read a book, catch up on some work, or mingle with other guests.
The Location
New Town
What's Nearby?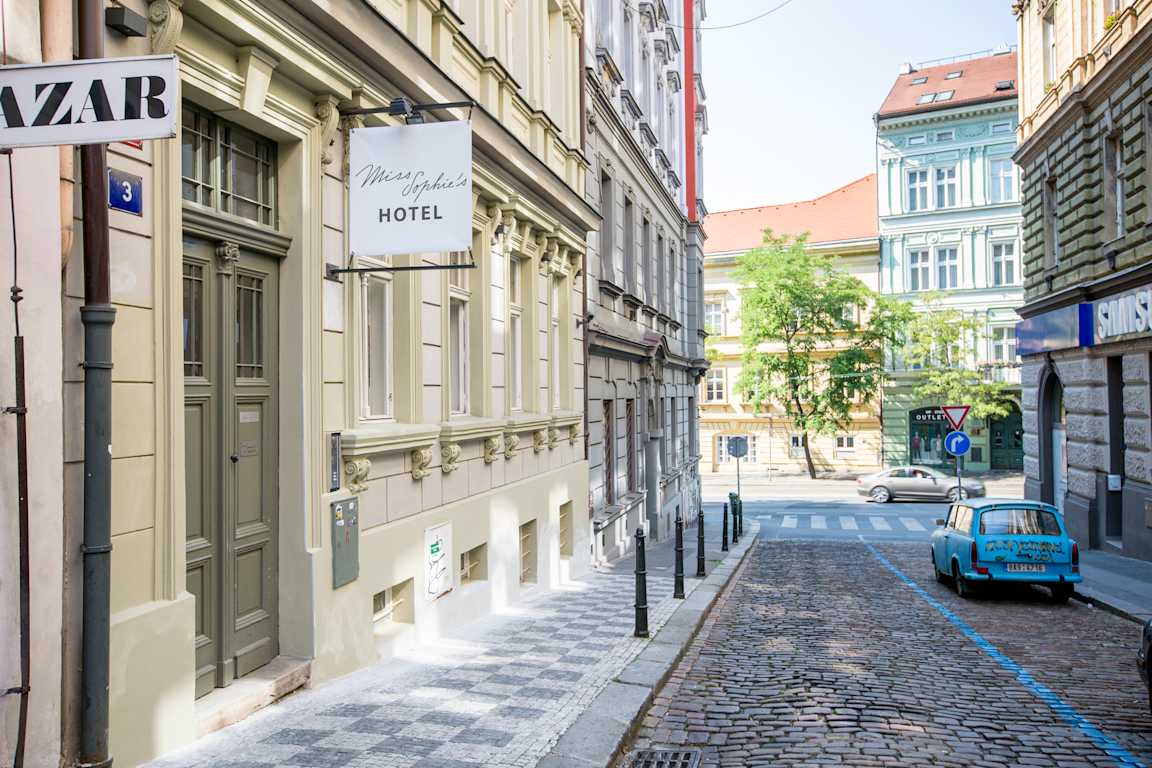 Just south of Old Town, Sophie's hostel lies in the "New Town" area that is still only a few blocks away from the edge of Old Town. From here you can walk up into the historic part of Prague to explore the museums, restaurants, cafes, bars, and shops. Several museums are only a few blocks away, and the train station is less than 15 minutes on foot, as is Charles Bridge.
Nearby Transportation
The main road near the hostel has a tram line that connects the rest of Prague to the front door of the hostel. From here you can be anywhere in town in under half an a hour if you don't want to walk. A few bus lines also run their routes right near the entrance of the hostel.
Activities
Even though some guests say the building feels like a hotel with its private rooms and apartments, the hostel staff takes the extra effort to get everyone together. Several times each week they offer group dinners where they cook some terrific meals. They also have happy hours at the bar which are quiet popular.
Amenities
Typical hostel amenities can be found here including a self-catering kitchen, free Wi-Fi, a bar, and a great breakfast for a small fee. They can also book tours and onward travel. Key-card access, security lockers, towels, and more are also on the list.
Staff
The staff is friendly, helpful, full of knowledge about Prague. They're great cooks, too. They not only keep the hostel running smoothly, but they also become friends with the guests.
Heads Up
Some say that this hostel does not have the fun social vibe of other hostels, while other guests say that it much more social than a typical hotel or bed and breakfast. Ultimately, it's a hostel with modern rooms that has a social feel somewhere in between. Otherwise, it's hard to find any faults, as they have a fantastic rating from thousands of guests.
Sophie's Hostel
Do you have a favorite hostel that you would like to review? Let us know!