What sets them apart?
This hostel is all about atmosphere. If you're looking for a party, head to the rooftop bar. If you want a more chill atmosphere, you can relax in the common areas. Pub crawls, dance lessons, and cooking classes all make this hostel a step above many others.
Hostel Personality
Who's staying here?
This is a large hostel that attracts a lot of groups. It's also a good place for solo travellers, as there are plenty of activities where it's easy to meet other guests. Whether you're looking for fun and drinks or want a more chill experience, you'll find both here.
Oasis Backpackers' Palace Sevilla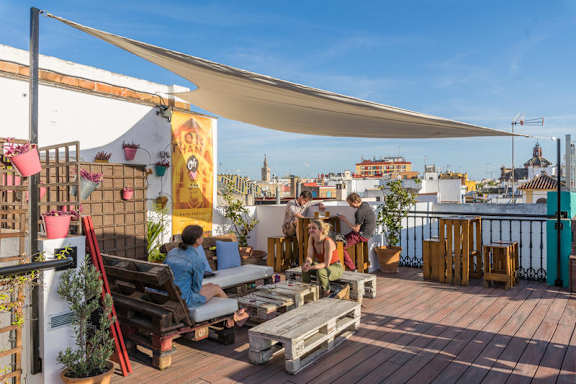 Oasis Backpackers' Palace is the place to stay if you're looking for fun activities, friendly staff, and a social crowd. It's a large hostel, and many guests arrive in groups, but there are still plenty of solo travellers and it won't be hard to meet people. They hostel all kinds of activities for guests, like walking tours, pub crawls, and flamenco shows. Try your hand at a cooking class or relax in the common area with a good book.
Arrival is smooth and organized, and you'll appreciate the welcome drink as you get oriented with Seville and the hostel.
The Facilities
Dorms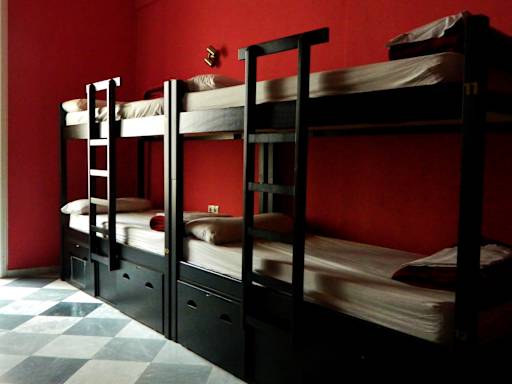 This hostel is huge, which means it has a large range of dorm types to choose from. The dorm sizes range from four beds to fourteen beds, with everything in between. The beds are simple but sturdy and comfortable. There are security lockers available to guests, but bring your own lock.
Whether you're traveling alone or with a group, there's a room at this hostel for you.
Private Rooms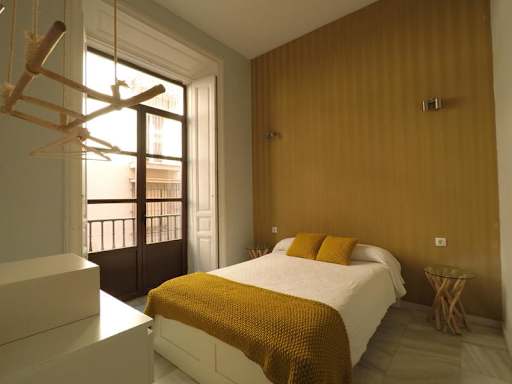 If you want the party atmosphere of a hostel without the hassle of staying in a dorm, check out one of the double private rooms. The rooms are designed like basic hotel rooms with simple furnishings and comfortable beds. Some of the rooms have large windows that let in plenty of natural light.
Bathrooms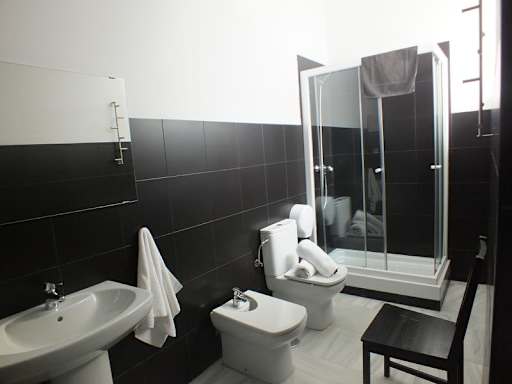 All of the rooms have en-suite bathrooms, which is a nice feature in the smaller rooms. In the larger dorms, you'll find the bathrooms get crowded during the mornings when everyone's trying to take a shower.
The facilities are clean and reliable and the water is hot.
Bar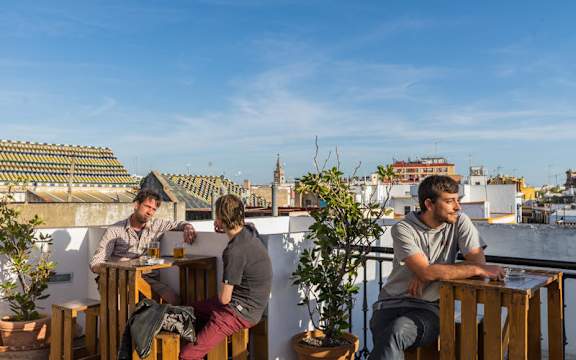 Head up to the rooftop bar if you're looking for a party. This is where everyone gathers for drinks and fun. The large size of the hostel means there are always people hanging about. The drinks can be a bit expensive but the atmosphere can't be beat. Do note that you can't bring your own drinks upstairs, so come prepared to purchase all alcohol at the bar.
Common Areas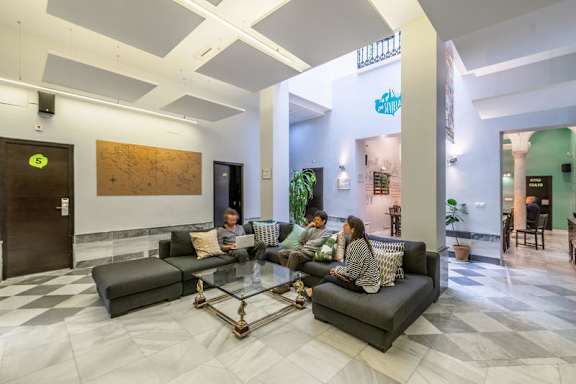 Inside you'll find several great places to relaxes on comfortable sofas. You can read a book or watch some television. There are also tables where you can enjoy the food you cook up in the shared kitchen. The kitchen is a bit small, but there are plenty of burners so cooking usually isn't a problem.
Pool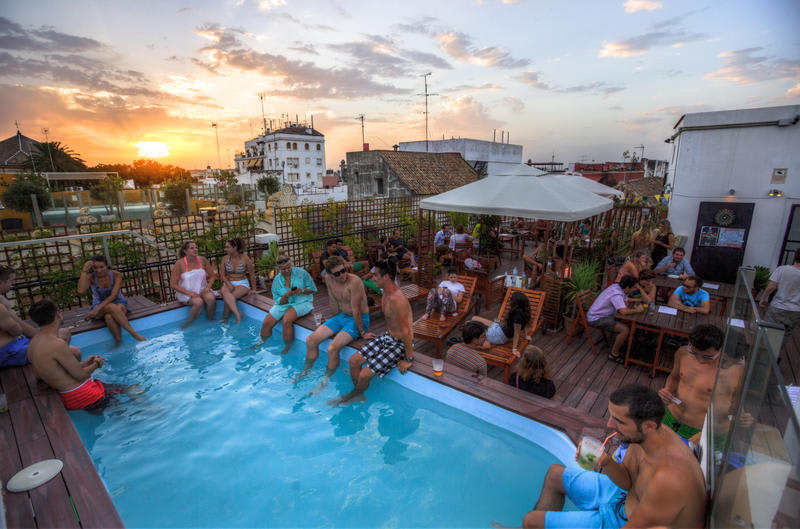 Yes, this hostel has a pool. It's a refreshing place to hang out and there are chairs around the deck if you want to soak up some sun. It's the perfect place to cool off after a hot summer day exploring Seville.
Outdoor Space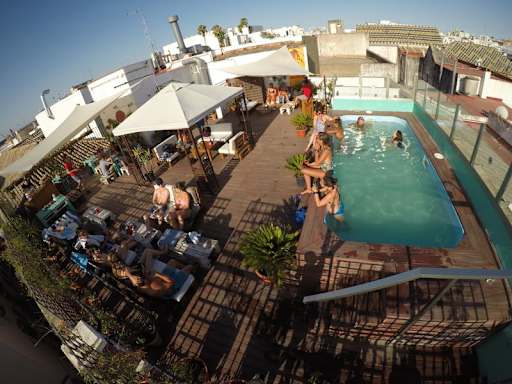 The pool and rooftop terrace is the place to hang out, day or night. Head up in the evening for happy hours, pool parties, and live music. The pool is the perfect place to cool off and hang out with friends. Don't miss the chance to soak up the sun in one of the deck chairs or outdoor tables while you're in Seville. If you've had enough sun, head under the awning to cool off in the shade.
The Location
El Centro
What's Nearby?
Oasis Backpackers' Palace is located within a twenty minute walk of most of Seville's top attractions. Right around the corner are several great restaurants and you can get to the city's main shopping street in less than a five minute walk. This area is fun and popular, so it can get pretty crowded, particularly on weekends.
If you're headed out to party, head to the neighborhood of Alfalfa. It's less than a fifteen minute walk away. The party kicks off near midnight and continues into the morning.
Plaza de Armas Square is a couple minutes away and Seville Cathedral and the Alcazar are both about a 15 minute walk away.
Nearby Transportation
From the airport, take the EA train to Marques de Paradas (10 stops). The ride takes about an hour. From there you can walk to the hostel. The hostel is also less than half a mile from the Seville Bus Station.
Activities
Oasis Backpackers' Palace is all about the activities. There are pub crawls, happy hours, group dinners, and more. Head up to the rooftop terrace for pool parties and cold drinks. During the day you can enjoy walking tours that are surprisingly informative. They're a great way to get an overview of the city and it's history. If you're interested in cooking, ask about a cooking class. Flamenco dance shows are also tons of fun.
Amenities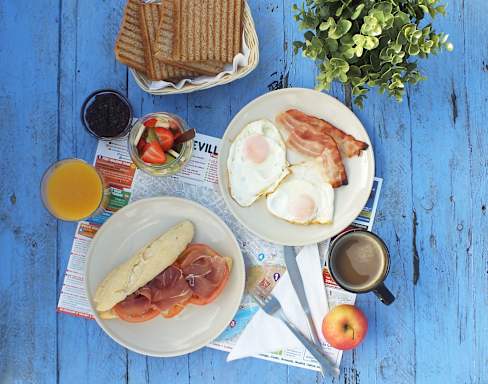 This is a large hostel with TONS of amenities. There's all of the standard things like wi-fi, security lockers, and luggage storage. There's also laundry facilities, bike rental and parking, and air conditioning. The elevator offers easy access to your room, regardless of the floor. There's a shared kitchen that guests can use and vending machines if all you want is a snack.
Staff
The staff here are great, and available 24 hours a day. They have all kinds of travel information and insights on the city. They organize the tours and activities and are very knowledgeable and professional. The hostel runs surprisingly smoothly for such a large place, and much of the credit goes to the staff.
Heads Up
This is a large hostel that offers a lot of opportunities to
party
, so it's not for everyone. If you want a quiet setting then you'll likely be disappointed. Some guests complain that the drinks at the bar are expensive, but this is typical in Spain.
Oasis Backpackers' Palace Sevilla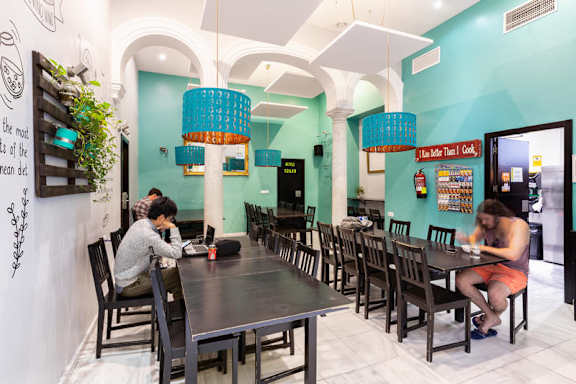 Do you have a favorite hostel that you would like to review? Let us know!