Similan Islands On a Budget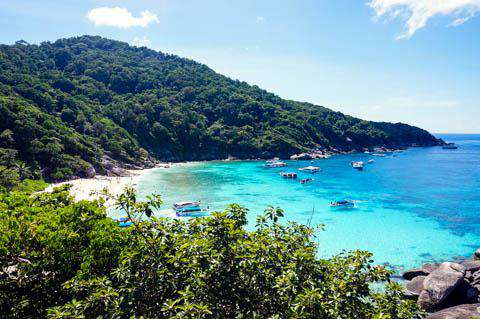 There are places divers like, and there are places divers love. One of the most popular spots to visit the underwater world is at the national park of the Similan Islands in southern Thailand. With 140 square kilometers of land and nine islands, this area is a paradise for those ready to get their feet wet.
The park is made up of nine islands: Ko Bon, Ko Bayu, Ko Similan, Ko Payu, Ko Miang, Ko Payan, Ko Paying and Ko Huyong. If these names are a bit too similar for you to easily differentiate, don't worry. Most refer to each island with a number from 1 to 9. Two more islands were added to the park – Koh Bon and Koh Tachai – in 1998.
Even though the park was only established in 1982, the islands have been around for approximately 65 million years. They are the product of swells of hot magma during the Cretaceous period and smoothed over by glacial ice and water erosion. The reefs beneath the surface are approximately 5,000 years and therefor the oldest in Thailand. Luckily, because of its deep waters, the islands' underwater landscapes were essentially unharmed during the 2004 tsunami.
Each island is covered in lush, tropical jungle and white, sandy coastlines. There is fish of every shape, color and size – including the famous "Nemo" clownfish, batfish, barracudas, whale sharks and manta rays.
You'll want to plan your visit around monsoon season. So book a trip sometime between December and April. March is a particularly good time to visit as the winds have died down and the water is crystal clear. The park is closed from May to November.
There are a few tents and bungalows on some of the islands. They are government run, and you'll need to reserve them in advance. Many divers will simply take day trips, or sleep on board boats. There are several organized tour and boat options available out of Phuket, Khao Lak and Ranong. Both areas will likely offer day trips and live-aboard cruises. These cruises typically start at four days and 4 nights, but shorter trips are available. There is an entry fee to the park, along with a daily usage fee for those spending multiple days in the park. This fee is paid to your driver before the trip.
Sights
Each island has its own charms that will win you over. Koh Miang, for example, also known as island four, is home to a small beach and many different animals including the enchanting flying foxes. Walk along the picturesque Viewpoint Trail for some pretty breathtaking scenery. Keep in mind that this trail may not be for everyone. It is 500 meters of steep climbing.
Koh Similan, or island eight, is the largest island. Underwater you'll find rock formations and coral reefs in a variety of shapes including deer, leaves and brains. It is also home to a beautiful bay known as Big Bend, and the iconic towering Sail Rock. Climb it for an amazing view of all the islands. It is also here that you will find Sunset Point. Walk through the forest and discover the stunning sight that gives this area its name.
Koh Pa Yu, or island seven, in the east has shallow and deep waters for diving. This is one of the islands that has not seen the effects of coral bleaching. Much of its hard coral is still intact.
Ko Huyong has the longest and widest beach, but remember you are not allowed to land here. This beach is where turtles come to nest and lay their eggs so it is off-limits to tourists.
Food and Dining
You will not find much in the way of fine dining on the Similan Islands. There is a restaurant next to the park office on Koh Miang that will serve simple Thai dishes.
If you are travelling for a day trip, be sure to pack snacks, water and a lunch for you and your party.
Transportation
Tours to and from the park leave from Khao Lak, Phuket and Ranong, and offer diving and snorkeling tours. Once you are on the islands, there are marine park boats available for transportation between the islands. It is less expensive than renting your own boat, but can also be less reliable.
Related:
Partying in
Chiang Mai
or other parts of
Thailand
?
Going to the
Full Moon Party in Koh Phangan
?
Hitting the beach in
Koh Samui
?