Khao Sok National Park On a Budget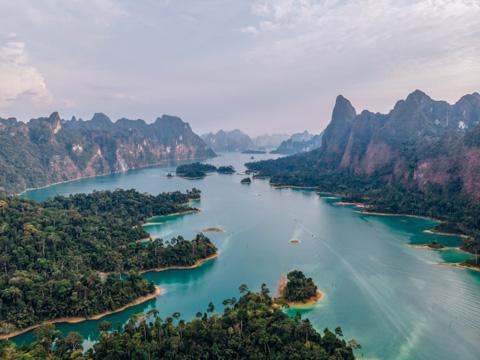 In the south of Thailand, visitors will find a gorgeous getaway of pure nature. The Khao Sok National Park is a jungle reserve that covers over 700 square kilometers, and described as one of the most beautiful wildlife reserves in the country.
Many say this jungle is over 160 million years old making it one of the world's oldest rainforests. The lush environment of limestone, waterfalls and thickets of vegetation will make any wanderer eager to discover more. Keep your eyes peeled for bears, boars, gaurs, tapirs, gibbons, deer, marbled cats, wild elephants and more. Look to the sky for over 300 species of bird and 38 different types of bats.
You'll find the best time to book is from December to April, better known as the dry season. From June to October there is significantly more rain and the threat of monsoons. Not only does it rain on your parade, but also it causes the leeches to emerge.
To enter the park is a 300 baht fee for foreigners, 150 for children, and 40 for Thai citizens. If someone tries to sell you a ticket for more than that, simply buy one at the park entrance. When planning your stay remember that your entrance fee is only valid for 24 hours. If you're staying multiple days, you'll need to pay up front. Often if you're with a tour, the entrance fee is included in the tour price, but you should inquire about this to make sure.
Sights
The Khao Sok National Park is breathtaking no matter where you look, but there are some notable sights worth visiting. In all of Thailand, the only place you'll find the Rafflesia flower is Khao Sok, and it is a sight to behold. At 80 centimeters long, this is giant flower is in bloom around late January to early February. It is the province's official flower. If you happen to be there when it's in bloom, do yourself a favor and make the trek.
The Ratchapbrabha Dam, also known as the light of the kingdom, is the perfect spot to get the best picture on your trip. With gorgeous viewpoints over the lake and hillsides, you won't be disappointed you visit.
And while you're there, go just a little further to see the Chiaw Lan Lake a little closer. This artificial lake was created in 1982 by the Electricity Generation Authority of Thailand, and is offered in most tour packages. For more ideas about what to see and where to go, check out this fantastic
guide to visiting Khao Sok
.
Activities
While it may be tempting to hike and wander on your own, the longer trails require a guide be with you. This may be a blessing in disguise, as several longer trails aren't marked very well. Some of the smaller trails for independent wanderers include the 3 kilometers to
Wing Hin Waterfall
, or the similar distance to the Bang Hua Rat Waterfall.
There are nine different trails, and many tour packages offered. Some of them will even come with inner tubing trips, caving, kayaking, or zip lining. Many will also include drinks, food and some sort of accommodations. If you have the opportunity, sign up for a tour that includes at least one night in a floating raft house. It's quite a unique experience.
When hiring a tour be aware that some tour operators use guides without a license and many do not have proper insurance. To avoid this just look for the Tourist Authority of Thailand (TAT) sign and be sure to ask about insurance.
Food and Dining
Most guesthouses within the park will have a restaurant that serve Thai and European dishes. They will all have fresh fruits and juices. Even the convenience stores will sell the freshest local fruits. Some of your selections will include rambutan, longan, pomelo, mango, mangosteen, bananas, papayas and guavas. Grab any of these plus snack s and cold drinks at any of the small shops to stock up for your day of hiking,
Some of the best and most authentic Thai food will be found in the
Khao Sok River Lodge's restaurant
. It can get busy, but it's worth the wait. If the Thai spice is getting to you, though, try the Thai Herb Restaurant. This family-owned restaurant is known for selling Thai dishes with a western spin - which is a nice way of saying, "less spicy."
Transportation
The favored mode of transportation in the park is either by walking or joining a tour.
Mountain bikes can also be rented. Cars and motorbikes are not allowed on park trails.
Related
Partying in
Chiang Mai
or other parts of
Thailand
?
Going to the
Full Moon Party in Koh Phangan
?
Hitting the beach in
Koh Samui
?