Koh Samet On a Budget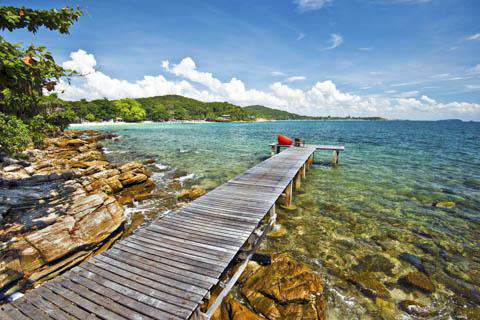 The country of Thailand is full of some of the world's most stunning beauty and peaceful settings. So it begs the question, where the Thai people go to get away from it all? They go to Ko Samet on the eastern gulf coast. Located just outside of Bangkok, Ko Samet provides visitors an easily accessible and desirable weekend getaway spot. With white beaches and coral of every other color, this island has steadily developed over the last few years without an intense construction increase like many other Thai beaches. Once thought to be the home of pirates, this island provides plenty to wonder about including,
are there hidden treasures under that gorgeous white sand?
In order to secure a place to lay your head, try to get to the island early, and keep in mind that the high tourist season is usually November to February and from June to August.
Sights
The sights in Ko Samet are found all along the east coast of the island. This is where you'll find the bays that make this area so popular. A good general rule of thumb is the more south you go, the quieter the beaches get. Northern beaches will have things like fire-juggling shows and barbecues while more southern beaches are home to monks.
One of the most popular beaches on the island is Hat Sai Kaew, or Diamond Beach. This beach is ready to cater to tourists with activities like jet skiing, windsurfing, catamaran sailing and more. It can get a little loud during the day and definitely comes to life at night.
If you had your heart set on some peace and quiet, go where the monks go. Just past the mermaid statue in Hat Sai Kaew is Ao Hin Khok. This beach is half the size and the monk accommodation along the sand have signs asking visitors to please keep quiet. It's the perfect spot for quiet sunbathing and inner reflection.
But if it's the local culture you're interested in, you'll want to visit Ao Karang. This beach located at the very tip of the island is extremely quiet where you'll find the best examples of traditional Ko Samet lifestyle.
As you travel along the east coast, you can follow signs for the "next beach," and experience all the bays Ko Samet has to offer. Ao Pai and Ao Wong Deuan are more popular tourist beaches, while places like Ao Put Sa, Ao Nuan, Ao Thian, and Ao Wong Deuan are quieter places for the traveler not looking for some peace and quiet.
Activities
The best experiences on Ko Samet are the ones spent exploring the island itself. Walk along out-of-the-way trails, or rent an ATV for a bit more of an adrenaline rush. Take boat trip, strap on a scuba suit and visit the land beneath the water. The calm waters of Ko Samet are perfect for those who have always wanted to scuba dive, but have never had the opportunity. It's an easy place for beginners to start their training. Classes are usually small, if not one-on-one, and the coral reefs of surrounding islands are not bad to practice on.
Food and Dining
As in most tourist destinations, you'll find food anywhere from local to completely Westernized. Almost every hotel has a restaurant and many will set up tables and chairs on the beach in the evening for some night dining.
If you find yourself in a happy little beach coma, no need to even get up. There are plenty of vendors selling fruits, chicken wings, dried squid, papaya salad and even ice cream to those who would rather not get up.
When the sun goes down, the Roti stands come out. These crepe desserts are typically filled with bananas and covered in chocolate syrup. If you see a stand, stop and treat yourself.
Transportation
There is just one main road on Ko Samet with smaller, bumpier ones branching out to the beaches. The distance between town and the beach isn't very far, so walking is totally possible.
Songthaews are available for those who would rather not walk, and there's also the option to rent a scooter and/or ATV 4-wheeler. Gas is often included and the prices are better down by the pier. If they ask you to leave a deposit or your passport, find another rental spot.
Related:
Partying in
Chiang Mai
or other parts of
Thailand
?
Going to the
Full Moon Party in Koh Phangan
?
Hitting the beach in
Koh Samui
?