How much does it cost to travel to Liguria?
Average Daily Expenses
(Per Person)
This typical travel budget for Liguria is an aggregation of travel expenses from real travelers. This will give you an idea of how much money you will need during your visit.
Average Daily Travel Cost:

€

167.50

Accommodation1

€

77.34

Food2

€

63.02

Water2

€

8.43

Local Transportation1

€

13.81

Entertainment1

€

17.26

Alcohol2

€

10.17
The northwestern coast of Italy plunges into the sea as rugged mountains mix with blue water. Amongst this scenic landscape, small towns full of pastel colored houses cling to the cliffs above small harbors full of fishing boats and beachcombers. The capital is Genoa (or Genova), a city steeped in history with winding alleyways and world-class seafood. However, most visitors flock to nearby Portofino, one of the ritzier and more expensive, but extremely beautiful, Italian coastal cities. Here one can find large yachts parked along the shore next to rows of colorful buildings climbing the hills above the town.
Long overlooked, but recently discovered by tourists the world over, are the five towns of Cinque Terre, a UNESCO World Heritage Site. The five towns (Vernazza is considered the most scenic, but you can't go wrong with any of them) are connected by hiking trails through the vineyards that spill down the mountains into the sea. Vehicles are not allowed, so streets are quaint and narrow. Train stations can be found in the middle of each town providing easier access than car or bus.
The region is rich with other towns along the sea and inland as well. Consider all of your options before committing to one destination, as each town has a different personality, and often different prices.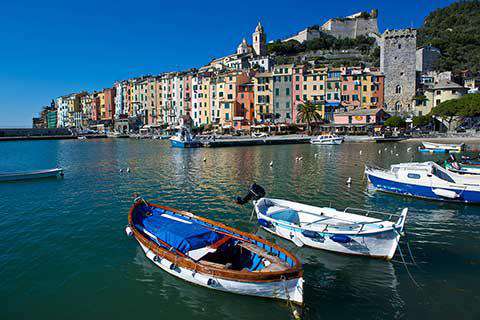 1 Categories averaged on a per-item basis.
2 Categories averaged on a per-day basis.
For example, the Food2 daily average is for all meals for an entire day, while Entertainment1 is for each individual purchase.