Genoa On a Budget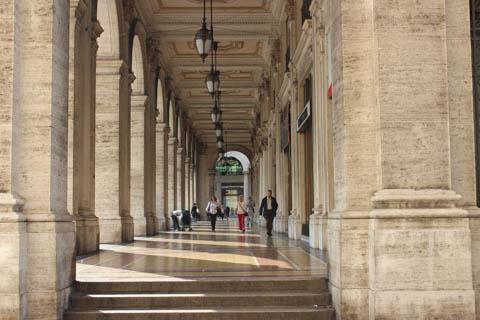 Located on the coast of northwest Italy, Genoa is a port city and capital of the Liguria region. With a long history as a rich and powerful trade center, Genoa's past of many centuries is still visible in its old port, stunning architecture, and charming alleyways. A traveler can spend days walking along seaside villas, admiring towering churches, and shopping the boutiques of the city. Genoa is also the birthplace of Christopher Columbus, featuring what is thought to be his birth home and many other quaint abodes.
Sights
Known to be one of Europe's largest historical centers, Genoa is a city filled with remnants of the past. Medieval walls and forts are abundant throughout the city as are Renaissance palaces and other historic buildings. Some of the top sights include places like the Palace of the Doges, the medieval Church of San Donato, the Carlo Felice Opera House which dates back to the 19th century, and the 16th century churches of St. Ambrose and the Annunciation. The narrow streets and alleyways of the Old Harbor allow visitors to step back in time amongst the modern attractions of dining and entertainment, while the Laterna-the oldest European lighthouse-has become an important landmark for Genoa as well. Other notable sights include what is said to be the natal home of Christopher Columbus in Piazza Dante, the promenade known as Corsica Italia, a picturesque fishermen's quarter called Boccadasse, and the Il Galeone "Neptune" recreation of a 17th Century Spanish galleon pirate ship.
Neighborhoods
The main square of Genoa is called Piazza de Ferrari. This is the heart of the city, situated between the old and modern centers, renowned for its fountain, and surrounded by several palaces and historic buildings. On the old side of town, the main street is called Via Garibaldi. Well known for its ancient palaces, the street dates back to the year 1550 and is on the list of UNESCO World Heritage Sites. On the modern side of town there is plenty of shopping, with luxury boutiques and world class fashion available along Via XX Settembre. And then there is the Old Harbor, or Porto Antico, which is a hub for entertainment with a number of museums, cinemas, cafes, eateries, and a beautiful promenade overlooking the sea. Other popular neighborhoods include Castelletto, Albaro, Carignano, Sturla, Quarto dei Mille, Quinto del Mare, and Nervi.
Activities
Beyond the wealth of historic architecture and charming alleyways, the history of Genoa is also present in an abundance of museums. Some of these include a sea and naval museum, an ethnographic museum, a museum of natural history, the museum of Ligurian archaeology, a number of museums of modern art, as well as those displaying fine art of all places and cultures. Another unique museum is the Santa Maria di Castello which also doubles as a cloister of the Dominican order. And then there is the Museum at the Prince's Palace which holds a historical collection of Genovese art.
Beyond history, Genoa has many opportunities for entertainment in the present as well with plenty to do along the Old Harbor including an Aquarium-one of Europe's largest! For more information, check out
what to see in Genoa in one day
.
Food and Dining
The cuisine of Genoa is based on traditional Mediterranean cooking and is very rich in ingredients and flavors. Being a major port of Liguria, Genoa has a selection of seafood that is abundant and fresh. Olive oil is used in almost everything, and the most common sauce is pesto made with basil, pine nuts, garlic, olive oil, and Parmesan cheese. There are many different kinds of homemade pasta like trofie and tagliatelle, as well as a selection of meat dishes like veal roulades, lamb stew, and stuffed pancetta all seasoned with aromatic herbs and spices of the region. Focaccia and vegetable pies are also common and can be eaten as main entrees, appetizers, or snacks. Most restaurants in Genova follow the Italian custom of charging a fixed amount per person for dinner (known as coperto). Generally, restaurants are open 12:30pm to 3pm for lunch and 7:30pm to 10pm for dinner.
Transportation
By plane, Genoa is served by the Genoa Cristoforo Colombo Airport with daily flights from other major European cities like Rome, London, Munich, Paris, Moscow, and Istanbul. To reach the city center there are rental cars and shuttle buses (Volabus) available at the airport.
Genoa can also be easily reached by train from Milan, Turin, Rome, and Tuscany (Pisa, Livorno and Florence. It is also connected to France by train with direct routes connecting with Nice and Marseille. There are two main train stations in Genoa, called Brignole and Principe. Brignole serves most local routes and provides access to many bus lines, while Principe serves local as well as long distance trains.
By bus, Eurolines coach provides services from many European countries.
There are also a number of ferry routes arriving in Genoa's port.
Related:
Looking for a party in
Rome
or
Florence
?
Traveling alone
Milan
or
Rome
?
Find a
Contiki tour
to Europe.