La Spezia On a Budget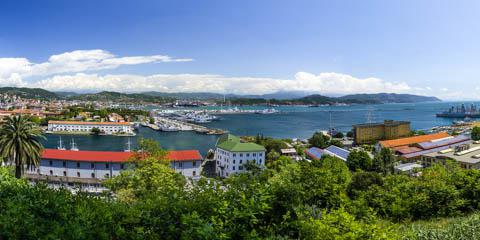 Located on the coast beside the Ligurian Sea, La Spezia is known for its military and commercial harbors hosting the arsenal of the Italian Navy. It is also well connected by rail and by boat to
Cinque Terre National Park
- a unique collection of five medieval villages along the coastline - as well as other coastal towns of the region. Other attractions include a number of museums as well as an annual boat race called Palio de Golfo.
Sights
While visitors use the city as a waypoint and do not necessarily come to La Spezia for its sights there are a handful of museums, churches, and other landmarks worth seeing. The Civic Museum Amedeo Lia, for example, has an impressive collection of works of all kinds-paintings, miniatures, bronze, copper, ivory and wooden statues, glassware, and pottery from periods dating classical, late antique, and medieval, up to the 18th century. The Ethnographic Museum is also interesting to see how people lived in the region's past, while others include a museum of modern and contemporary art, a naval museum, and a national transportation museum.
The Castle of San Giorgio is another great attraction with an archaeological museum of its own. It has been recently restored from the original watchtower castle which was originally built by Niccolò Fieschi in 1262. Situated on a hill, you can also get great views of the city from the castle, sweeping down past colorful villas to the sea with rolling mountains as a backdrop.
As far as churches go, the most popular is Santa Maria Assunta Church which dates back to the 13th century. Some of its treasures include a collection of important 14th century paintings as well as a 14th century crucifix made of wood.
Neighborhoods
Though it is often considered to be a gateway city to Cinque Terre, La Spezia is a port city and hub with some interesting attractions of its own. The historic center of La Spezia can be easily explored on foot. It is not too big and the main streets are pedestrianized for easy walking. Starting down near the water there are some beautiful gardens with unique plants as well as the harbor and a beach. From here, it is a short walk inland to the busy center where there are a number of restaurants and cafes and a variety of shops where visitors can purchase locally made products. These can be anything from jewelry, shoes, and handbags to cheeses, olive oil, salami, and sausage. There is also a market where you can grab a bite to eat on the go. Other nearby destinations include the traditional villages of Cinque Terre, Palmaria Island which has beaches, a restaurant, and hiking trails, and a number of coastal towns including Chiavari, Rapallo, Santa Margherita Ligure, Camogli, and Genoa which can be reached by train.
Activities
As mentioned before, La Spezia is very walkable. The main sights are all within close vicinity with plenty of pedestrian paths to lead the way. Once you've explored the city, there are many other nearby towns and attractions that can be reached by boat or by train on an easy day trip. The medieval towns of Cinque Terre are the most sought out, though there are plenty of others worth a visit. Each has its own unique culture, flavors, and sights to be discovered.
Back to La Spezia, there are also some annual events that may be worthwhile. If you happen to be in the city around the 19th of March, you are likely to run into festivities celebrating the patron saint of La Spezia, San Giuseppe. Then there is also the Palio de Golfo, an annual boat race which occurs as a part of the Festa del Mare celebrated in August.
Food and Dining
The eats of Italy are often taken as very serious business. Food is a large part of every culture, a way to experience the flavors of a region beyond sights and sounds. La Spezia is a place that exemplifies Ligurian cuisine with items like focaccia of all varieties-stuffed with meat and cheese or topped with olive oil and herbs-as well as an endless range of homemade pastas and vegetable pies. Pies like these can be filled with any variety of veggies and greens including leeks, swiss chard, spinach, zucchini, artichokes, carrots, and onions amongst others. Being a city on the water, La Spezia also has restaurants with a great selection of fresh fish and seafood. Mussels are especially popular as are anchovies which can be marinated into filets, turned into sauce, or even stuffed. And then there is the native sauce of the region-pesto made from fresh ingredients including basil leaves, olive oil, grated parmesan cheese, pine nuts, and marjoram. To accompany any of these dishes, be sure to try the traditional white wine of the region, Vermentino.
Transportation
By plane, the nearest airport is Pisa International Airport (84 km away), followed by Genoa Cristoforo Colombo Airport (111 km away).
You can also fly into
Milan
and pick up a train easily that travels to La Spezia.
By train, there is a route that goes from Milan through
Genoa
and on to La Spezia. The travel time by train from Milan is about three hours. There is also a train that goes between La Spezia and Levanto, passing through
Cinque Terre
along the way.
Trains and buses also take passengers to nearby
Florence
(roughly an hour or two).
Related:
Looking for a party in
Rome
or
Florence
?
Traveling alone
Milan
or
Rome
?
Find a
Contiki tour
to Europe.
Train and Bus Prices
The best prices for buses and trains in Italy
can be found on Omio
(formerly
GoEuro
). They let you search across all train, bus, and plane routes throughout the region.