Finale Ligure On a Budget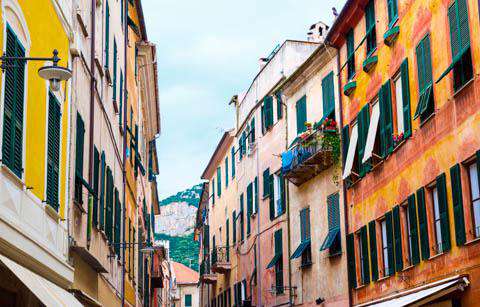 Located on the rugged coastline of the Italian Riviera, Finale Ligure is a commune of three traditional towns that have grown into one. The town as a whole is known for its white sand beaches and views as well as a system of charming stone paved streets and historic town centers. Some of the best sights include old forts and castles and a number of churches, some dating back to medieval times. There is also a number of rock climbing routes in the surrounding hills, for those seeking outdoor adventure.
Sights
During the daytime, the center of activity in Finale Ligure lies by the sea, on the beach, and along the shoreline promenade of the Finalmarina district. The beach is long with views of surrounding cliffs, lines of palm trees, and hills of the town rising behind it. Beyond the beach, the Finalmarina district is home to a few landmarks like the Arch dedicated to Queen Margherita of Austria and the Basilica of San Giovanni Battista.
The other district of Finale Ligure that resides by the sea is called Finalpia. It is the more recent area of town, though it is centered on a church that dates back to ancient origins. Finalpia also has its own beach area and a handful of other historic structures.
Located further inland, the oldest part of town is Finalborgo. It is surrounded by a medieval defensive wall and webbed with narrow alleyways that only add to its ancient character. Amongst these age old streets sit structures like the baroque church Basilica di San Biagio, the Convent of Santa Caterina which now houses an archaeological museum, and a Spanish fortress called the Castel San Giovanni.
Neighborhoods
While Finale Ligure is united as a single town at present day, it once existed at three separate towns and the distinction can still be noticed in varying ways. Finalmarina is the seaside part of the town, highly frequented by tourists. It provides easy access to the beach as well as a boardwalk lined with palm trees and a lively commercial district for shopping and dining. Finalpia is the traditional center of town, having developed around the church of Santa Maria Pia in medieval times. And finally there is Finalborgo, the third borough located further inland surrounded by a wall from the 15th century at the confluence of the Porra and Aquila rivers. Each borough has its own town center and is surrounded by a tangle of picturesque streets and old world architecture.
Activities
In addition to its historic landmarks and medieval remnants, Finale Ligure is also a well-known center for outdoor activities. The beaches, of course, are prime locations for relaxing, swimming, soaking up the sun, and watersports. However, there are also plenty of opportunities for hiking, biking, and climbing. In fact, most people come to Final Ligure seeking a rock climbing adventure. With over 2,700 routes to choose from on white limestone rock, some of the best climbing routes are spread out in the hills and valleys just behind the town. Details can be found online for more information on the climbs.
As far as hiking goes, there are plenty of trails in the surrounding wilderness, and for biking there are a number of rental places in town. There is even a Bike Park with a unique trail network that would pique the interest of any avid mountain biker.
Food and Dining
Cuisine of Finale Ligure consists of your typical Italian fare. Olive oil is used in almost everything, and one of the most common sauces is pesto made with basil, pine nuts, garlic, olive oil, and Parmesan cheese. There are many different kinds of homemade pasta like trofie and tagliatelle, as well as a selection of meat dishes like veal roulades, lamb stew, and stuffed pancetta all seasoned with aromatic herbs and spices of the region. Focaccia and vegetable pies are also common and can be eaten as main entrees, appetizers, or snacks. With its location by the sea, the area has fresh fish and seafood readily available as well. Finale Ligure has plenty of restaurants and cafes, though most are concentrated in the Finalmarina borough of town.
Transportation
The best airport to fly into is the Genoa Cristoforo Colombo Airport located in the nearby city of Genoa. Daily flights are available from other major European cities like Rome, London, Munich, Paris, Moscow, and Istanbul. To reach Finale Ligure, take a bus from the airport to Genoa's train station and there are direct train connections to Finale Ligure about every 30 minutes. There are also trains from Milan to Finale Ligure every two hours. The train station is called Finale Ligure Marina and is situated in Finalmarina near the sea.
By car, the main highway A10 passes through a few kilometers north of town. A10 connects northern Italy with France.
Once in town, everything is within walking distance.
Related:
Looking for a party in
Rome
or
Florence
?
Traveling alone
Milan
or
Rome
?
Find a
Contiki tour
to Europe.
Train and Bus Prices
The best prices for buses and trains in Italy
can be found on Omio
(formerly
GoEuro
). They let you search across all train, bus, and plane routes throughout the region.