Turkey On a Budget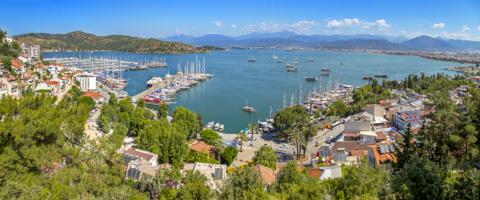 Turkey is a country that is strategically positioned where east meets west. Istanbul, the country's largest city, is split by the Bosphorus, dividing the continents of Europe and Asia. Turkey itself is quite diverse, with some regions having a more European atmosphere, while others are more Middle Eastern. It's a great country if you want to venture into the Muslim world, but also keep a foot in the west.
While Western Turkey has many fascinating mosques, it also has a large European population. The eastern part of the country, however, is home to the Kurdish population and offers a unique cultural experience. The country's coastal areas are strikingly beautiful along the edge of the Mediterranean. They have plenty of hiking and sailing opportunities for sport enthusiasts, but there are also resorts, camps, and hotels or hostels for all types. Whatever your travel style, don't miss the opportunity to do a Blue Cruise, which is a popular tourist activity.
Traveling in Turkey is far less expensive than nearby European countries, but it offers many of the same comforts and luxuries. As the currency continues to strengthen however, you can expect prices to get higher and many of the shockingly good deals will disappear. Istanbul, in particular, is comparable in price to elsewhere in Europe. Food is quite affordable though, even in nicer sit down restaurants. You'll find no shortage of dessert options anywhere in this country. Cakes and pastries are cheap, delicious, and ubiquitous.
Transportation options are abundant, but the large size of the country will tempt you to take a flight, particularly if your time is limited. If you're traveling by land and hoping to save some money, consider overnight buses. They are not exactly comfortable, but they can save you both time and money, and can sometimes make a twelve hour bus ride fly by (or creep frustratingly slowly, depending on the comfort level of the bus).
Street food is your best option if you're on a tight budget. The food is quite tasty and usually of a high quality. It is also a great way to experience the more traditional foods of the country. Street stands are abundant, particularly in the larger cities such as Istanbul.
At A Glance
Buses are generally of high quality, but the trips can be very long because the country is so large. Overnight buses are a common option for the longest routes. This can help you save money and time but it you can't sleep on the bus it will cause you to have a rough day after you arrive. It is possible to negotiate the price of a bus ticket. You'll be more successful in some cities than in others. In Eastern Turkey in particular, negotiating is recommended.


Once you get outside of Istanbul the prices will drop dramatically. You can also negotiate the price of almost anything, particularly when you're in the countryside. Even bus tickets and hotel prices are often negotiable.


Turkey has a lot to offer visitors who venture outside of the major tourist areas. Try to head to some of the less frequently visited towns and you'll be welcomed with a level of friendliness you might miss in the big cities.


It's easy to fill a week or more while you're visiting Istanbul. It's a beautiful city and there are many neighborhoods worth visiting that are off the beaten path and left out of the guidebooks. Plan ahead so you know everything that you want to see and do.


Many of the showers throughout the country are solar powered. This means when there's no sun, there's no hot water. This is most common in the smaller towns and countryside. Even if you're assured that there is hot water, prepare for lukewarm at best. You'll find the water is warmest in the late afternoon on a sunny day.
Related:
Looking for a party in
Athens
or
Istanbul
?
Traveling alone to
Athens
or
Santorini
?
Find a
Contiki tour
to Europe.
Top Tourist Attractions
Ephesus:
One of the best preserved ancient cities dating back to the 12th century BC, Ephesus is one of the top travel destinations in the area. It's best visited in the early morning hours or in the evening when the cruise ships have moved on and the crowds are at a minimum. Guides are available to help you understand the history better, but they are not required.
Pamukkale:
An incredibly beautiful natural phenomenon, these calcium pools are unlike anywhere else in the world. A handful of pools remain open for wading, but the vast majority are now closed to the public in an effort to preserve this fragile ecosystem.
Blue Mosque:
In the heart of Istanbul, this is an incredibly beautiful mosque named for the blue tiles on its interior. It was built between 1609 and 1616 and, like many mosques of that time period, it has a tomb for its founder.
Popular Foods
Turkish food is a combination of Mediterranean, Arabic, and Central Asian flavors, among others. Beef is the most common meat, but you can also find chicken, lamb, and fish. Pork is available, but very uncommon. Food is generally heavily spiced and has a strong but delicious flavor. Rice is often served alongside of a meal. Desserts are also common, particularly in Istanbul where you can find dessert cafes everywhere. They serve everything from cakes and cookies to baklava.
Doner kebab:
Turkish kebabs are made from rotating, seasoned meat. They are typically made from lamb or chicken that is slow cooked and served as either a pita sandwich or as a platter with vegetables. You'll see the meat rotating on the side of the street almost everywhere. It's a great dish for lunch or dinner and is usually a more affordable option.
Kofta:
This is a Turkish type of meatball that is made from ground meat with onions and special seasoning. They are often an option on buffets or at sit down restaurants throughout the area. They can be strongly spiced or mild, and they are often served with a grain or side of vegetables.
Baklava:
Baklava is a sweetened filo pastry that is made with honey and various nuts. It is most commonly found in Eastern Turkey. The diversity of options is mind boggling. You can typically buy baklava by the pound from dessert shops that are in almost every city.