Pamukkale On a Budget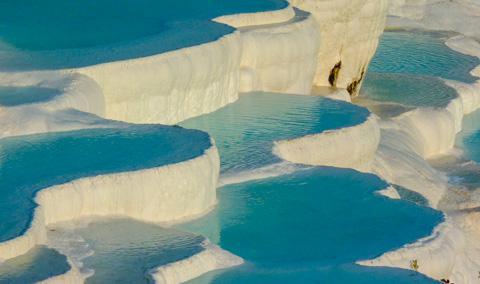 Pamukkale is in southeastern Aegean Turkey and is historically a spa town that has been in existence since the 2nd century BC. It is popular with tourists for its beautiful hot springs and travertines, or pools that are coated in a very unique calcium covering. The area is very rich in mineral content and the water, which has been flowing for thousands of years, has deposited calcium in each pool. This unique whiteness creates an unworldly beauty that draws visitors from around the world. If you're visiting during the summer months when the sun is out in full force, don't forget the sunscreen, as the white reflects the light and you can end up with a sunburn quite quickly. You'll also want to make sure you have sunglasses available because the glare can be quite extreme.
Sights
Most visitors go to Pamukkale specifically for the travertines. This unique geological formation overlooks the town and offers a unique and beautiful setting. In the past the pools were open to visitors for wading. While damage is visible, there are still many beautiful spots where the calcium remains a glowing white. Today there are strict regulations that prohibit visitors from wading in the pools. Several man made pools, and a few natural ones are still open and you must remove your shoes before stepping in. The sight is a UNESCO World Heritage site.
In addition to the area's beautiful travertines, there are also some wonderful Roman ruins nearby. Just behind the travertines, and included in the price of admission, is the Roman amphitheater of Hierapolis. The entire sight is quite impressive, although it is not as large as the more famous Ephesus. You can still pass a couple of hours exploring the ruins of Hierapolis.
Day tours of the area are available for about 45 TL. This typically includes an English speaking guide, the entrance fee and a buffet lunch. There are several companies that offer comparable tours so it is best to ask around to find out all of your options. Night tours are available as well from some of the small guesthouses.
Neighborhoods
Pamukkale is a small town that is easy to explore on foot. There are many restaurants and hotels to choose from. The Travertines and the ruins of Hierapolis are both enclosed in an area that is accessible only after you pay an admission fee. This area is also accessible by foot.
Activities
Activities around town include visiting the remains of the ancient city of Aphrodisias. This is one of the best preserved Roman sites in southeastern Aegean. There are also nearby mineral hot springs where you can take a dip. There's a market in Denizli as well, but not much else around town that is worth seeing.
Food and Dining
The town itself is quite small, and most facilities cater specifically to tourists. There are plenty of hotels and you can easily negotiate a great rate, particularly if you're in town when the tourist crowds are slim. Like elsewhere in Turkey, most of the hotels will include a Turkish breakfast in their rates. This breakfast varies in quality but usually includes a hard boiled egg, cucumber slices, tomatoes, and some feta cheese, among other things. There are a handful of decent restaurants around town, most that cater specifically to tourists. The best are often family run and may be attached to small pensions. While you won't find the great diversity in options that you get in Istanbul, the quality is usually quite good and the prices are surprisingly reasonable.
Transportation
Pamukkale is a very small town and regardless of where you stay, you can walk almost anywhere in a short ten to fifteen minutes. The closest major city is Denizli and this is likely where you'll first arrive when you're traveling to Pamukkale. It has the closest train station and airport. There are three daily flights into the Cardak Airport from Istanbul and once you arrive at the airport, there are shuttles available to both Denizli and Pamukkale. Buses are available from almost any major city in Turkey to Denizli. Buses are quite nice and the ticket price usually includes water, hot drinks, and a snack. Negotiate hard for the price of your ticket, and regardless of what you're told, there are almost no bus services that go directly to Pamukkale. The minibus between the towns is also not free and costs roughly 10 TL.
Related:
Looking for a party in
Athens
or
Istanbul
?
Traveling alone to
Athens
or
Santorini
?