Diyarbakir On a Budget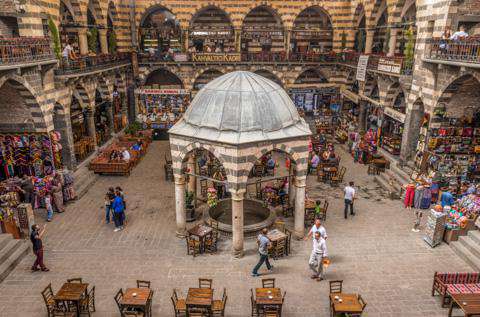 Diyarbakır is the largest city in Southeastern Turkey, located on the banks of Tigris River, which is one of two great rivers of the Middle East. The city is known especially for its old city, housed within ancient fortress walls that have been designated an UNESCO World Heritage Site. Within this fortress is a glimpse into the city's ancient history and traditional customs that remain alive today.
Sights
Most visitors to Diyarbakir come to see the historic sights and traditional life of the old city, which is situated within Diyarbakir Fortress, surrounded by ancient walls. The Fortress consists of an inner (the fort) and outer fortress (the walls) with four main gates: Da? Gate, Urfa Gate, Mardin Gate and Yeni Gate. As the widest and longest continuous defensive wall in the world (after the Great Wall of China), Diyarbakir Fortress was named an UNESCO World Heritage Site in 2015, along with Hevsel Gardens, which consist of the fertile lands stretching between the fortress and the Tigris River.
At the center of the old city, another must-see is the Great Mosque of Diyarbakir built by the Seljuk Turkish Sultan Malik Shah in the 11th century, and is one of the oldest mosques in Turkey. Other important mosques include those of the Ottoman era-the Behram Pasha Mosque (1572, known for its entrance arches) and Sheikh Matar Mosque (1520, known for its unique minaret based on four columns). These are just a few examples of the many historic mosques and churches within the city.
Neighborhoods
The city of Diyarbakir is made up of two main general areas-old city and new city. Old city is a compact area on the eastern side of the city, surrounded by ancient city walls that were built by Constantius II and extended by Valentinian I between 367 and 375 AD. There are four gates into the old city and 82 watch-towers on the walls. Within the old city visitors will find a more traditional side of Diyarbakir-many mosques and churches, bazaar markets, teahouses, and village-like communities where you'll likely see people, animals, and children (some of whom will beg or pickpocket) about in the streets. New city, on the other hand, is the next compact area to the west of the old city. Its central hub of activity is called Ofis, where there are many nice bars and cafes filled with students and young couples. New city is a hotspot for experiencing Diyarbakir's nightlife, and is generally safe due to an abundance of policemen.
Activities
Before delving into the sights of the old city, many visitors take a walk on the old city wall, starting at the northern gate and walking counterclockwise to Mardin Gate. It is free to access and offers some wonderful views of the surrounding area, sometimes even the Tigris River from one of the wall's watchtowers.
Travelers can also visit the Archaeological Museum for some deeper insight into Diyarbakir's past. The museum contains artifacts from the Neolithic period, through the Early Bronze Age, Assyrian, Urartu, Roman, Byzantine, Artuqids, Seljuk Turk, Aq Qoyunlu, and Ottoman Empire periods. The Cahit S?tk? Taranc? Museum is also unique, as it was the home of the late poet and serves as a classic example of a traditional Diyarbak?r home.
For experiencing the local culture, stop at one of the bazaars and delve into the world of bartering. The markets will have jewelry making and other craftwork like metal tools made from hand and local textiles. Shopping in the bazaars is a great way to get a sense of the local customs.
Food and Dining
A central ingredient to Diyarbakir dishes is lamb, often cooked with spices such as black pepper, sumac, and coriander, and served with rice, bulgur (a whole grain wheat dish), and butter. A few well-known dishes include meftune, which consists of lamb meat and vegetables cooked with garlic and sumac, and kaburga dolmas?, which is a baked lamb's ribs stuffed with rice and spices. Other specialties include a sheep stew called seropeh, grilled lamb liver called ci?er kebab?, and a mixture of wheat grain, chickpeas, and yogurt called mehir. Desserts are very sweet, including items like kunefe, which is made with a thin dough, soaked in a sweet, sugar-based syrup, and layered with cheese-sometimes with other ingredients like clotted cream or nuts. What the city is truly famous for, however, is its watermelons, which are exported internationally. The city even holds an annual Watermelon Festival, and it is one of Diyarbakir's biggest events.
Transportation
The best way to reach Diyarbakir internationally is to first fly into Istanbul Ataturk Airport or Ankara Esenboga Airport. From either of these airports, Turkish Airlines offers daily domestic flights to Diyarbakir Airport, which is a military airbase and public airport. Travelers can also take a direct train, which runs five days a week. The journey by train takes about 21 hours. Transportation between cities is also available via bus.