Antalya On a Budget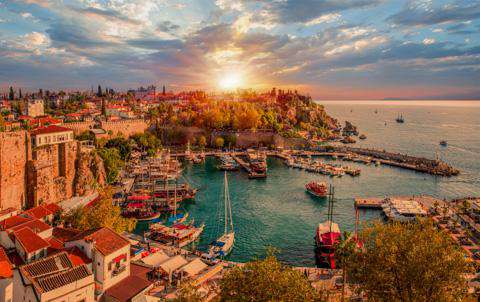 Antalya is the largest city along Turkey's Mediterranean coast and the eighth largest city in the country with over one million people in the metropolitan area. The city dates back to about 200 BC when it was settled by the Attalid Dynasty of Pergamon and soon conquered by the Romans. The city was ruled by several different groups and most recently was transferred to Italian suzerainty following World War I. It became part of Turkey following the War of Independence. The city has seen an influx of development in recent years and it has grown into a tourism mecca with more than 12 million visitors in 2014.
Antalya's climate is Mediterranean, with hot and dry summers and mild and damp winters. On average, there are about 300 sunny days every year. February is the coldest month, when temperatures can drop to around 6 degrees Celsius on average. July is the warmest month when highs can reach 34 degrees Celsius, on average.
Sights
Antalya is a city with an interesting history and an impressive art scene. Kalaici is the Old Quarter, and it has many narrow and winding streets that are fun to explore. The area is encircled by ancient city walls. In the northern part of the Old Quarter you'll find lots of souvenir shops and restaurants that cater to tourists. Make your way to the Kilincarslan section if you want to experience the city's charm in a peaceful setting. Of particular interest is Hadrianus Gate, which was built by the Roman emperor, Hadrianus. Other sights in the area include Yivli Minare, Saat Kulesi, the port of Yat Limani, Kesik Minare, Hidirlik Tower, and Ataturk's Home.
Neighborhoods
Most tourists enjoy exploring Antalya's Old Quarter, Kaleici. This is where you'll find most of the city's historic sights as well as interesting, narrow streets. The area is divided into several sections. In the northern part, Selcuk and Tuzcular, you'll find most of the souvenir shops and restaurants. The Kilincarslan section is much more peaceful and has a lot of character.
To the west of town you'll find Konyaalti Beach. This is where the large water park, Aqualand, is located. You'll also find the aquarium and an amusement park here.
North of the city is the zoo and nature park. You can get here by taking the tram to its last stop.
Activities
Most people spend a good amount of time wandering around Kaleici. You can really enjoy the historic atmosphere of the city by getting lost in the winding streets. Another great place to visit and relax for awhile is Karaalioglu Park. From there you can watch the fishermen at Yacht Harbour. There are also some good malls around town. These include Terracity, 5M Migros, Ozdilek, and Deepo Outlet Center. If you want to get a view of the city then head to the top of Tunektepe Hill. It stands at a height of 618 meters and offers a great view of the surrounding area. On the top you'll also find a hotel, a rotating restaurant, and a nightclub, which mainly hosts private parties. Finally, it's fun to take a scenic cruise of the area. You can take a boat from the harbour, but negotiate hard for the price. Boats leave when they are full, or close to it.
Food and Dining
Food in Antalya is very affordable and of good quality. In general, the service is great and the waiters are very friendly. There are many good seafood restaurants around town that are worth checking out. Always make sure you are charged the price that is written on the menu. You can find some good shops with baklava around town as well. Prices are very cheap and the quality is excellent. Also check out some of the pastry shops around town.
Transportation
Antalya has a variety of different types of public transportation. These include public buses, trams, mini buses, taxis, and dolmus. Buses are cheap and many have air conditioning. If you're traveling to more distant destinations then you may have to go to the bus terminal first and change buses. The closest bus stops to the Old Town are on Ali Centinkaya Cd. They can be easily reached on foot.
The city has a historic tram system that connects the western Konyaalti Beach and Antalya Museum to the eastern part of the city center. It has been donated by the city of Nuremberg in Germany. Trams run every half hour and is worth a trip for sightseeing purposes alone. It passes by many interesting places and offers good views. There is also a new tram system that has one line that runs along Fatih-Otogar-Muratpasa-Ismetpasa-Meydan every 15 minutes during the day. You can get to the historic tram line by getting off at the Ismetpasa Station.
A dolmus is a large station wagon or minibus that travels along a set route. They are found throughout Turkey and they are a convenient way to get around. In Antalya, they do not wait until they're full to depart but instead follow a set schedule. If they aren't full though, you can expect them to move slowly looking to pick up additional passengers.
Related:
Looking for a party in
Athens
or
Istanbul
?
Traveling alone to
Athens
or
Santorini
?