Istanbul On a Budget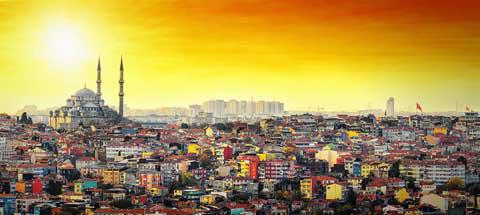 Istanbul is strategically located on the Bosphorus and is split between Europe and Asia. It truly is a city where east meets west. Istanbul is the cultural and financial hub of Turkey, and also the most populous city. The sites are countless and there's something for everybody, whether you're interested in art, music, food, or adventure. You can pass many days exploring both the residential and commercial pockets of this city. Much of the appeal is hidden away along back alleys or within corner shops.
The climate in Istanbul is temperate oceanic. The summers are hot and humid and the winters are cold and wet, with occasional snowfalls. There is a surprisingly high amount of rain in the city, more than that of London, Dublin, or Brussels. Rain is most common during the late fall and winter months. Spring and summer are the driest times of year, although there is no time that is considered a "dry" season. Summer months can be quite hot with average temperatures around 27 degrees during the day. Humidity makes it feel even hotter. Winter is cold and damp with temperatures reaching 7 degrees Celsius during the day.
Sights
Many of Istanbul's historic sights are found in Sultanahmet. These include the Hagia Sophia, Topkapi Palace, the Blue Mosque, and Basilica Cistern. Outside of this neighborhood there is also the Church of St. Savior in Chora, the Galata Tower, and the Galata Whirling Dervish Hall.
The Grand Bazaar is nearby, too. You shouldn't miss it, as this is a great place to
go shopping in Istanbul
. Even if you don't buy anything, it's a destination itself with plenty of cultural experiences.
Elsewhere in the city you can find other mosques open to the public, as well as tours and trips up the Bosphorus. For more details and ideas about what to do if you're in Istanbul for just a short time, check out this
guide to visiting Istanbul in one day on a layover
.
Neighborhoods
Sultanahmet is the Old City in Istanbul. This is where you will find most of the historic sights including the Blue Mosque and Hagia Sophia. The New City is the main business center and has a much more modern atmosphere. There are many shopping areas and popular districts such as Elmadag, Nisantasi and Etiler. The Bosphorus is lined with beautiful palaces, parks, and mansions. Along the Bosphorus there are popular areas such as Besiktas and Ortakoy. Other neighborhoods include the Golden Horn, where you'll find Eyup, and Princes' Islands, which offers a wonderful retreat from the hustle and bustle of the city.
Activities
Hamams, or Turkish Baths, are great places to visit while you're in Istanbul. Most neighborhoods have at least one Hamam, but they each vary in cleanliness and quality, so ask around for a recommendation.
Another popular activity is smoking a hooka, or water pipe. There are a good number of places near the Grand Bazaar where you can smoke a hooka.
A Bosphorous Cruise is another great activity.The best option is to take the cruise offered by the state run company Sehir Hatlari. The cruise is 90 minutes each way or you can take a 2 hour non-stop cruise. During the peak season there are three daily departures, but it is still best to arrive early. You can buy tickets near the Eminonu terminal just east of the Galata Bridge.
And if you're looking for even more activities, check out this
great 4-day itinerary for Istanbul
which covers plenty of things to do.
Food and Dining
As you walk around Istanbul, restaurant employees will do their best to persuade you to come into their restaurant. This is particularly true in the touristy areas. They are generally friendly and welcoming, so a smile as you decline can go a long way. If you're trying to figure out
where to eat in Istanbul
, there are plenty of affordable restaurants and fast food options in the city. Many of the restaurants in Sultanahmet are geared towards tourists. Taksim has some wonderful restaurants that are upscale in style but still reasonably price. Affordable food options include doner, hamsi and kumpir. Pastry shops are spread throughout the city and have some very delicious desserts that are reasonably priced. Look for one with a rooftop patio so you can enjoy a view of the city at night.
Transportation
Although the
public transportation system
can seem chaotic, it is the best way to travel around the city, particularly when you're on a tight budget. The light rail system has four underground metro lines, four Tramvays, which are aboveground, two Funikulers, two mini-lines, and the Marmaray, or underwater lines. There are also ferries that travel the Bosphorus frequently. The above ground trams must deal with traffic, so they can be frustratingly slow, particularly during rush hour. If you're hoping to explore the Bosphorus, just hop on one of the ferries. These are cheap and efficient, and far more affordable than any private tour that is available.
Private dolmus minivans also follow set routes and offer a good option late at night. They are not on a set schedule but instead wait to fill up before departing. They do run through the night, unlike the public transportation system.
Related:
Looking for a party in
Athens
or
Istanbul
?
Traveling alone to
Athens
or
Santorini
?