Fethiye On a Budget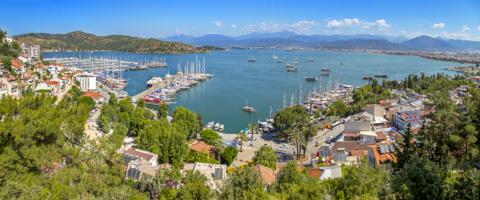 Fethiye is a tourist town in Lycia on the Mediterranean coast. It has a beautiful marina and plenty of activities during the day or night. Fethiye's size, location, and easy access to transportation make it a great central starting point to explore the area. It's also a popular place to pick up the "Blue Cruise," a popular boat tour along the Mediterranean coast.
Fethiye has a population of about 50,000, but the number of people in town increases significantly during the tourism high season which runs from April through October. There is also a large number of people who have second homes in town and spend their summers enjoying the beautiful climate and atmosphere.
Fethiye's climate is Mediterranean. The summers can be very hot and temperatures can rise above 40 degrees Celsius during the months of July and August. Winters are cool with temperatures ranging from 14-20 degrees Celsius. The rainiest seasons are spring and fall, but there is still a good amount of sunshine. These are also the best times to visit as the temperatures are pleasant and the crowds are less.
Sights
There are a handful of interesting sights around town. The cave tombs are probably the most famous, and they can be found in the cliff on the south side of town. The Lycian sarcophagus are carved in traditional Lycian style. They are spread throughout town, but one of the more impressive ones is in the yard of the town governor's office on the main street. Another interesting place to visit is the Kadyanda Ancient City. It's 2500 years old and began accepting visitors about a decade ago. It's located about 24 kilometers outside of town and has a Hellenistic theatre, Roman baths, cave tombs, and a temple.
Neighborhoods
The metropolitan area of Fethiye starts at the harbour and stretches inland for about 7 miles. There are several villages included in the area. The city center is where you'll find many restaurants and accommodation. To the north is Calis Plaji, which has a promenade along the coast and a beach where you'll find a lot of accommodation options. This is the main beach for the town of Fethiye. To the east are the areas of Gunlukbasi, Camkoy, and Cumhuriyet. Esenkoy is to the southeast. Kayakoy and Oludeniz are to the southwest and south of the city center about two miles away. Oludeniz is famous for its beach spit and the Blue Lagoon. It's a very scenic and beautiful spot to visit.
Activities
Fethiye has plenty to do for adventurers. It's the starting point of the Lycian Way, a 500 km hiking trail that runs all the way to Antalya. If you're not up for hiking 500 kilometers, you can easily do a day or two of the trail and then take a bus back to town. It offers beautiful views of the coastline. There are also several restaurants and accommodation options along the trail so you do not have to be prepared to camp. The trail is well marked.
The town is also known as one of the best locations for paragliding. If you've never tried it before, then this is the perfect place to try for the first time. Alternatively, you can simply watch paragliders coming down the hill by Butterfly Valley.
If you decide to do a Blue Cruise, it's easy to book one from town. The cruises typically last three or four days while you make your way down the coast to Olympus. You'll stop at a couple of towns along the way and be given an opportunity to swim in the beautiful blue water. The boats are well equipped and comfortable. Food is prepared by an on board chef. The experience is truly unique and worth doing if you have the time. Prices are typically lower during the spring and fall months.
Food and Dining
There are some good restaurants around town, but a fun option is to head to the fish market. There you can select your fish from a stand and then choose from the many nearby restaurants. Any of these restaurants will cook up the fish for you any number of styles. It's typically served with some bread and a couple of side dishes. If you're on a tighter budget, Pasa Kebap is a great restaurant with both meat and vegetable options at a reasonable price. In the center of town you'll also find a good number of fast food places that have doner kebabs available.
Transportation
Fethiye is very walkable and if you plan to stay in town then you do not need a vehicle. Many visitors, however, want to explore the surrounding countryside. There are minibuses that make some routes but if you want more flexibility then you can rent a scooter. This lets you travel where you want to at your own pace and style. You can rent a bike for the full day from many different places around town. The roads are decent and the beaches and countryside are easily accessible. If a motor scooter isn't your style, then you can also rent a regular bike to explore the area.
Related:
Looking for a party in
Athens
or
Istanbul
?
Traveling alone to
Athens
or
Santorini
?
Train and Bus Prices
The best prices for buses and trains in Turkey
can be found on Omio
(formerly
GoEuro
). They let you search across all train, bus, and plane routes throughout the region.