Ephesus On a Budget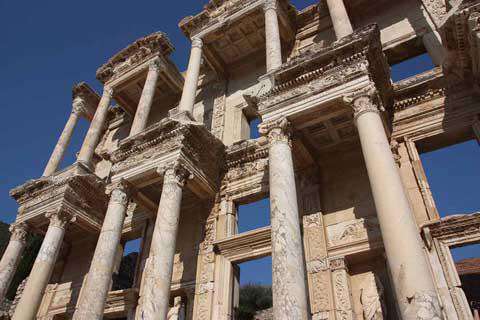 The ancient city of Ephesus was famed for the Temple of Artemis (completed around 550 BC). It is one of the Seven Wonders of the Ancient World. The temple was destroyed in 401 AD and rebuilt by Emperor Constantine I along with new public baths. The town was again partially destroyed by an earthquake in 614 AD. The city's importance as a commercial center declined as the harbor was slowly silted up by the Cayster River (Kucuk Menderes).
Selcuk is one of the closest towns to Ephesus and is where many visitors base themselves during their time in the area. It has a decent number of restaurants, bars and hotels, so it's a relatively convenient place to stay. It also has a handful of historical sights in its town center.
If you're traveling by cruise to Ephesus, then you'll likely be dropped off at Kusadasi. This is a coastal town in the Aydin Province of Aegean Turkey and the port where most cruises stop to visit Ephesus. The trip to Ephesus is about half an hour and there is public transportation, but most visitors are on cruise ships and have booked private tours. The town itself has some good restaurants that cater specifically to tourists. There are also plenty of shops where you can try your hand at bartering over any number of trinkets, but Persian rugs are a favorite, although expensive, item. Don't expect to get the best deals here, as most shop keepers are used to dealing with cruise ship passengers, for which there is a substantial markup.
Sights
Ephesus is filled with ancient ruins that will impress even the most jaded traveler. Important sights on the grounds include the East Gymnasium, the Basilica, the Prytaneion, the State Agora, the Square to Domitian, the Trajan Fountain, the Temple of Hadrian, the Scolasticia Baths, the Terrace Houses, the Celsus Library and the Temple to Serapis, among many other things.
If you're hoping to avoid the large tourist crowds, particularly those that come from cruise ships, then it's best to come very early in the morning. The weather is likely to be better at this time as well.
Neighborhoods
Selcuk is located to the east of Ephesus. If you're traveling to the area overland, then this is likely the town where you will stay the night. It has a decent number of reasonably prices hotels, as well as some restaurants and bars to entertain the tired traveler. To the southwest of Ephesus is the coastal town of Kusadasi. This is the port that most cruise ships use to visit the area. It has shops and restaurants that are often overpriced and convenient for cruise ship passengers to grab a meal or souvenir.
Ephesus has two entry or exit points that are located about three kilometers apart. Near each of these access points you'll find restrooms. The best entry point for the grounds is the upper Magnesia gate. You can then walk downhill to the exit at the lower harbour gate. You can explore the grounds in about two hours.
Activities
Touring Ephesus is the main reason for visiting this area. While you can experience and learn a lot with just a guidebook, guided tours do go more in depth into the historical importance of the area. Tour guides are variable in quality so some may be better than others.
Outside of Ephesus is a series of stalls selling tourist souvenirs. The prices are generally marked up and the quality of the items is poor, so it is best to avoid making purchases here. Also, come prepared with your own bottled water because once you're on the grounds you can expect to pay dearly for food and water.
Food and Dining
You can grab a bite to eat at one of the many fast food Turkish restaurants near the exit gates to Ephesus. If you're looking for something more interesting to eat, then there are some decent restaurants on the route back to either Selcuk or Kusadasi. In the towns there are also some good restaurants that serve typical Turkish dishes.
Transportation
If you're staying in Selcuk, then there are mini-buses that travel to and from Ephesus. You can also rent motorbikes or scooters if you want to explore the surrounding area. Many hotels offer free shuttles to Ephesus, but if you decide to take this option then realize that you are likely to stop at a carpet shop at some point during the trip.
You can take a bus from Kusadasi to Ephesus, but most visitors to this city are on cruises and transportation is arranged through their private tours. The trip takes about half an hour.
Once you arrive in Ephesus then it is possible to walk around the entire grounds on foot. There are stone pathways most places.
Related:
Looking for a party in
Athens
or
Istanbul
?
Traveling alone to
Athens
or
Santorini
?
Train and Bus Prices
The best prices for buses and trains in Turkey
can be found on Omio
(formerly
GoEuro
). They let you search across all train, bus, and plane routes throughout the region.