Bodrum On a Budget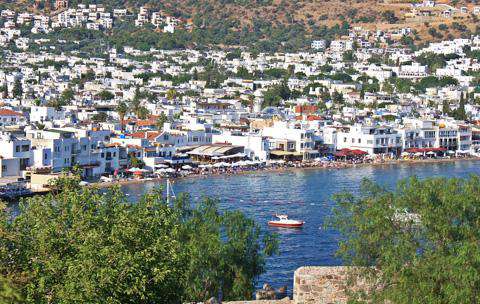 Bodrum is a city on the Bodrum Peninsula, stretching from Turkey's southwest coast into the Aegean Sea. The city features twin bays with views of Bodrum Castle. This medieval fortress was built partly with stones from the Mausoleum at Halicarnassus, one of the Seven Wonders of the Ancient World, completed in the 4th century B.C. The city is also a gateway for nearby beach towns and resorts. Although more than a million tourists flock to its beaches, boutique hotels, trendy restaurants, and clubs each summer, the town of Bodrum (ancient Halicarnassus) never seems to lose its cool. More than any other Turkish seaside getaway, it has an enigmatic elegance that pervades it. The evocative castle and the ancient ruins around town also help keep Bodrum a discerning step above the rest.
Sights
Bodrum Castle, a magnificent structure on the waterfront, is over 600 years old and is a superb example of a gothic style stronghold, where you can walk around the twisting passageways and towers designed to make the castle as difficult as possible for invaders to take. 40 years ago this castle was in ruins, but today it's fully renovated and stands proudly in the center of Bodrum Bay. As well as housing the Museum of Underwater Archaeology, it's elevated vantage point allows for great views of the surrounding area.
The Mausoleum of Halicarnassus, one of the Seven Wonders of the World, was the tomb of Mausolus, ruler of Caria, in southwestern Asia Minor. It was built in his capital city, Halicarnassus, between about 353 and 351 BCE by his sister and widow, Artemisia II. The building was designed by the Greek architects Pythius and Satyros. The sculptures that adorned it were the work of four leading Greek artists-Scopas, Bryaxis, Leochares, and Timotheus-each of whom was responsible for a single side.
It was bounded by 36 columns, and the top formed a 24-step pyramid surmounted by a four-horse marble chariot. The Mausoleum was probably destroyed by an earthquake between the 11th and the 15th century CE, and the stones were reused in local buildings.
Turgutreis Beach is beautiful, clean, and typically void of people. There are also restaurants, bars, and a crowded flea market on Saturdays along the marina.
Neighborhoods
Bodrum Town
Some visitors are drawn to the activity and vibrancy of Bodrum town, where you're spoilt for choice with its ancient sights, it's shopping, as well as its restaurants, bars and clubs. Here you can just walk down any of its cobbled back-streets, and find small restaurants that cater to the local Turkish crowd. You'll get more for your money as well as a relaxing and authentic dining experience.
Gundogan
An active fishing town, also known for sponge diving and for the array of olive and citrus groves. It's a lot more peaceful and laid back than the bigger towns, and even though it has a thriving tourist trade, it still exists as one of the unspoilt corners of the peninsula. The hillsides in this area of the peninsula are shrouded in pine trees, and give Gundogan a different vibe than some of the more barren looking parts of the peninsula. These hillsides are perfect for hiking and to explore the area for Leleg ruins. There are many different trails to choose from, depending on how adventurous you are.
Akyarlar
Located in the often overlooked south-western corner of the Bodrum Peninsula, Akyarlar is due south of Turgutreis. It's a little off the beaten track, and if you fancy a day away from the mass of tourists that converge in Bodrum and Turgutreis, head to this corner of the Peninsula to get a slice of Turkish market-town life.
Activities
Take a day boat trip on the Bodrum Peninsula. Every coastal destination on the Bodrum Peninsula offers a selection of day boat trips. There's an experience to match your needs; you just have to find the right one. Head down to your local boat harbor (before 10am or after 6pm) and find one of the smaller, independently run boats that take a maximum of 10-12 passengers, and offer a relaxing excursion via wind and sails to propel you through the Aegean. You're sure to have a relaxing and exciting time and get a much better experience than on more crowded tours.
Day trips are touted in all of the tourist hubs. One of the most popular is a day trip to Ephesus. It's a 3 hour journey in each direction, and there's an excursions that will get you there and back in a day, giving you 1/2 day to tour this ancient Greek site. If you'd prefer to tour ancient ruins a little bit closer to the Bodrum Peninsula, on the other side of the Milas-Bodrum airport is the ancient city of Iassos, and in the hills above Bodrum, is the ancient city of Pedesa. While neither of these are in the same league as Ephesus, they do make great options ancient-site viewing a little closer to Bodrum. You can hike up to Pedesa from Bodrum, but you'll need a car for Iassos - and that trip will take you about 90 minutes from Bodrum.
Enjoy a Turkish Bath (Hamam). Most of the bigger hotels have Turkish Bath facilities, offered as part of their spa services. There's also a couple of independent Turkish Bath's Bodrum Hamam and Rayola Hamam, Ortaken. You'll find the Bardakcl Hamam situated down one of the back streets of Bodrum. It dates back to the mid-1700's, and is the oldest Hamam in the area. Just look past the unassuming exterior and step inside for a memorable Turkish Bath experience.
Food and Dining
Bodrum cuisine is healthy and well known for its traditional Mediterranean flavors. Vegetable dishes prepared with wild plants such as chicory, radish leaves, bull mallow, Bodrum's special pastry baked with cheese (su boregi), stuffed zucchini flower (kabak cicegi dolmasi), smoked eggplant mixed with yogurt (kopoglu mezesi), gipsy salad ( cingene salatasi), Purslane salad with yogurt, bitter orange marmalade, pickled cucumbers, and more. Eating out in Bodrum offers countless possibilities. In addition to small restaurants you will also find many chic and fancy restaurants serving many different staff from different countries' cuisine. Also it is not possible to think about vacation in Bodrum without tasting fresh fish accompanied by a glass of Raki.
Transportation
The Milas-Bodrum airport has been newly renovated, and during peak season, there's a number of cheap package tour operators that offer flight deals. You can also get here by ferry. Turkish and Greek ferry companies service Bodrum and Turgutureis. You can arrive via one of the Greek Islands of Kos, Rhodes and Kalymnos. Depending on the season, frequency of routes will vary, and different services are offered via; Bodrum Express Lines, Yesil Marmaris Line and Bodrum Ferry Boat. Bodrum is also a Cruise-line destination welcoming waves of day trippers, and is also a busy port of call for those enjoying a Blue Cruise on a traditional locally charted gullet or on their own personal yacht. The cheapest way to travel between the different towns and villages on the Peninsula is by Dolmus. These small passenger vans zip between locations with convenient frequency.
Train and Bus Prices
The best prices for buses and trains in Turkey
can be found on Omio
(formerly
GoEuro
). They let you search across all train, bus, and plane routes throughout the region.