Gold Coast On a Budget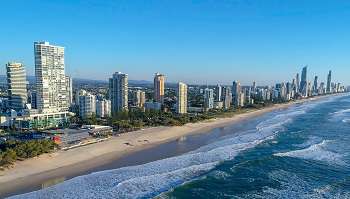 The Gold Coast is one of Australia's premier destinations. Famous for gorgeous beaches, warm weather, watersports, and plenty of activities for all ages, millions of tourists from Australia as well as everywhere in the world flock to this region every year. With beaches, national parks, theme parks, shopping and dining, nice resorts, boating, fishing, diving, theme parks and more, the Gold Coast offers something for everyone.
This region is both a city (Gold Coast) as well as the entire region of smaller towns encompassing Surfers Paradise, Burleigh Heads, Southport, Broadbeach, plus other areas. Brisbane is about 75km to the north.
Generally, the region can be a bit expensive due to the high tourism demand, pricey hotels and resorts, and plethora of activities. However, it's possible to visit the area if you're on a tight budget by staying at less expensive accommodation options (hostels and budget hotels), eating at less expensive restaurants and fast food places, and using public transportation.
Sights
The beach is the main attraction here, as much of the area's hotels and resorts are located on the shore. Scuba diving and snorkeling are also very popular, as the water is clear enough to see much of the undersea life. And don't forget about surfing. Several surfing schools can be found in the area if you're a beginner.
But the Gold Coast area offers plenty of other things to do and see. Several national parks are in the area, including Burleigh Head, Nerang, Tamborine, Sarabah, and more. Several of these parks are in the "Hinterland" region which is the inland area of Gold Coast. Here you'll find a rain forests and mountains with opportunities for hiking, wildlife viewing, camping, and even visiting vineyards and wineries.
If you stick closer to the beach, plenty of theme parks can be found here. From Sea World to Dreamworld (a zoo-like experience), to Warner Bros. Movie World, you'll have no trouble finding something to do. In fact, so many more
activities for families in the Gold Coast
are available for kids of all ages. For example, Wet 'N' Wild and Whitewater World are two great water parks full of slides, pools, and splash pads.
And if you want a great view, check out the Sky Point Observation Deck.
Activities
In addition to the sights listed above, other activities include hot air balloon rides, skydiving, fishing, boating and sailing, golf, hiking, stand up paddleboarding (SUP), and numerous other activities both on and off the water.
You can also visit several wildlife areas such as the
Currumbin Wildlife Sanctuary
where you can meet birds, koalas, and other native animals.
Or check out the Botanic Gardens which make for a nice, relaxing stroll through native flowers and plant species.
Food and Dining
The Gold Coast has no shortage of dining options. You will find everything here, and you will eat all of it! Don't attempt to lose weight on this trip.
From high-end restaurants to affordable fast food and quick dining options, everyone can eat on their respective budget here. And you'll also find cuisine that is not just local (plenty of seafood), but also global, with restaurants serving food from around the world.
If you're on a budget, you can always grab food from one of the many grocery stores or markets and cook your own food.
For less expensive options, try Fishmongers for some fish and chips, Bonita Bonita for some great tacos, or one of the many Breweries for some affordable burgers with your beer. A few other not-too-expensive places include Hideaway Kitchen, Ally Chow, or Wahoo's Fish Tacos.
For a splurge, check out the Social Eating House at Broadbeach, Rick Shores, Little Truffle, or Bisque.
Transportation
The Gold Coast is served by several airports, including the Gold Coast International Airport and the smaller Southport airport. It's also possible to fly into Brisbane, as it's not too far away. The AirTrain connects you from Brisbane's airport into the heart of Surfers Paradise with a connection at Helensvale.
Public trams and buses circulate around all areas of the Gold Coast daily. For $10 a daily pass can be purchased allowing you unlimited rides throughout the region on trams and buses. It's possible to take a bus or tram combination from the Gold Coast airport at the southern end of the Gold Coast all the way up to Brisbane (with a few transfers). The Gold Coast Tram runs from Broadbeach up to Helensvale and takes around 45 minutes. Other bus routes go pretty much everywhere else. For more details read the Gold Coast guides on
Translink's website
.
Having your own vehicle is the most convenient way to get around.