What sets them apart?
The "Arts & Culture" in the name of this hostel means that your stay here is all about getting to know Barcelona, having a cultural experience, and meeting other guests from around the world. Their evening meals help everyone become friends, while their activities allow visitors to learn more about the local area and the rest of Barcelona.
Hostel Personality
Who's staying here?
Full of younger travelers interested in meeting others, this hostel has a social vibe to it that is not party oriented. Instead, this is a hostel designed for those that want to explore all that Barcelona has to offer while also meeting fellow travelers (while saving money).
360 Hostel Barcelona Arts&Culture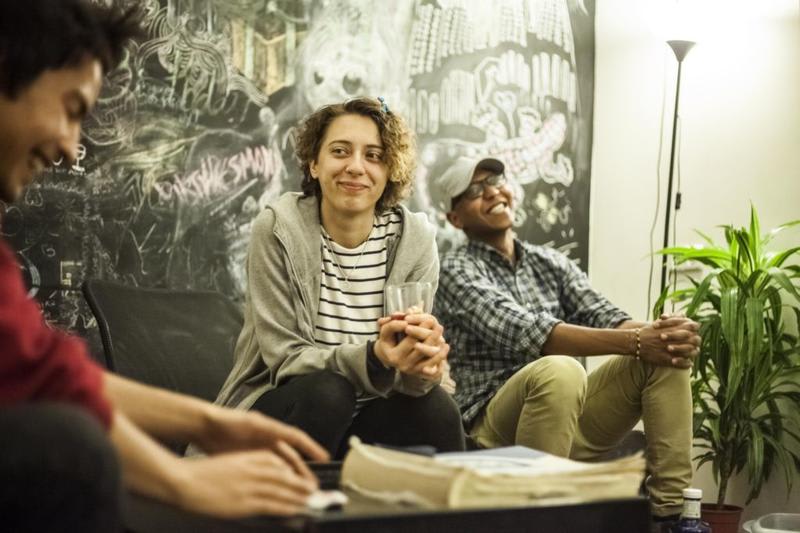 Just to avoid confusion, this is the "Arts & Culture" location of the 360 Hostel Barcelona (which is located a few blocks away). Both hostels have similar personalities and amenities, but what sets the Arts and Culture hostel apart seems to be the desire of the guests to get to know one another in a friendly, social, and relaxing way that creates a comfortable and enjoyable personality to the hostel. (Not that the other 360 Barcelona isn't social, it's just a different vibe).
At this hostel, the list of amenities is long, and the daily activities provided by the staff are numerous and fun. All of the guests seem to join in for the nightly dinners (usually paella or tapas), which then lets everyone get to know each other, make plans for the next day, and more. Various walking tours are also offered to let you get to know Barcelona.
The building itself is old and charming, but with modern updates. Rooms and hallways have old tiled floors, and the small balconies overlooking the street remind you that you're in old Europe, as if some horse drawn carriages will soon arrive to take you around Barcelona.
And the location is also amazing, too, but we'll discuss that more below.
The Facilities
Dorms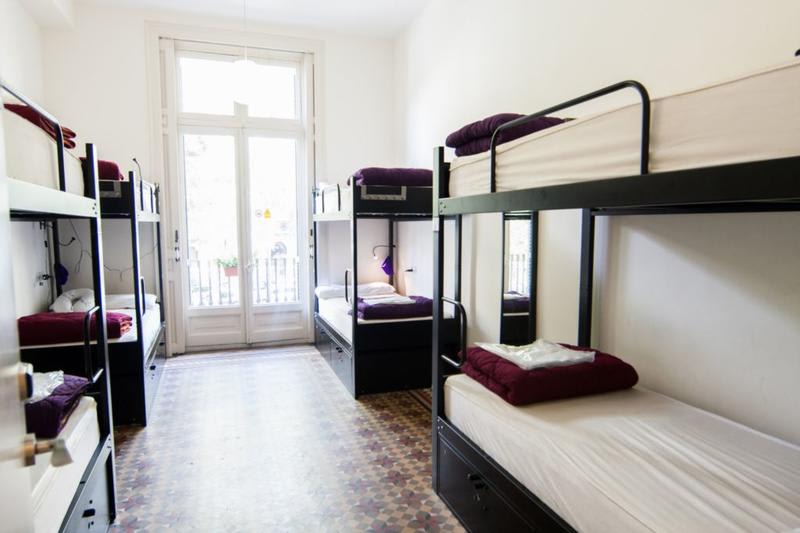 The dorm rooms at the 360 Hostel Barcelona Arts & Culture are phenomenal. Not only are they clean (a basic requirement in our opinion for any hostel), but they are also well appointed, comfortable, safe, modern, and about as luxurious as one can expect from bunk beds. The beds themselves are large enough to be comfortable, and most of the rooms come in 6- and 8-bed sizes, which is just right for meeting people without having too much noise. For a lower price, they also have larger rooms that sleep up to 16 people. Many of the rooms have small balconies overlooking the street, too.
All of the bunks have lockers for backpacks or luggage which open with a key card (a very convenient touch), and the rooms themselves are accessed via the same key card system, which is terrific for security. The bunks also have individual lights and plugs. Sheets, blankets, and pillows are provided.
Private Rooms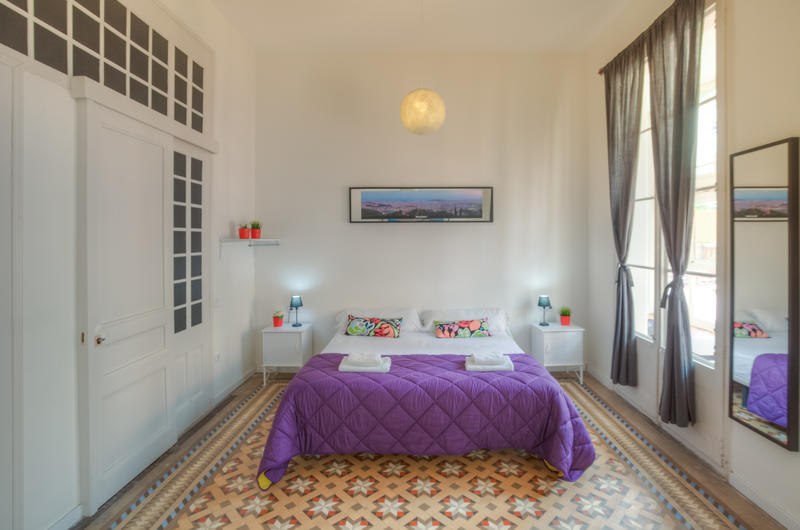 Several private rooms are available, and they have the feel of a bed and breakfast or basic hotel room with simple amenities. These rooms are great for couples who want the hostel atmosphere but with more privacy. A few of the private rooms have twin beds, too. Small balconies, side tables with lamps, and comfortable pillows add to the nice atmosphere of the rooms, although not all of them have balconies to the street.
Bathrooms
Shared bathrooms for all of the guests are located on the halls, and are divided by gender. The facilities are modern with plenty of hot water. Showers have individual stall doors for privacy.
Common Areas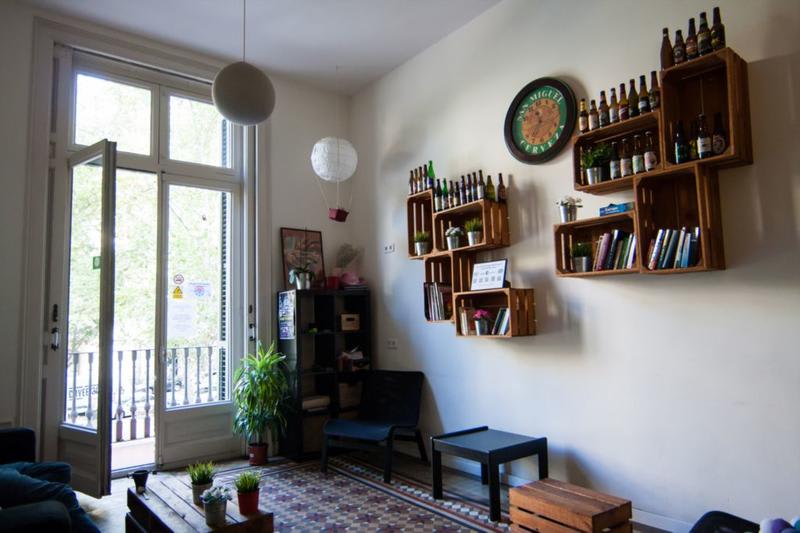 The common spaces are where everyone relaxes and meets up with other guests. From the lounge seating areas to the kitchen, the size is just right so that everyone has room to spread out and make new friends for their exploration of Barcelona. The main lounge has sofas with a fun decor, complete with a guitar for those to want to entertain (or serenade?) their fellow guests.
The kitchen is large, and has everything anyone would want to cook their own meal: oven, stove, microwave, and a fridge. Plenty of tables are available, too, so that you can share a meal with others. This kitchen is where the nightly dinners are held, which is great because there is plenty of room for everyone to mingle and taste some authentic Catalonian cuisine.
Outdoor Space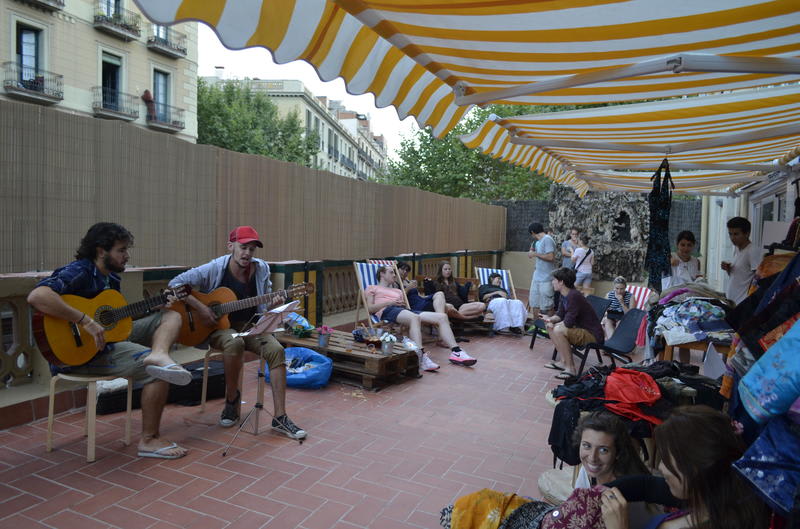 Another terrific aspect of this hostel is the outdoor patio area. With plenty of comfortable seating, this makes for a great place to enjoy the warm weather, of which there is plenty in Spain. The guests tend to migrate out here in the evenings for fun, relaxation, and drinks before and after some of the frequent pub crawls that many guests attend.
The Location
Eixample
The Eixample neighborhood is where the old world charms of the Gothic Quarter merge into modern Barcelona. Here, many famous museums and attractions can be found, as well as plenty of restaurants, bars, shops, churches, and other sights. Public transportation in this part of town is very common, and the streets are laid out in an orderly fashion, so it's hard to get lost.
What's Nearby?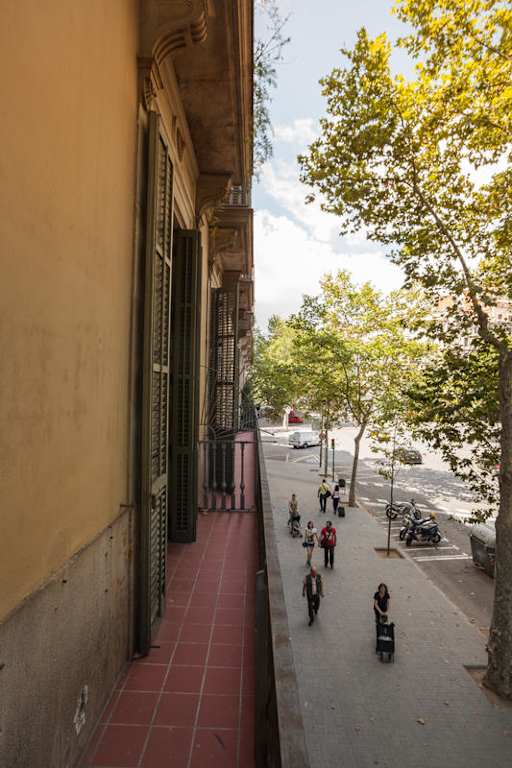 This hostel has a perfect location! As this hostel sits right on the edge of both the Santa Caterina side of the Gothic Quarter and the more modern Eixample neighborhood, travelers have the best of both worlds at their doorstep. Just wander south into the Gothic Quarter to explore the old architecture full of shops, cafes, and restaurants. Then find your way to the cathedral and the nearby Las Ramblas and the fantastically large La Boqueria market which is less than 1 mile (1.5km) away from the hostel.
Or, wander north and west through Eixample to find your way to the nearby world-class museums and old Gaudi buildings. The Placa de Catalunya is also just a few blocks away, as is Passeig de Gracia and the Parc de la Ciutadella, and numerous
other sights and attractions in Barcelona
.
If you're heading out in the morning, grab a cheap breakfast at any of the small cafes on the way which offer a pastry and coffee for just a few Euros. Or, better yet, just eat your way through the city, as small restaurants serving tapas and other delicacies surround this part of Barcelona.
Nearby Transportation
Central Barcelona is full of metro stations and bus stops, and this hostel has access to many of them. The nearest metro stations are Urquinaona and Tetuan, and the Arc de Triomf train station is only a minute away on foot. A few public bus stations are also close by.
The Placa de Catalunya is a large public square which also acts as a transportation hub to everywhere in the city. As it is only a few blocks from the hostel, this is a very convenient way to get to anywhere in town, or even
take day trips with public transportation out of town
(such as Montserrat or Costa Brava).
Activities
The regularly scheduled activities are what get this hostel going every day, and they have helped to solidify the 360 Arts & Culture as one of the most social in Barcelona.
It all starts with the free nightly dinners which take place in the kitchen. As many guests claim, this is more than just a quick buffet line of cheap food. Instead, everyone helps cook and clean to participate, providing ample opportunity for you to meet up with travelers from all around the world. The food itself is also amazing, as the staff helps to prepare local Catalonian and Spanish dishes.
Furthermore, the staff provide walking tours around the historic areas of Barcelona. And it's not just one walking tour to the same place, but rather various locations such as the Sagrada Familia and the Gothic Quarter.
As for partying, they sometimes organize a night of drinking games as well as pub crawls to the local bars and clubs.
And if all of this is not enough, they also organize trips down to the beach for everyone, complete with beach volleyball (or just hanging out).
Amenities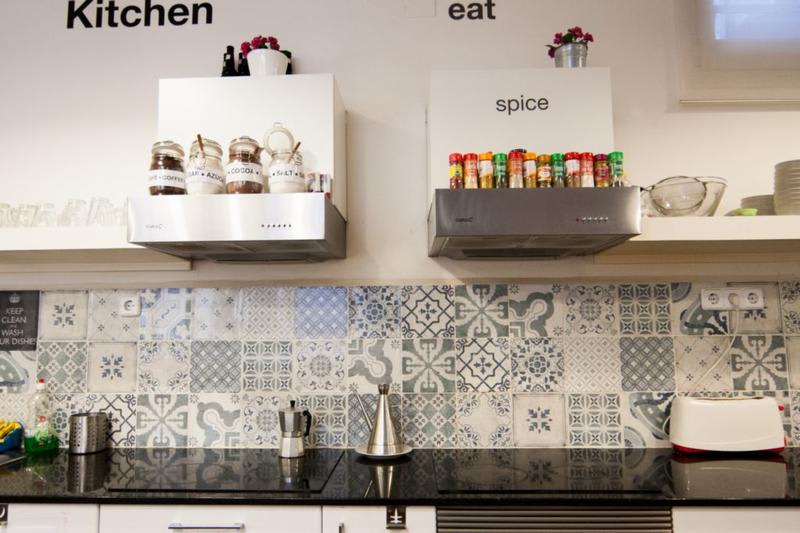 Comfort and cleanliness are only the beginning of the list of amenities found here. As one would expect from a top-notch European hostel, the 360 Hostel Barcelona Arts & Culture provides pretty much anything and everything that a traveler could want or need.
Laundry, Wi-Fi, luggage storage, computers in the lobby, travel information, and the list goes on and on. As mentioned earlier, they provide key-card access, lockers in the rooms, and linens. Air conditioning is also provided for those warm Barcelona nights, too.
Staff
A staff which provides so many free activities is not only helpful, but also super-friendly. They will do anything to make your stay better. Reception is available 24 hours per day, so you can always get assistance if you need it. The staff speaks multiple languages including English and Spanish. They also provide travel information and can make onward bookings if needed.
Heads Up
This hostel does have an old elevator in the lobby of the building and it can be quite slow, so the stairs are recommended. Some guests have also said that the noise from the street can be annoying in the evening if you're trying to sleep, although the area is fairly quiet at night. Otherwise, some guests have said that the rooms are sometimes not as clean as they would like them to be, while other guests claim that this is one of the cleanest hostels around. Also, the atmosphere can very much depend on the other guests in your particular room.
They do not offer breakfast, but instead offer free dinner (see above for more details on that). Otherwise, a kitchen is available, and many nearby cafes offer cheap breakfast options.
360 Hostel Barcelona Arts&Culture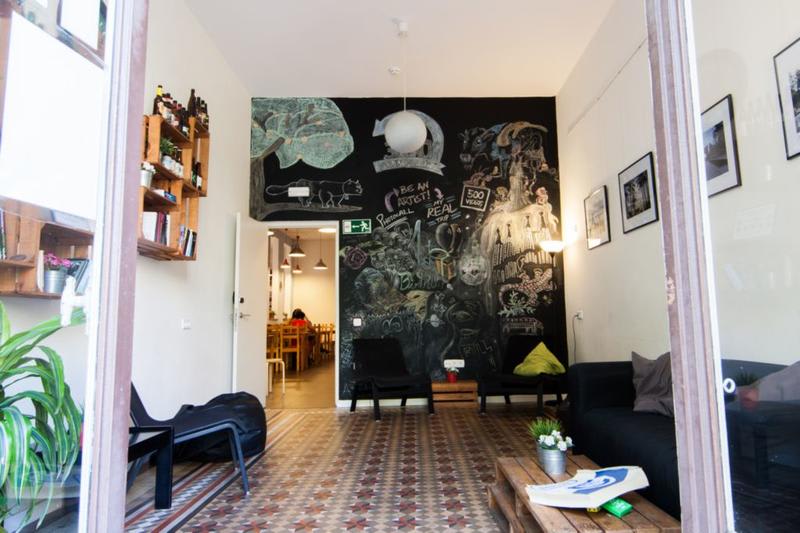 Do you have a favorite hostel that you would like to review? Let us know!