Anhui On a Budget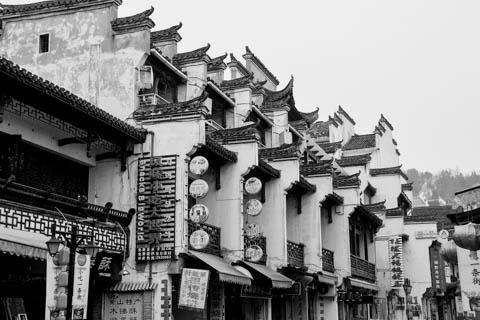 Exploring the Chinese province of Anhui is like walking around a painting. The picturesque mountains and the untouched villages make this a quiet escape from the harsh and loud cities surrounding it. Travelers should put Anhui on their list if they're seeking a glimpse into the China of the past.
Only a few hours from Shanghai or Hangzhou, this region is easy to access, but feels a world away.
Sights
One of the most popular sights to see are the natural wonders of Huangshan. This park of trails and walks wander through the mist of several peaks. There's so much to see, many tourists plan to spend a few days here - guaranteeing they'll see the most amazing sunrise. While it is a bit crowded these days with people, there are still spots of rest and tranquility.
If it's local culture you're interested in, make a stop at the village of Hongcun. This UNESCO World Heritage site is one of the most visited Huizhou villages. It was founded in the Song dynasty between 960 and 1279. Today's waterway systems still resemble that of the original idea.
Another small village deserving a visit is Xidi. With 124 surviving buildings, Xidi is a glimpse into the world of the prestigious merchants who settled here. This UNESCO World Heritage Site welcomes plenty of tourists while maintaining its picture perfect appeal. Slender lanes and ivory colored walls guide you to dark-tiled roofs and grandly decorated doorways.
The photogenic village of Chengkan is also worth a visit. It's a less visited area since some of its buildings are being renovated or retouched, but it bridges and lilies are enough to make you stop and take in the tranquility. An S-shaped stream runs through the village as a permanent symbol of the yin and yang along the heart of the village. While here, visit southern China's largest ancestral temple, Luo Dongshu Temple, or the 600-year-old Yanyi Tang building.
Another, less popular village, is Tangmo. This small village was founded be settlers in the Tang dynasty when they planted two ginkgo trees and only one grew. This became the site of Tangmo. The tree still sits in the center of the village, and continues to grow fruit after more than 1,300 years. At the west end of this village sits the Shangyi Ancestor Hall with 199 peony blossoms intricately carved into the entrance beam, and next door is Jishan Hall where you can see Huizhou opera and folk music performed most days of the year.
For those seeking a more spiritual journey, you'll want to make the trek up the Jiuhua Shan region. This collection of cliff-side temples is nestled in what the Tang-dynasty Buddhists called the earth home to the Bodhisattva Dizang - or Lord of the Underworld. The area is often covered in a fog that gives it the eerie feel the Buddhists likely recognized when calling this the home of such a character. Here is where people come to pray for the souls of the dearly departed. As one of four sacred peaks in all of China, there are plenty of temples to choose from all housing over 500 monks and nuns. It is a breathtaking place of peace and devotion.
Another spiritual climb you can venture on is the one up Qiyun Shan - or "mountain as high a the clouds." This red giant of a mountain is home to many Taoist temples and the monks who live inside of them. Be prepared for a long journey, though. The walk to the ticket office is about a 75-minute climb up stone steps. If you continue past the Zhenxian Cave you'll find several Taoist shrines carved out along the cliffs. Along the way, you'll pass through a small village along Moonlight Street. Here you'll be able to rest and grab a bite to eat.
Food and Dining
Anhui cuisine is one of the Eight Great Cuisines of China. Because of the province's location and its poorer inhabitants, this food is made up of hearty mountain peasant dishes. Many recipes will incorporate wild ingredients from local mountains including mushrooms, bayberry, tea leaves and bamboo shoots. Some dishes you'll want to look for on the menu include Li Hongzhang stew and Farmhouse egg dumplings.
Transportation
Most people explore Anhui by foot since its main attractions include hiking and mountain climbing. There are several train lines that cross the province, and the local bus system is growing and reliable.
Related:
Looking for a
hostel in China
?
Traveling alone to
Beijing
or
Hong Kong
or want to party in
Shanghai
?