Hefei On a Budget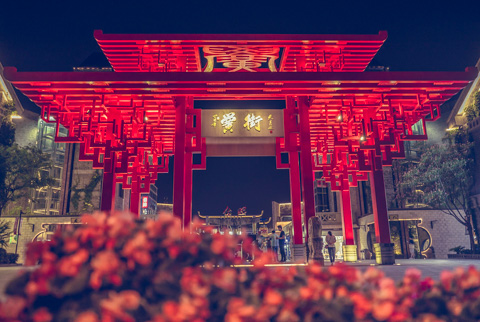 While most would consider the city of Hefei a pass-through destination, there are plenty of things to see in the capital city of China's Anhui province.
Sights
While there may not be magnificent draws to this city, Hefei is sprinkled with many parks and gardens. Lord Bao Park is dedicated to Bao Gong - a legendary Chinese judge in the Song dynasty who represents justice and anti-corruption. In the park you'll find Gong's tomb, a memorial temple and the Qingfeng Ge tower. Climb to the top of the tower for a view across the park and the whole city.
Other parks to visit include Xiaoyaojin Park, Xinghua Park, Yaohai Park, the Hefei Botanical Gardens and the Three Kingdoms Ruins Park. The Three Kingdoms Ruins Park is located in the Luyang district just north of the botanical gardens. It's a beautiful spot in the spring with pavilions meant to take in the scenery.
The Dashu Mountain is one of the few well-known sightseeing spots in Hefei. The walk up to the top of the mountain takes about 30 minutes, but the view is a stunning sight of the entire city of Hefei. IF the weather is nice, prepare yourself for a crowd.
One unique experience is the Anhui Hall of Fame. Here you can wander the halls containing 50 wax figurines of the most prominent people in Anhui's history.
Activities
One activity to try if you're looking to find some sophisticated culture on your trip is an evening at the Snow Villa opera hall. This traditional hall and restaurant provides nightly performances and Hui cuisine.
During the day, though, most visitors like a nice stroll around Temple Market. Check out the local crafts and be ready to bargain. Then, in the evening, head to Hupo Shanzhuang for a little street food and nightlife. Sit outside for people watching and xiao longxia - the small crayfish of Hefei.
Food and Dining
This region is known for one of the Eight Great Cuisines of China, Anhui. There are plenty of delicious dishes to try while visiting Hefei. One is the xiao longxia crayfish. They are boiled and usually eaten with vinegary dipping sauces. They're typically eaten outside with a beer during the warmer months.
You also have to be sure to have a meal at Tongqing Lou. This restaurant chain is renowned in Hefei. They are big, standalone buildings with outstanding service. Typically there are no English menus or English speaking staff, but don't let a language barrier keep you from this experience.
The East Seafood Restaurant is one of the longest running and best-known restaurants in the city, and at least one meal should come from the Luzhou TaiTai chain.
For more of a southern China taste, head to South Beauty. Here you'll find very different dishes than in the rest of Hefei. Wear your nicer outfit, as this establishment is a bit more sophisticated than other chains in the city.
And if you're craving more Beijing or Sichuan style dishes, make a reservation at Quanjude. Established in 2013, this famous, well-known chain is sure to provide you with a roast duck dish the likes of which you've never had before.
Transportation
Around the city you'll find green, blue or orange metered taxis. These are fairly reliable, but be ready to possibly pick up another passenger on your route. This is not an acceptable practice, but many drivers will try to do it with foreigners in the car. Don't let them.
If taxis are scarce, you can hop onto the back of a motorbike. There are plenty available and are usually found on the corner of busy intersections. These aren't technically legal, but often overlooked. They also aren't metered, so be sure to negotiate your price before your trip starts.
Tuk-tuks are no longer allowed in the city center, but you might find them further outside the city. Avoid using them within the city.
Public buses are the dominant mode of transportation in the city. All bus routes, schedules and announcements are in Mandarin and there are different fares for air-conditioned and non-air conditioned buses. While there is no English, Google Maps is a reliable way to search for the right bus routes. At peak hours, the buses are typically crammed so plan accordingly.
Related:
Looking for a
hostel in China
?
Traveling alone to
Beijing
or
Hong Kong
or want to party in
Shanghai
?