Hebei On a Budget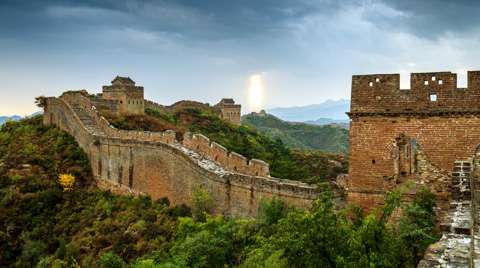 A northern province of China located near Beijing, Hebei is situated to the north of the Yellow River and to the east of the Taihang Mountains with parts touching the Yellow Sea to the east. It is best known for the Chengde Mountain Resort, the imperial summer residence of the Qing-dynasty emperors which features 18th-century palaces, gardens, and pagodas ringed by Buddhist temples.
Sights
The Chengde Mountain Resort is perhaps the best known attraction of Hebei Province. It was built during the Qing Dynasty (1644-1911) and took about 90 years to construct. Once a summer home for the royal families, the resort is divided into four parts: the Palace Area, Lake Area, Plain Area, and Mountain Area. Also a part of the complex are the Eight Outer Temples, the name for the 12 temples located outside of Gubeikou-a section of the Great Wall. Putuo Zongchengzhi Temple is the biggest and most impressive of the temples.
Another main feature of the province is the Shanhaiguan Pass, also called "The First Pass Under Heaven." This is the
easternmost end of the Great Wall of China
, which juts out into the sea. The "Old Dragon Head" (or Laolongtou), since rebuilt from its original structure, is the part that touches the sea. The wall extends across much of China for over 5,000 miles, but this location (at Qinhuangdao) is where it begins, where the dragon's head looks out to the sea.
Each of Hebei's cities has a number of other worthwhile attractions, some of which include temples, historic sites, gardens, and natural scenery. A few more specific examples include Cangyan Mountain in Shijiazhuang, Qinghuang Island Wildlife Park in Qinhuangdao, Yesanpo Scenic area in Baoding, and the Ancient Lotus Flower Pond Resort in Baoding.
Regions
The capital city of Hebei Province is Shijiazhuang. It is a fairly young city, acting as the regional transport hub and economic center, though there are a few historic sights worth seeing (the most popular being the Zhaozhou Bridge Park and the Xibaipo Village). Chengde is probably the most touristed city, since it is the home of the famous Chengde Mountain Resort. This summer residence of the early Qing Dynasty emperors is considered to be an UNESCO World Heritage Site. Baoding is best known for the Yesanpo Scenic Area, Cangzhou for its martial arts and acrobatics, and Qinhuangdao for its location by the sea. Handan is also significant with thousands of years of history and a rich cultural heritage. Some of its highlights include Wahuang Palace, Chinese legends, folk arts, Buddhist temple music, traditional dance performances with fans and drums, and a local form of Tai Chi. Other important cities include Tangshan, Xingtai, Zhangjiakou, Langfang, and Hengshui.
Activities
Beyond the major sights of the Hebei Province, there are also a number of ways to experience the local culture. Traditional performances (i.e. music, dance, local crafts, martial arts demonstrations, etc.) are held in almost any city, while visitors can experience first-hand authentic day-to-day life in traditional villages of the countryside. Other activities include indulging in the local cuisine, as well as shopping which ranges from department stores and shopping centers to smaller local markets. Museums are also a good way to gain insight into the local art, history, and culture.
Food and Dining
Hebei Cuisine (also known as Ji Cuisine) has three branches-Middle and South Hebei Cuisine, Chengde Summer Resort Royal Cuisine, and East Beijing Seafood Cuisine. Middle and South Hebei Cuisine is the most typical cuisine, primarily based upon Baoding dishes. Common ingredients include a wide selection of raw materials, mountainous wild game, fish from Baiyangdian, shrimp, and crabs. Flavors are strong and savory and dishes are always served with soup. Chengde Summer Resort Royal Cuisine is based on dishes of Chengde, and East Beijing Seafood Cuisine is based on Tangshan dishes which use mostly fresh seafood. Typical cooking techniques of the province include stir-frying, quick-frying, sauteing, braising, stewing, baking, steaming, and caramelizing. Sauteed chicken breast with green peppers and carrots, braised Chinese cabbage with chestnuts, sauteed pork kidneys, deep-fried prawns, chicken stewed with chestnuts, sauteed shredded pork, tofu stewed with bean sprout, deep-fried pancake with green beans, deep-fried chicken legs, and quick-fried crabs are a few local dishes popular in the province.
Transportation
The hub for transportation is the province's capital city,
Shijiazhuang
. Shijiazhuang Zhengding International Airport is the main way of entry by plane. From the airport there are downtown shuttle buses, a high-speed train, and long-distance buses to nearby cities.
By train, Shijiazhuang Railway Station is situated in the cross of Zhanqian Street and Zhongshan Road. Trains from this station connect the city with more than 50 destinations in China, including
Beijing
,
Shanghai
, Taiyuan,
Xi'an
,
Guangzhou
,
Lhasa
,
Kunming
and
Guilin
.
Long distance buses are also an option.
Related:
Looking for a
hostel in China
?
Traveling alone to
Beijing
or
Hong Kong
or want to party in
Shanghai
?